GOATWHORE And HAMMER WITCH Confirmed For Mike Scaccia Birthday Show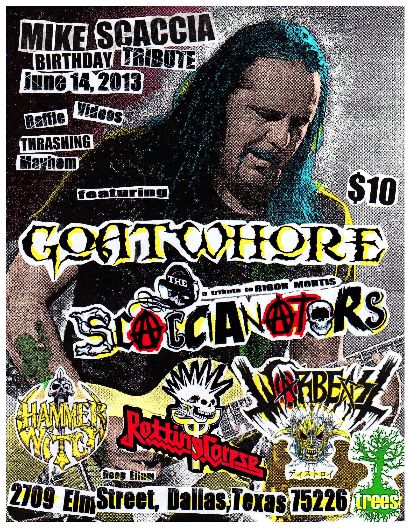 Mike Scaccia, best known as the lead (and sometimes rhythm) guitarist for the metal bands MINISTRY, RIGOR MORTIS and THE REVOLTING COCKS passed away on December 23rd after suffering a seizure on stage at the Rail Club in Fort Worth, Texas during Bruce Corbitt's (Rigor Mortis) 50th birthday show.
Mike Scaccia's birthday is on Friday, June 14th and Corbitt is is honoring him on his actual birthday at Trees in Dallas, Texas with help from from GOATWHORE, THE SCACCIANATORS (A Tribute To Rigor Mortis), HAMMER WITCH (Reunion), ROTTING CORPSE, WARBEAST.
A note from Corbitt reads:
"We're psyched to announce that Goatwhore will headline the Mike Scaccia Birthday/Tribute Show. Those guys in Goatwhore… especially Sammy and Ben have always been such good friends and very respectful to all of us guys from Rigor Mortis. For them to say that we were an influence on them is a great honor in itself. So we can't thank them enough for wanting to play this meaningful event for Mike. Hopefully we can get Sammy and Ben onstage with The Scaccianators to do a Rigor Mortis song with us.
Speaking of The Scaccianators… this will be our tribute to Mike and his music with Rigor Mortis. So the remaining Rigor Mortis members will collaborate with several other musicians. We will do a set of Rigor Mortis songs from all 3 releases. Here are some of the musicians confirmed so far... Casey Orr, Harden Harrison, Bruce Corbitt, Doyle Bright, Mike Taylor, Scott Shelby, Bobby Tillotson and more TBA.
Then many of us are really excited that Hammer Witch agreed to do a reunion for this. We've been hoping it would happen forever and it looked like it may never happen. It's funny because Casey was just joking around about getting one of the bands from our old-school local scene to do a reunion for this. The first band he wanted and asked about was Hammer Witch. I kind of laughed and said... 'Yeah right, that will never happen.' But I decided to send Wayne Abney a text for the hell of it just to see what he would say. He said the same thing I said... haha! Then like two days later he sent me a text saying he talked to Darrin Kobetich and he said he would do it. Too cool... this will be their first show in almost 20 years.
Of course Rotting Corpse was an obvious choice. Both bands started around the same time and were a big part of creating the early Dallas/Ft. Worth underground scene back in the mid 80s. I remember the first time we watched them, Mike immediately said they were his favorite band in our scene. So I'm glad Walt Trachsler and the rest of RC agreed to do the show. But, I know Mike would've wanted John Perez to jam with them... like the version he saw of RC originally. So I asked John if he would do it and he agreed.
Then of course I insisted that Warbeast got to be on the bill too. Mike was really proud and supportive of Warbeast. I'm thankful he got to hear our new album and will never forget how much he praised it. With Casey Orr being in Warbeast now... it just made sense for us to play.
Not only is this event for a great cause… because all of the money made from ticket sales and raffle will go directly to Mike's Wife and his Kids. It's also our chance to celebrate Mike's life… and what a great life he lived. We had our chance to grieve and mourn his loss at the Memorial and say our goodbyes. We will never get over the void that it's left in so many of our lives… we will miss him forever. But this night is all about us having some fun remembering the great memories and the impact he made on so many lives. Not to mention the man just deserves to be honored for his gift and talent as a guitarist.
Video tribute to Mike featuring the Rigor Mortis song Welcome To Your Funeral. Plus a song called December'. Mike wrote and recorded this song to play at his Mother's funeral because she loved Country Music.
We will have video tributes to Mike showing throughout the night. Also we will be playing the music of Mike Scaccia… including cuts from the new Rigor Mortis album. Plus an AMAZING Raffle with all kinds of guitars, band merch etc to giveaway that national bands from all over are donating for this event. If any bands or anyone else out there want to donate something for this raffle. Please contact me at brucecorbitt@yahoo.com.
This will be a SPECIAL NIGHT! All of Mike's family will be attending the show. Thanks to Clint and TREES for allowing us to do this for Mike and his family. 100% of every ticket sold at the door and for the raffle will be going directly to Mike's Wife Jenny and the kids. If you are unable to attend or donate anything for the raffle… you can still make a donation to the Mike Scaccia Family Fundraiser
page here
."
Read More News
Tags:
Goatwhore, Mike Scaccia, Ministry, Hammer Witch, Rotting Corpse



Jason Fisher

April 05, 2013


More News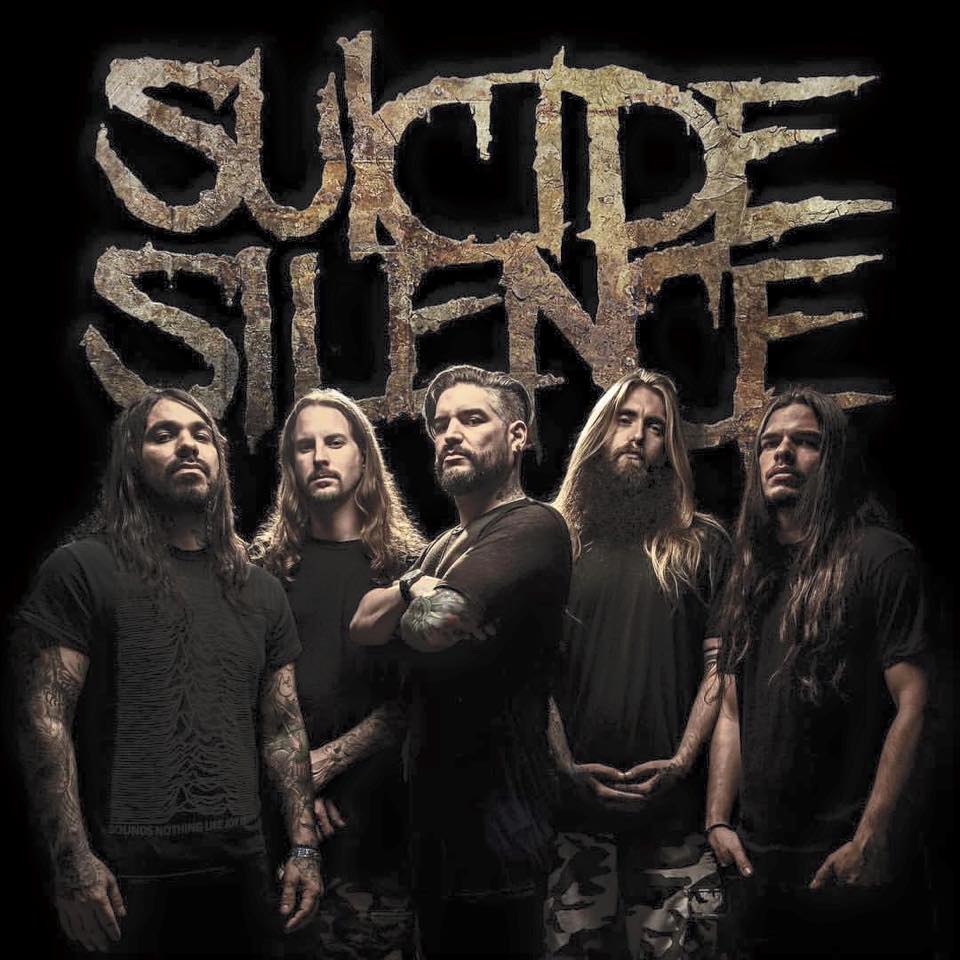 SUICIDE SILENCE And CHELSEA GRIN Announce Fall 2023 North American Tour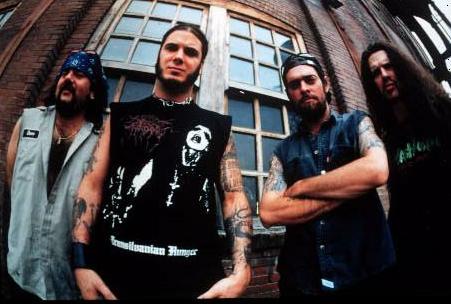 MIKE PORTNOY Says PANTERA Reunion Is 'Phenomenal'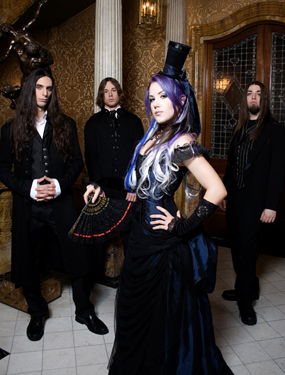 Canada's The Agonist Calls It Quits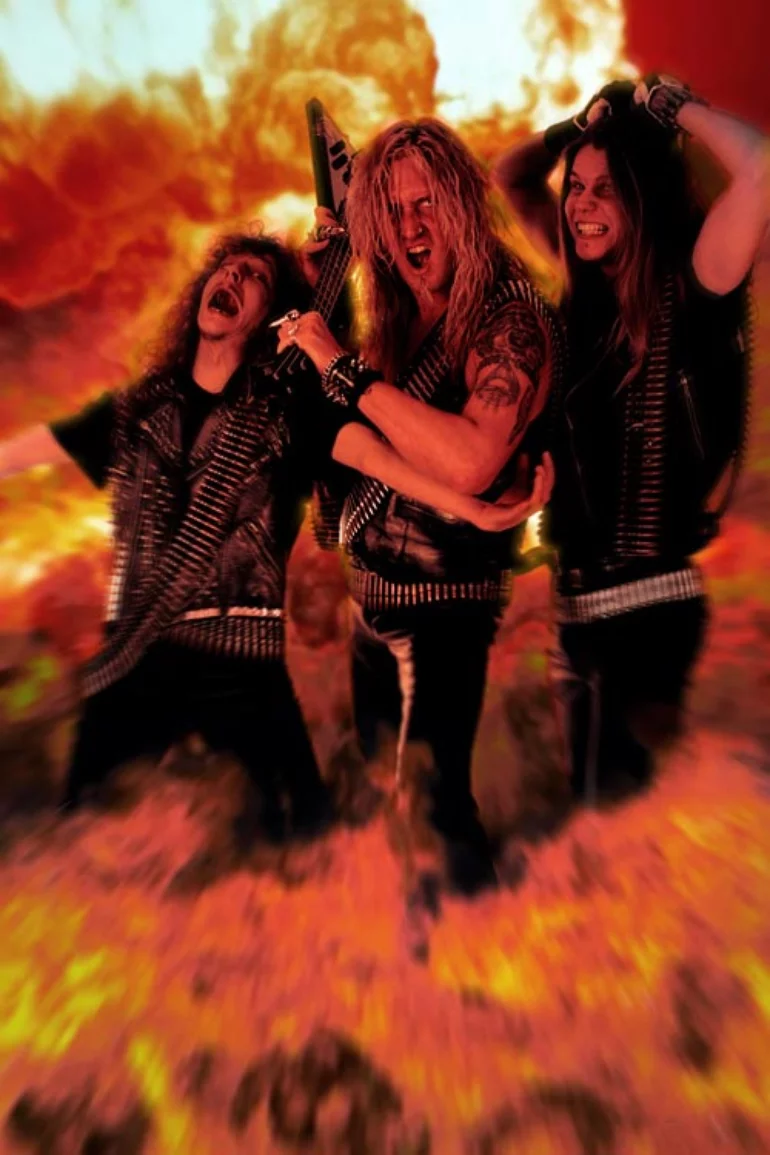 The Top 5 Metal Songs About the Bond Between a Band and Their Fans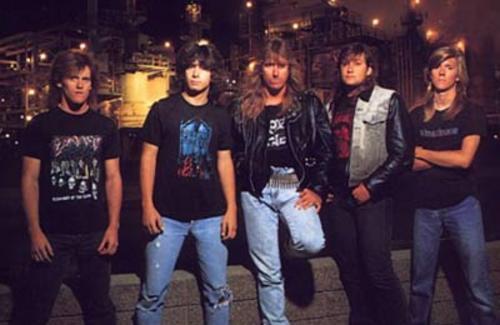 The Top 5 Metal Songs About Being in a Vegetative State