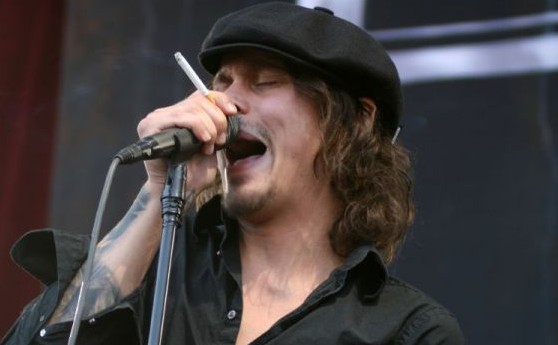 Band Name:
HIM
Interviewed:
Ville Valo
Interviewer:
Date:
2007-09-28
Previous HIM Interviews
The Gauntlet: I understand you are back home in Finland?
Ville: Yes, I just flew in from Spain where we were doing a lot of interviews for the new album. I have two weeks off now to enjoy the everyday chores of life like making my own bed, buying my own toilet paper, and cooking for myself by using the magical powers of the microwave oven. So life is fun. Everyone in the band is excited about the tour which is starting in a couple weeks in the States.
The Gauntlet: Are you a good cook?
Ville: No, shit no! That's the reason I use the microwave oven. I just microwave everything. I used to be good at making Thai food. I loved all the different types of curries. Unfortunately I haven't been able to keep practicing my cooking as I have been living out of hotels for the last five years more or less so I am getting a bit rusty. I live on my own, so it is actually cheaper to go out for a proper dinner than to go to the grocery store and find all the ingredients to prepare a meal with and spend hours and hours cooking for myself. Maybe one day when I have a family I will start cooking again.
The Gauntlet: Would you like to settle down and start a family?
Ville: No, I have a lot of guitars that I am happy with. They are very sensitive and picky and can be downright bastards when they are bored. You have problems with even inanimate objects.
The Gauntlet: Do you collect guitars?
Ville: No, I have maybe twelve guitars and they are all tools that I use. Most of them are acoustic. That isn't too many. Every one is there for a reason. I always carry one with me on tour and have some for studio use and others for recording. So I wouldn't say they are there for collecting. I don't hang them on the walls or anything. They are all meant to be played.
The Gauntlet: Is that how most HIM songs start out, on the acoustic guitar?
Ville: Most of the time, yeah. Most of the time I start strumming on the acoustic guitar when I have an idea, or I start humming a tune or whatever. I have a piano and a couple of old organs at home that I play around with; not my organ mind you. I have a few electric guitars also. I try to write the songs with all different kinds of instruments. It makes the vibe on each song a bit different.
The Gauntlet: I assume "Venus Doom" was mainly written by you on the guitar and not the piano?
Ville: The whole vibe started out with me and Gas going into our rehearsal space and jamming. We started by playing these really bad Black Sabbath riffs and that became the basis for the album. It started out as a good old fashioned reason to make music, out of boredom and out of nothing to do. It was just like 'fuck it,' let's go buy some beer and go to our rehearsal space. We had some time off as our keyboardist was having his first baby and our guitarist was off somewhere on vacation. It was either be bored and do nothing or start playing music again. That was reason enough to start playing.
The Gauntlet: Will you be touring more in the U.S., or more in Europe this time around?
Ville: Well, we are trying to do both. It also depends on the success of the album. If there is a lot of success in one particular country, we will spend more time there. Some of our albums are more popular in certain areas than in others. We are trying to play all over though. There is just a time limit. There are only 300 plus days a year and we can't play them all. We have about 30 gigs over in the States and then come back and play the UK, Spain, Italy, Japan, Austria and then maybe back to the US. Usually when an album comes out, it means at least a year of touring. I am just happy people want to hear us play.
The Gauntlet: Are there songs on the album that have gone over better with the fans?
Ville: Well, the album is still fairly new. There are songs that everybody likes, the long track in the middle, 'Sleepwalking.' A lot of people are still fascinated by that so I can't wait to play it live which we haven't yet. We will put that into our live set for the U.S. tour so that will be a blast. It is nice to have a long song with a jam in the middle. It gives a lot of time to smoke cigarettes and go to the cafeteria and eat a club while reading a few chapters of Edgar Allen Poe. It's going to be very fun and very 70's. It is a very fun track and it has all our old influences. It has a bit of a Metallica vibe in the solo and a horror movie sound in the breakdown. I am really happy with that song.
The Gauntlet: Have there been any songs that have been too emotional for you to sing live?
Ville: No, I try to write the songs and the lyrics in a way that I can access the mood that is in the lyrics. So definitely not, that would be way to masochistic to write songs I couldn't play live. That's something we might do in the future when we are ready to stop touring at the tender age of 50. Then I can say it hurts too much to continue touring. It is like good old fashion S&M. It works very well but might leave a few scratch marks, but overall is worth it. It is important for me to write something that is personal to me and have a connection with. Hopefully the listener realizes that as well. I don't have a problem with it. It is very natural to me. Let's say it is good to shit your pants occasionally. I am fine with that. It is good to raise questions and relive those not so perfect moments, even if it is on stage. For me it helps. It definitely helps to have people there singing along. I am not hoping they have gone through what I have, but a lot of people have had some horrors in their life and hopefully we can share our pain and get rid of it through the music.
The Gauntlet: How did the cover art come about?
Ville: It is kind of a cool story. We were touring the United States and we had a day off in New Orleans. I was looking for some Voodoo chicken legs. I met a guy who pointed out where to get the best Voodoo things. Unfortunately the Voodoo Priestess wasn't there, she was on holiday. Right across the street was a gallery of Harouni's things and I fell in love with it, with that one. I took it home and put it up. I was working on the tracks for the album under the watchful eye of this Harouni painting and decided to use it as the cover. It is such a departure from what we have done with previous covers which is good. It is not the same ol' same old again.
The Gauntlet: So the painting wasn't purchased with it being the album cover in mind?
Ville: No, I just bought it because I loved it. It was one of those things when a really good painting, piece of art or a song really hits you. You don't know what it is about it, but there is just this magic about it. I still love that painting and it is still on the wall in my room. It really gave me a lot of inspiration. It really fit the mood of the album and was worth asking the artist if we could use it and thank God he said yes.
The Gauntlet: Was there a backup plan in case he said no?
Ville: Yes, there were several. I am always working on covers. We start working on covers before we enter the studio. I always have a couple of covers visualized and in my back pocket. Then you can see how the music is sounding and how the music is coming about. It happens very organically. We really didn't feel we had any other option, it just felt so right.
The Gauntlet: You coined the phrase 'Love Metal' and now it seems every journalist uses it and it has become quite cliché'. Do you get tired of them asking about it?
Ville: [laughs] Well, the music we make is still hard to categorize. It was a category we invented for the journalists. So I am glad it is used. It makes some people wince, and some people laugh. Some people do both, preferably at the same time. I think we have accomplished our mission when it comes to that.
The Gauntlet: You have said before that you always try to please and have a hard time telling people no. Has this changed since rehab?
Ville: Well, I now have a lot of time to be creative. I am not wasting time trying to chase the hangover away. I am doing good, I am happy now. It is going to be a different cup of tea when I start writing the next album. We will see how that turns out. We had just re-negotiated the record contract and the rehab was involved in our last album so I was all fucked up. I guess it would be a great cycle to get all fucked up, write the album, then go through rehab.
The Gauntlet: A lot of times it takes several stints in rehab to really work, was your time there sufficient?
Ville: Yeah, I haven't purchased any drink or drugs in more than four months. The main thing with me was that I was in need to be on my own and have a rebirth. I was tired of my cell phone ringing all the time. I needed what you American's call 'me time.' It was very successful in that sense. I am not complaining at all. The response from the new album has been really good. It takes a lot of effort and a lot of energy to make an album. A lot of blood, sweat and tears went into this to get it done. I am happy that people seem to be happy with it.
The Gauntlet: A lot of artistic people have gone into rehab and come out a totally different person. Do you think you might have lost that spark in rehab?
Ville: Well, I am learning all the time. When I was fucked up I couldn't write. I was always sober when I wrote the lyrics and album. That is a different thing. As for the performing, I have performed sober fine before. I don't have any problems with that. It was just getting out of hand. The rehab thing wasn't so much about my drinking, but was more about my overall burnout. I had too much stress and the shit hit the fan. I couldn't cope with it. My problem was I hit the bottle to deal with it and I should have gone to see a doctor. I learned how to be by myself and recharge my battery. I have been doing that since May. I didn't know what to expect from it all. I was in and out of turmoil all the time. I was a shadow of myself and wasn't feeling good. Now the wounds are healing bit by bit which is good. It is easy for me to be sober, my drinking isn't the issue. There are a lot of other things that needed to be solved. I haven't had time to work on the personal stuff due to the immense amount of time spent touring and trying to take care of my relationships. The shit really hit the fan for me and I was 10,000 miles away from the one I loved and should have been there to sort everything out. I am learning bit by bit.
The Gauntlet: Was it your idea to seek help?
Ville: Yeah, I wanted get well or I'd never be able to do all the press and work on the album the way it needed to be done. I needed to get time off from the partying so to speak. It was the only option I saw at the time. I gave my manager a call and he called a friend who said where to go and gave me options. They recommended Promises which is ridiculously expensive but has been known to work. It worked for me so I was happy. It is really expensive, but at the end of the day, if an expensive month can give me an extra ten years, then it isn't much to pay.
The Gauntlet: Have you ever thought about writing a book?
Ville: No, I am not a writer in that sense. I like writing songs and that is what makes me tick. That is the way I live my life. The chronicles that Bob Dylan wrote are so good, that I would never be able to beat that so let's leave it to professionals. My lyrics are so autobiographical along with the music which provides the mood. It is like an audio book.