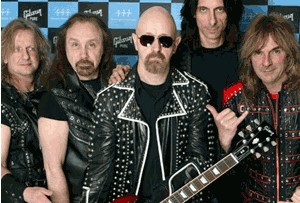 Band Name:
Judas Priest
Interviewed:
K.K. Downing
Interviewer:
Date:
2009-07-01
Previous Judas Priest Interviews
The Gauntlet:
How was the first night of the tour?
KK Downing:
We just did a warm-up show actually at an amphitheater in Indianapolis. It was killer. Tonight is the first night of the tour with Whitesnake onboard and we are looking forward to that. We are really looking forward to playing all the songs.
The Gauntlet:
Judas Priest is performing the entire
British Steel
album live on this tour.
KK Downing:
Yeah, we are playing it from beginning to end. Some of those songs we have never played live before. It was really good for us as we didn't have to sit down and scratch our heads to put a setlist together. It is always so difficult to do. Playing an album from front to end is a good thing to do.
The Gauntlet:
Are you bringing that retro Priest feel back to the live show?
KK Downing:
We haven't tried too hard. Judas Priest has never been too far away from what we had been in the 70's and 80's. We are using lasers again. We used to take them out but no one seems to use them anymore. We used to really incorporate them into the show back in the old days. They are fantastic. We have Harley Davidson back on board sponsoring us with a British Steel bike. The clothes are also pretty reminiscent.
The Gauntlet:
I imagine performing with all this two nights ago brought back some nostalgia?
KK Downing:
It really did. Jason, I can't tell you how fantastic it was. It really reallywas. There definitely was magic in the air that night. It was fabulous. I don't think any of us felt like that on stage in a long, long time.
The Gauntlet:
British Steel
was an amazing album. Did the band know they were working on something that would last 30 years and beyond?
KK Downing:
No, I don't think you ever do know. When any band sits down and starts working on an album in the studio, you never know. Sometimes when you do sit down, you get this feeling that this is the one, this will be a great album and it never is. After that, you never really know, you just go to bed and continue doing what you do.
The Gauntlet:
The album wasn't an initial success upon release. It took some big tours for fans to really latch onto it.
KK Downing:
Yes, Priest was always a band that got its success from working. Our album that probably really got off the starting blocks the best was
Screaming for Vengeance
which in the states to date is our biggest seller. It had some radio hits there.
The Gauntlet:
British Steel
was one of the first if not the first straightforward metal album. Was there any label resistance?
KK Downing:
Probably before
British Steel
there was some resistance. The label would tell us we should do some cover versions and the album is too heavy. It wasn't too bad as with each album, we sold more and more for the record company. Back then, the beauty of it was record companies could afford to nurture bands. They don't do this anymore like they used to. They just want bands to put dollars in the bank. I don't think things can get much worse than how they are.
The Gauntlet:
back in the 60's, you caught a Jimi Hendrix show or two. How did that shape who you are today on stage and in the studio?
KK Downing:
Yeah, I had the pleasure of seeing him on quite a few occasions. I saw him at Bristol's Colston Hall in 1967 I think. It totally changed my life and changed me as a person. I had a decent job but when I saw Jimi Hendrix, I was totally out of work after that. I picked up the guitar so I could start. I just wanted to do something, just a little bit of what he could do. I am extremely fortunate to have actually been able to fulfill my dreams. I am just totally over the moon. I do owe a lot to the great Jimi Hendrix like so many others that he inspired. I am one of the fortunate ones that got to play guitar for a living and I thank him a lot for that.
The Gauntlet:
Was seeing him what clicked for you?
KK Downing:
Yeah, it was just everything about seeing him. It was not just a lesson in music but was a lesson in life. I saw the choice in going out and holding down a steady job or being like Hendrix. All that energy, attitude and color...I just thought that whatever I was on that day, I didn't want to continue to be; I wanted what I saw on stage. It did really affect me. I think at the time I was seriously ill. It was as though a big door had been opened and I saw a path to me future. It could have gone either way. I was a young teenager at the time going to all the music festivals with my sleeping bag. I was just happy to be walking that path. I had just an old acoustic guitar at the time. I bought my first guitar when I was 16. I was listening then to people like John Miles. I liked some oddball stuff that a DJ was playing who died recently. He was a BBC DJ, John Peel. He was playing stuff like T. Rex, Captain Beefheart and a lot of obscure stuff. Then the great Jimi Hendrix came over from America and that was it. I have made all the sacrifices anyone could make; everything went to the wall. It was a tough ten years for me. I didn't even have a car until I was 27 and it was a rough one. It all worked out in the end.
The Gauntlet:
Are there other albums you'd like to do a full tour around?
KK Downing:
I think we could do a lot of them if we wanted. We could certainly do
Painkiller
and
Screaming for Vengeance
and maybe
Sad Wings of Destiny
. I think it would be loads of fun. It is exciting for us.
The Gauntlet:
And if all this isn't enough, Judas Priest is also releasing a live album later this month.
KK Downing:
It is our third live album so it is very important. A couple of songs have been on some releases somewhere. The vast majority of songs haven't been released live. I really like the live stuff. I like to go on Youtube after a show and see what people post.
The Gauntlet:
The cell phone footage?
KK Downing:
Yeah. It is cool that they do this. It is great to generate excitement for people coming to a gig.
The Gauntlet:
I watch fan filmed footage sometimes, I just hate the guys girlfriend standing next to him screaming and the drunk guy singing along.
KK Downing:
A lot of it is pretty professional looking. That is technology for you.