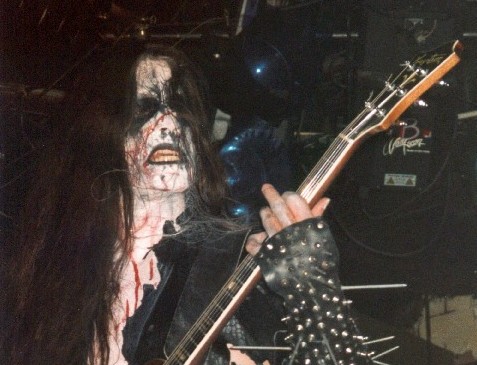 Band Name:
Gorgoroth
Interviewed:
Infernus
Interviewer:
Date:
2009-04-03
Previous Gorgoroth Interviews
The Gauntlet:
Are you finally finished with the lawsuits over Gorgoroth?
Infernus:
There are still a few more things to be done with this. I was in court late yesterday to deal with some more technical things. For example, the other guys opened their own little business called Gorgoroth DA. It was decided yesterday that they must put that business to an end. We have quite a few more technicalities like this to deal with. We are also further considering taking some legal action on the continued exploitation of the Gorgoroth name and Trademark.
The Gauntlet:
Was there anything you could have done differently or will you do things differently now to prevent this type of thing from happening again?
Infernus:
Yeah, of course in retrospect it is easy to see such. But it was difficult to be able to foresee that certain bass player going behind my back and doing the things like he did, secretly registering the name at the office of industrial property, and thus claim it as his. It first appeared more or less unreal. And I suspect him for all the time being aware of what was coming: him losing the unavoidable court case I immediately told him I would file against him and his collaborators. As of today, there is a certain weakness in the processes of registering trademark at this office. And he tried to be clever, and take advantage of it. As the verdict now clearly shows, you do not do such without having to take what comes as a result of that. When that is being said: There were some things I could have done earlier though. I had, as he did as well, to learn the lesson the hard way and am now ready to get on with moving ahead.
The Gauntlet:
I am sure you are paying for it monetarily.
Infernus:
Yeah, we spent like 18 months on this thing so far. At a point in time i actually had to sell some of my guitar equipment and take up rather big loans for keeping the lawyers and trademark experts going on the case. Eventually also regain records involved themselves, and we then got things set straight. It is time to get the focus now on the future. That will be done one hundred percent after the court has settled how much my counterpart will have to pay for their disloyal and illegitimate acts. And that will be pretty soon, yeah!
The Gauntlet:
I heard you have already begun working on the next Gorgoroth album.
Infernus:
Yes.
The Gauntlet:
has it been difficult staying focused with writing with all this going on in the background?
Infernus:
No, I started writing well before all this happened. I wrote half of the material in the winter of 2006. We have been in the studio a year now in parallel with the legal matters with no problem. The extra paperwork that was created by the former members was just a lot of practical hassle and extra work which I very well could have done without. Luckily, I have a good network of partners who helped me and the band through these difficulties. After a certain time, were able to hire in the best of expertise on the field, enabling us to know it was taken care of in the best and most professional way possible, again leaving us with sufficient enough time and energy to do what I enjoy most: write and record metal music, in the name of Satan.
The Gauntlet:
Tormentor and Pest have been brought back to the line-up.
Infernus:
They are back, yes.
The Gauntlet:
Are they full members of the band?
Infernus:
They have full membership status.
The Gauntlet:
What about Frank? Will he be doing double duty between Gorgoroth and Obituary or is he just filling in for the studio recording?
Infernus:
He is a full time member of Obituary and Gorgoroth. He will be in both bands.
The Gauntlet:
The last time both Pest and Tormentor were in Gorgoroth, you did the majority of the songwriting and lyrics while Tormentor composed the songs. Will the next album be the same?
Infernus:
That is not entirely correct, but anyway, this time, I have written all the material of the album myself. Me and drummer/co-producer Tomas Asklund have already started on the arrangement parts of the album coming after "Quantos Possunt Ad Satanitatem Trahunt", so we are on the move now, working perhaps harder than ever before. But in the future, who will write what, we will have to see about. I am not going to speculate about this now, but I can assure you that my attitude is still the same as always, it is the result which matters, and it is really not important for me to absolutely be the one who delivers all the material. As long as I can stand 100% behind the product, I am happy.
The Gauntlet:
Have you remained in close contact with both Tormentor and Pest throughout the years?
Infernus:
I have been close to Tormentor, as he has been amongst my best friends more or less forever. When the vocalist left, there was never any bad blood between us either. He got married and had to leave for that and some other things. Now I have the opportunity to get to work with them both again, and I must say I am really excited about that.
The Gauntlet:
Did it ever go through your mind to bring him back to the line-up before the drama began 18 months ago?
Infernus:
[pause] I have no comment on that.
The Gauntlet:
When is Regain Records looking to release the album?
Infernus:
I think we are looking at October 2009.
The Gauntlet:
Anytime a band becomes fractured, the fan base also fractures as they take sides.
Infernus:
It is natural that you win some and lose some whether you split up the band or not. It is a natural development.
The Gauntlet:
Were there people you worked with that you considered friends that went to the other side?
Infernus:
Not many, but there were a few key people. In terms of the common organization that was running things for us behind the scenes and parts of the distribution system, a few of them went to the counterpart and have been collaborating with them. There were also a lot of media outlets and members of the press that did the same. I am personally not much into the media circus though. I do not need to feed on hopeless self-mythologizations. I know my time, when i have to do the priorities right, for example disappear and go to the studio. Acta non verba. With that being said, most people in the scene have taken a clear standpoint when it was needed, and most have been in favor of me and my case. Gorgoroth's case.
The Gauntlet:
Was it odd turning to the same court system that treated you unfairly a few years prior?
Infernus:
No, I had to do a calculation thinking about how the outcome might turn out. I realized quite early that I would win the case. Applying common sense, and reading some legal issues, for about one minute or so, made me confident, and I immediately started doing what was needed when first being in a situation like that.
The Gauntlet:
You mentioned earlier that is was more paperwork than court hearings. Did you sit across a table from the other guys?
Infernus:
That is standard procedure, yes. It was pretty calm and there was no drama. This was really calm and civilized. Not as exciting as some might have been indicating. Members from the gossip feeding press as well.
The Gauntlet:
Have you learned a lot from all this?
Infernus:
I hope so. It would be a shame if not.
The Gauntlet:
I won't be talking to you in a few years after your victory over the trademark from Pest and Tormentor?
Infernus:
[laughs] I think I learned a lesson. This was a victory of common sense and one for the whole music business. It will serve to set a certain standard, enabling first and foremost predictability. The verdict is clear. In the case of Gorgoroth, and in the Norwegian music scene in general, from now on, this will be applied in case of future similarities, if any.
The Gauntlet:
Will you bring a lot of the emotions you carry over from the court case to this album.
Infernus:
I am more or less always angry, so honestly, nothing concerning this will be carried over. I was never really angry at the counterpart, but I must admit, at times I was a bit stressed due to the extra hassle it all brought with it. First and foremost - amused! Their, the counterpart's, creativity, really amused me a lot. I let them have their time in the press telling whatever stories they might have on their mind at the moment, more or less pretty sure that I would win the whole case. It was just a matter of time.
The Gauntlet:
Will Gorgoroth be performing at any Summer festivals this year?
Infernus:
Yes, I hope we will be able to do a show or two in the end of the summer, in Europe. We will use the summer travelling in between Sweden, where we work in the studio on the upcoming album, and Norway, where we will be rehearsing on a future live set-list.
The Gauntlet:
With Pest and Tormentor back in the line-up, will Gorgoroth be returning to the music stylings and beliefs from the Destroyer era?
Infernus:
I will not speculate on that. Musicians sound so shallow when they speculate on how people will receive a new album. I find that indecent. 1998 will never be again, that is for sure. But again, I will let the product speak for itself. That is always the best way to do it.
The Gauntlet:
What's Gorgoroth's reasoning behind the takedown orders of all lyrics and music tablature?
Infernus:
There are many reasons for that which I do not wish to comment on right now.
www.gorgoroth.info
www.forcesofsatan.com
www.regainrecords.com
www.myspace.com/160310525
www.myspace.com/forcesofsatanrecords
www.season-of-mist.com