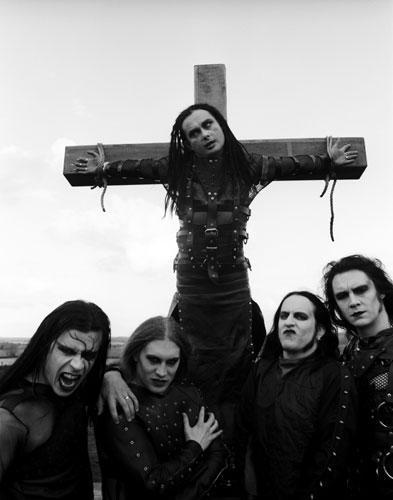 Band Name:
Cradle Of Filth
Interviewed:
Paul Allender
Interviewer:
Date:
2010-11-18
Previous Cradle Of Filth Interviews
HI PAUL THANKS FOR TALKING WITH ME. WHAT ARE YOU UP TO TODAY?
I'm actually sitting in my half built studio where I live jamming. I have to record some guitar lessons for a magazine in France. I might actually keep it up and make it a regular thing for the fans of Cradle of Filth and stuff like that.
THAT WOULD BE AWESOME! I READ THAT THE U.S. SALES NUMBERS ARE IN FOR THE FIRST WEEK OF YOUR LATEST ALBUM DARKLY, DARKLY VENUS AVERSA. IT ENTERED THE BILLBOARD TOP 200 AT #99. THAT'S GREAT CONGRATULATIONS!
Oh really? That's cool I don't really know about record sales and stuff like that. I'm not really interested in that to be honest. If you start worrying about that, I feel like you'll end up starting to influence your music to try and get it higher. It's better to be true to yourself you know?
YOU'RE RIGHT, YOU END UP PUTTING PRESSURE ON YOURSELF.
Yes totally, there is enough pressure already, let alone worrying about how it does on Billboard.
THIS IS A CONCEPT ALBUM ABOUT ADAM'S FIRST WIFE LILITH. IS THIS A COMPANION TO GODSPEED ON THE DEVIL'S THUNDER?
No, I don't think so to be honest. I think the only reason why the concept went more towards Lilith now than anything else is because Lilith has popped up in the band so many times throughout the years, so she was an obvious choice for a concept.
IS IT MORE DIFFICULT TO BASE AN ENTIRE ALBUM AROUND ONE STORY?
Yeah I suppose so when it come to lyrics, but music no, because the music comes first and then Dani decides whether it's going to be a concept or not after. The songs then get rearranged into the order they are going to be on the album to follow the concept.
WHEN YOU WRITE THE MUSIC DO YOU KNOW WHERE THE LYRICS ARE GOING AHEAD OF TIME OR WHAT THE CONCEPT WILL BE?
Not at all, when I'm writing tunes, I tend to make sure each song stands out on its own. Once it gets put together in album form, whether it's concept or not, you have a really strong album. Personally, I think that is the best way of doing it.
ARE YOU THE ONLY ONE WHO WRITES THE MUSIC OR DO THE OTHER BAND MEMBERS WRITE AS WELL?
On this last album I spread the work load between myself, James and Dave. The one before it was just me and Mark Robson who did the whole thing.
DO YOU SELF PRODUCE?
No, we bring in other people. It's just too much of a headache to self produce to be honest.
DO YOU FEEL LIKE IT'S IMPORTANT TO BRING IN OTHER PEOPLE ANYWAY?
Yeah totally, because sometimes they will come up with really cool ideas, they get involved in the album and put themselves into it. Sometimes they will come up with stuff that you don't think of. It always takes an outsider or that third eye to look in and say if it works or if it doesn't.
THERE ARE A LOT OF DIFFERENT VERSIONS AND FORMATS OF THIS ALBUM RIGHT?
Yes, we have the normal album, which has eleven tracks. We have a special edition that has a few extra pages, different artwork inside and some extra tracks. Then we have the Limited Fan Edition which has eight tracks, exclusive t-shirt, a lenticular 3D image of the album cover art and all kinds of stuff. It comes in a box set with a book that explains the whole concept of Lilith. There are videos and a documentary DVD in there as well.
THE FANS ARE GOING TO LOVE THAT.
Yeah hopefully, in this business I've learned not to take anything for granted.
NO KIDDING, THAT'S FOR SURE. YOUR RELATIONSHIP WITH ROADRUNNER CAME TO AN END IN APRIL OF THIS YEAR. YOU HAD BEEN WITH THEM FOR AROUND SIX YEARS. WHY DID YOU DECIDE TO LEAVE AND GO WITH AN INDIE LABEL?
It had come to the end of the contract to be honest. They offered us a deal, but what happened was they decided to sack the two main metal guys in the company who actually signed metal bands. It turned out they said "I'm sorry we don't do this sort of music anymore." Roadrunner not doing metal anymore is like my mom showing up at a show. Towards the end of our contract, all they were concentrating on were the bands that sold albums like Nickelback. We were seriously suffering from them not paying any attention toward us. We were just like "This is ridiculous, this can't happen. This could end up ruining the band." Peaceville came along and it's the best move we've ever made. Since we've been with them we've had three complete editions come out, we've played on MTV Germany to about 1 ½ million people, we have this tour coming up and I've had so many interviews coming out of my ears. It's been ridiculous, I haven't had this many interviews in so many years. We never had any of this on Roadrunner.
APPARENTLY YOU NEEDED A CHANGE.
This has injected so much life into the band, it has been amazing.
ARE YOU RELEASING ANOTHER ALBUM IN 2011?
We just finished recording an orchestral album. It's a bunch of songs taken from the first four albums and we turned them into formal orchestral pieces. We are not actually playing; there are no guitars, drums or vocals. It's film score music of all the songs. On half the album we've actually taken some really old black and white horror film stuff and set the music to the imagery. That's what we are doing and it should be out toward the latter half of next year.
ARE YOU PLANNING ON HAVING THE MUSIC IN FILMS THEN?
I don't know, it's not up to us. It depends on whether someone goes for it and wants it in their film. That's the way it happens.
HOW DID THE MTV APPEARANCE IN BERLIN, GERMANY GO?
It was really cool actually. It was playback and they told us we were the first band that had the whole band and full drum set up that they have ever had on there. We were also the heaviest thing they have ever had on there. It was called MTV At Home. We played "Forgive Me Father" off of the new album, which is one of the more easy listening songs on the album. It went really well. At the end of the day it was an opportunity we couldn't miss even though it was just playback. We got the band known to that many people; it's all promotion at the end of the day. You just don't know what's going to happen, in this industry you do not know what's going to happen around the next corner.
IN DECEMBER YOU GO TO SOUTH AMERICA.
Yes, we are looking forward to that.
YOU WILL BE HEADLINING A NORTH AMERICAN TOUR CALLED CREATURES OF THE BLACK ABYSS TOUR. IT BEGINS FEBRUARY 1ST AND ENDS MID MARCH. WHO WILL YOU BE GOING OUT WITH?
Yes, we are going out with Nachtmystium, Turisas and Daniel Lioneye.
YOU ARE KNOWN FOR YOUR THEATRICAL LIVE SHOWS, CAN YOU GIVE US A HINT AS TO THE PLANS FOR THIS ONE PRODUCTION WISE?
I've got some really, really cool ideas that we have as a band. The idea that I've got is I want to split the whole live show up into three acts so it's like a theatre play. We've got two interludes with costume changes and all that sort of thing. We will have to see what happens. I feel that horrible B word (budget) coming on.
I'M SURE WHATEVER YOU DO IS GOING TO BE SPECTACULAR.
It will, it's not going to look like crap, believe me.
DO YOU STILL HAVE YOUR GRAPHIC ART SIDE PROJECT?
Yeah, but it's not live at the moment. I still do it. I just started doing a whole load of like voodoo stuff at the moment. It turned out really well. A few people have seen it and thought it was amazing. I live in Minneapolis now and I have a studio in New Hope. In between I'm in that studio recording other bands. I have an idea to set up a gallery soon in Minneapolis when I finish about 15-20 images. I'd like to set it up over a weekend here and not just have it as visuals, but have it so that you walk into it. It will be like you are actually walking into the atmosphere of it and it's not just pictures up on the wall. I want to have the whole thing set up properly so that you are getting the atmosphere of all the imagery. I will advertise the crap out of it as well. I'm not even going to sell the pictures, I want to just set it up for the weekend just to see what it looks like and get people to come and say "Holy Fucking Shit that's gross!"
THANK YOU SO MUCH FOR THE INTERVIEW, WAS THERE ANYTHING YOU'D LIKE TO ADD OR SAY?
I'd like to say to the fans of the band that it's amazing that you've followed us for so long and if it wasn't for you guys we really wouldn't be able to do this. It's because of you that we have managed to record albums and tour. Come and see us when we play live, if we get the chance, we will meet you and hang out.