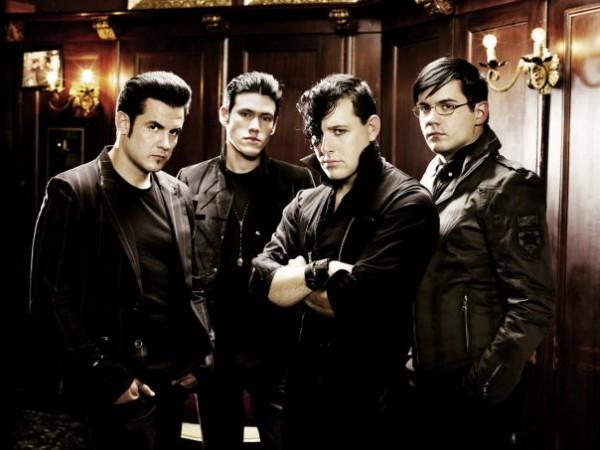 Band Name:
Dommin
Interviewed:
Kris Dommin
Interviewer:
Date:
2010-02-25
Previous Dommin Interviews
WE HAVE VERY SPECIAL GUEST KRIS DOMMIN ON THE PHONE TODAY.
SHAUNA O'DONNELL:
HI KRIS, HOW ARE YOU?
Kris:
I'm doing fantastic, how are you?
SHAUNA O'DONNELL:
I'M DOING GOOD. A LOT HAS HAPPENED SINCE WE LAST SPOKE. YOU WERE MAKING A MUSIC VIDEO LAST NIGHT AND TODAY RIGHT? TELL US ABOUT IT. WHICH SONG IS IT FOR?
Kris:
We shot a video for "Tonight." It was pretty cool, we worked with director Paul Brown, who has an extensive resume of videos. He has a wide range of stuff that he does. The cool thing is that we were able to collaborate on this one. I had met the director beforehand and we were able to sit down and shoot ideas back and forth.
SHAUNA O'DONNELL:
YOUR ROADRUNNER DEBUT ALBUM LOVE IS GONE IS DUE OUT NEXT WEEK ON FEBRUARY 2ND. SO CONGRATS ON THAT! THE ALBUM HAS BEEN DESCRIBED AS DARKLY ROMANTIC. WOULD YOU AGREE WITH THAT?
Kris:
Sure, I guess romantic. I find romantic to be a weird word to use considering it isn't a positive spin on love, on this record anyway. In the sense of romantic, as far as super passionate and extremely emotional, I would absolutely agree.
SHAUNA O'DONNELL:
IT FELT LIKE A REALLY LONG TIME FOR THIS ALBUM TO BE RELEASED.
Kris:
Yeah, it's been a long time in the making. The music and the album have been done for over a year now. It's just been a lot of set up time. It was originally supposed to come out in May of 2009 and some things changed with it. It got pushed back for various different reasons. It's actually been a really good thing. It's hard on our end to be patient and the fans who have heard this music for so long. They are already ready for the next record. Relatively speaking in the big scheme of things, we're still a brand new band and a lot of people still don't know who we are. We have to approach it still very fresh.
SHAUNA O'DONNELL:
SPEAKING OF FANS, I HAVE A QUESTION FROM ONE OF THEM. HOW DID YOU GUYS COME UP WITH YOUR IMAGE? HE TOLD ME HE THOUGHT YOU HAD A VINTAGE LOOK WITH A MODERN TWIST. HOW WOULD YOU DESCRIBE IT?
Kris:
It wasn't something that was conjured, I mean; it's just kind of how I am and how we are. I like a lot of music from the 40's and the 30's. It is my own personal taste. I like things that are classic and classy. I think when you mix those two things together, you get a very dark but classic, vintage feel in the clothing and style.
SHAUNA O'DONNELL:
YOU ARE THE MAIN SONGWRITER FOR THE BAND FROM WHAT I REMEMBER. AT WHAT AGE DID YOU BEGIN WRITING?
Kris:
I was probably writing really bad songs when I was about ten years old. The music really started to become what it is now when I was in my late high school years, because that is when I started experiencing relationships and things with people. Those kinds of inter-personal connections. Once you start going through that kind of stuff, you have something to say and something to write about.
SHAUNA O'DONNELL:
YOU COLLABORATED WITH LUCAS BANKER ON SOME SONGS?
Kris:
Yes, absolutely, Lucas is basically the guy who discovered us. He came across a demo that I had. I had been in other bands and I would always pass my demo around in the bands that I was in. Somehow through a weird twist of fate, someone who knew him passed my demo along to him. Ever since we started working together, we started writing songs together.
SHAUNA O'DONNELL:
THAT'S COOL, SO IN THE FUTURE YOU WILL PROBABLY CONTINUE TO WRITE SONGS WITH HIM THEN.
Kris:
Absolutely, I love collaborating. The majority of the songs that I wrote on my own came out of necessity because I didn't want to have to rely on anyone. I actually really enjoy the experience of someone coming up with a riff and being able to turn it into something. Usually, if I hear an idea, I can take a flame and turn it into an inferno. I need that spark sometimes to make something happen. Hopefully, I will get to do it a lot more within the band and outside of the band as well.
SHAUNA O'DONNELL:
WHO WOULD YOU REALLY LIKE TO COLLABORATE WITH?
Kris:
There's a band that not many people know about that is probably one of my favorite bands of all time. They are called Silence. They had an album called Vain, A Tribute To A Ghost and it is one of my favorite albums I've ever known. I really think that working with those guys would yield some really cool music, really cool ideas and direction.
SHAUNA O'DONNELL:
WELL, LUCAS IS VERY DEDICATED TO YOUR BAND. I ALWAYS SEE HIM AT YOUR SHOWS.
Kris:
He is probably our biggest fan. In a lot of ways he has seen this whole thing grow and in some ways he has a better idea of what Dommin is more than anybody. When I first met him, I gave him between 70 to 80 demo songs. He already knows the direction we are going and what we are capable of. He has the big picture. A lot of people don't totally understand what Dommin is until they have heard more than just a few songs. The entire first album is not the complete picture. Hopefully, when we put out other records, you are going to see other sides to the band. I believe it will all make sense in the big scheme of things.
SHAUNA O'DONNELL:
YOU ARE CURRENTLY WRITING NEW MUSIC, SO ARE YOU ADDING ANY NEW SONGS TO THE PLAYLIST FOR YOUR LIVE SHOW?
Kris:
No, not really, we have dabbled a little bit at rehearsal. I haven't really added anything because I realize I have to approach this very fresh. When people are downloading or buying the album, they will want to come to show and hear the songs that they love. I didn't want to get too ahead of myself. I think there will come a time during this album cycle that we will add in a song here and there. I already have some ideas. For now, it will probably just be music from the record as well as a couple different cover songs.
SHAUNA O'DONNELL:
AWESOME! I WAS GOING TO ASK THAT, BECAUSE YOU WERE DOING A COVER OF ONE OF DEPECHE MODE'S SONGS.
Kris:
Yeah, we do Depeche Mode, we do Cutting Crew and sometimes a Nirvana medley which is interesting. I love putting a new spin on different things and approaching songs that people are really familiar with in a new way.
SHAUNA O'DONNELL:
ARE THERE ANY PLANS THAT YOU CAN TELL ME ABOUT FOR YOUR SONGS BEING USED IN SOUNDTRACKS?
Kris:
We haven't been approached yet. I get told all the time that the music would be perfect for this or that. It's funny that you mentioned that, just yesterday there was somebody who is actually a huge fan of ours that is getting into screen writing and producing movies. He has always said that he wanted our music in his movies. I think he just got the green light for one of his projects so maybe in the near future you will hear some Dommin stuff. The opportunities are definitely out there, I think it's just getting the people that are creating them to be aware of Dommin and the music that we create.
SHAUNA O'DONNELL:
WHILE ON YOUR PAGE, I NOTICED THAT THERE WAS ANOTHER VIDEO FOR "MY HEART YOUR HANDS." IS THAT THE SECOND OR THIRD VIDEO YOU HAVE MADE FOR THE SONG?
Kris:
It is video number three. The first one we did was our own, two years before we had signed with Roadrunner. We had given up on trying to find a label and said "Screw it! We're doing it on our own." We will do our own videos and put our own music out there. I had come up against so many brick walls and had doors slammed in my face. I kind of came to the conclusion that no one appreciated what we were doing. I think that is the story that a lot of bands hear when they are trying to move their music. That video was made over a period of six months because we had to do it when we were able to muster up the time. Once we signed with Roadrunner, we made the second video with Dean Karr who is an amazing director. That was a great video, but after revisiting it and realizing this video was going to be the first impression people have of us, we decided that it made us a lot darker and grungier than we really are. It didn't really represent us in the best possible way. It lacked all the romantic sentiments that go along with the music. We gave it another attempt and worked with director Phil Mucci, who is known for doing a lot more photography than video. It worked out really well. Phil made it really epic and grandiose. It had all the elements that are involved with who Dommin is, so now I consider it the official video for the song. I have taken down the other two videos off of our YouTube. They may be floating out there somewhere on some pages, but I took them down. It's kind of ridiculous having three videos for one song. It made us look like we don't know what we're doing or we don't have other songs to show. I also wanted to create something special so when our official website goes into effect, there will be fan areas that people can unlock. Those videos will be in there, but also extra things with those videos. Since we shot the first version on our own, we have the original storyboards and footage. We are going to do a commentary with it to talk about how we put it together.
SHAUNA O'DONNELL:
THAT'S COOL, NOW THE LAST TIME I SAW YOU, YOU WERE PLAYING WITH COMBICHRIST.
Kris:
That was a year ago. It was cool, but it was a short run. It was seven shows on the west coast and was kind of like our first tour. I think we've come a long way since then as performers on stage. When we were on that tour, we were just kind of getting comfortable. We played gigs for years, but it is a completely different experience when you're a touring band. People are coming to see the headliner and you are the opener. No one knows who you are so you have to go out and prove yourself every night. That first tour was a real learning experience for us because it got us comfortable with going out there with that kind of attitude and goal that we are going to go out and show these people that we deserve to be headlining. We go out and give 100% and on an artistic level we bring the songs across in a personal way because a lot of times the music doesn't hit you the first time you hear it and we want to make sure that happens.
SHAUNA O'DONNELL:
YOUR LIVE SHOW HAS REALLY EVOLVED, WHAT ARE SOME OF THE THINGS THAT YOU HAVE TAKEN OUT OF THE PERFORMANCE AND SOME OF THE THINGS YOU'VE ADDED?
Kris:
I do things based on how good the night's going. If there is a lot of energy in the crowd and I get really into it I will still hit my guitar with the roses. The roses aren't going to last another night anyway, they wilt and die. They might as well go out with a bang. Sometimes we give roses out to the audience. There have been shows where the show is early in the day and people are not in the mood to be at a rock concert. If the energy is not there and it seems like no one is really into it then I won't give the roses out. If there is a fan that knows every word, they are supporting us and giving us that energy then those are the people I give the roses too. It's kind of like my own personal thank you. It helps us a lot when people are into and show they care.
SHAUNA O'DONNELL:
YOU ARE GOING TO BE HEADING TO EUROPE WITH LACUNA COIL IN A COUPLE DAYS.
Kris:
Yeah, we are tying up loose ends, packing and making sure we have all that we need. We start with Lacuna Coil in England for seven or eight weeks and it ends in Italy. We will get two days off and then the HIM tour starts there as well. We got main support for HIM and we will be touring in Europe, get a week off and then fly to the States for the HIM tour in the States. That pretty much means we will be gone from January until the end of May. I'm pretty sure that there will be tours tacked on at the end of May. I might not be home for a long time.
SHAUNA O'DONNELL:
IS THIS YOUR FIRST TIME GOING TO EUROPE?
Kris:
I went there in December to do some promo for Dommin. It was just really sitting in hotel lobbies doing interviews. I didn't get to meet fans or anything like that. That is what I'm most curious about to do this time. I want to see if the reaction is different in some countries opposed to others. People tell us we are going to do great in Europe so I'm curious to see if people appreciate music differently in different regions of the world. I want to see if it's true. I got a Myspace message from someone in Poland yesterday that said that "My Heart Your Hands" gets played on a radio station there every couple of hours. I guess in some places we are getting a lot of attention.
SHAUNA O'DONNELL:
WHEN I MENTION THE NAME DOMMIN TO PEOPLE, THE FIRST THING I HEAR IS "I LOVE THAT BAND" AND THE SECOND IS HOW HOSPITABLE YOU ARE AND HOW MUCH PEOPLE LOVE YOUR VOICE. IT SEEMS LIKE YOU HAVE ALWAYS HAD A GREAT RELATIONSHIP WITH YOUR AUDIENCE AND FANS.
Kris:
I think it's a mutual appreciation. I come from the perspective that I'm lucky and blessed to be doing what I'm doing and be there having this experience. The fact that these people connect with my music, care about these songs that I write and want to come out and hear it live means the world to be. I approach it from a very grateful and humble perspective. I think people tap into it and can see that. I don't think I deserve all this.
SHAUNA O'DONNELL:
YOU'RE A NICE GUY AND YOU HAVE ALWAYS BEEN GREAT TO ME.
Kris:
Thank you
SHAUNA O'DONNELL:
THE LAST I REMEMBER YOU RAN THE MYSPACE PAGE PERSONALLY. ARE YOU STILL DOING THAT?
Kris:
Yeah, absolutely, Roadrunner will log in to post a banner or bulletin, but for the most part I run our Myspace, Facebook, Twitter and word press blog. I try to run everything. After doing it so long on your own, relying on yourself and having that independence where you are controlling everything it is hard to relinquish that stuff. I have a direct link to fans. To all of a sudden not have that and have a disconnection between the people who appreciate what we are doing and I seems counter productive. It is almost a disservice to what we have done so far. I hope to continue to do it because it is getting harder, that is definitely the case. When somebody would email through Myspace, I would try and get back to every single one. It would usually take me three weeks to get back, but now it can take a month to a month and a half before I can get back to people. When we are in Europe, I'm not sure what kind of internet we will have, hopefully people are patient. I will get back to everybody when I'm able to.
SHAUNA O'DONNELL:
WELL, YOU HAVE DOMMINATION, WHERE PEOPLE CAN GO TO SEE THE LATEST NEWS AND KEEP UPDATED TOO. IT'S A FAN COMMUNITY RIGHT?
Kris:
Right now it is just my word press blog because everything is being transferred to the official site through Roadrunner. It's going to be like your one stop, Dommin shop. There will be forums there where you can interact.
SHAUNA O'DONNELL:
KRIS, I NEVER LOG IN TO MY TWITTER ACCOUNT, YET PEOPLE STILL ADD IT.
Kris:
I have never been one to do that kind of stuff. I'm not going to tell you that I'm having a cheeseburger right now, nobody cares. Most of the time, I'm just using it for Dommin stuff. Every once in a while, I mean, if there is something interesting to say I'll post something on Twitter.
SHAUNA O'DONNELL:
I'D LIKE TO THANK YOU FOR BEING ON THE SHOW KRIS, OF COURSE, I WISH YOU THE VERY BEST BECAUSE I THINK YOU REALLY DESERVE YOUR SUCCESS.
Kris:
I appreciate you having me on here.
SHAUNA O'DONNELL:
NO PROBLEM AND I HOPE TO SEE YOU SOON. I DON'T THINK YOU WILL BE HERE UNTIL APRIL.
Kris:
You're still in L.A. right? We will be at the House of Blues in Anaheim on April 21st with HIM.
SHAUNA O'DONNELL:
COOL, I'LL GO TO THAT SHOW; IT'S REALLY CLOSE TO MY HOUSE.
Kris:
I'll be going to Disneyland that day. Billy and I have annual passes, so we may be spending our down time there.
SHAUNA O'DONNELL:
DISNEYLAND IS ALWAYS FUN; I LIKE TO GO THERE TOO. BEFORE I LET YOU GO IS THERE ANYTHING YOU'D LIKE TO ADD OR SAY?
Kris:
To everyone listening, give our music a shot, if you haven't heard it before. Come out to a show because the live experience I think now is a different environment, take and experience. It is different from what you'd hear on the record, it's more of an atmosphere, vibe and feel. It makes the music in my opinion come alive in a different way. Come see us when we come to your town.