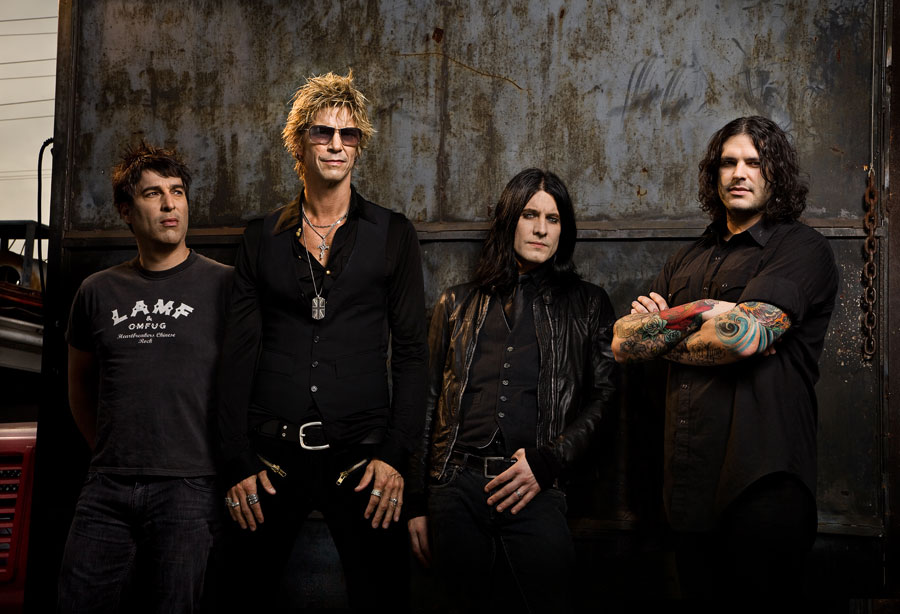 Band Name:
Duff McKagan's Loaded
Interviewed:
Duff McKagan
Interviewer:
Date:
2009-04-21
Previous Duff McKagan's Loaded Interviews
The Gauntlet:
Where you at, sounds like a party?
Duff:
Sorry, just ignore the background noise. We are getting something to eat here in Jacksonville Florida. It is nice out here, right on the beach.
The Gauntlet:
How is the tour?
Duff:
We just started in Nashville on Saturday and it was killer. We are playing some good shows. A lot of places I haven't played before. I really like bringing this music to new people. It is going to be a challenge though in the states. Places like UK and Japan, word about bands travels quick. I think because of the geography.
The Gauntlet:
How is playing the smaller stage?
Duff:
I have always liked that. I think the perfect gig is the small theater. I have played all the different sized venues. There is something about playing the small, packed, sweaty venues though that is great.
The Gauntlet:
After the US tour, you head to Europe?
Duff:
Yeah, after these shows, we will play some really big shows in Europe like Download, Rock Am Ring and Rock Am Park. The reception has been really great so far and we can tell the word travels. A lot of people think that I have been in really big bands for so long, why would I want to go through this shit all over again. There is nothing better than when you create something and watch it spread. I don't know if I'll ever outgrow it.
The Gauntlet:
You have been such a success in Guns N Roses and Velvet Revolver, why put yourself out there.
Duff:
I always put myself out there. It is the only way for me.
The Gauntlet:
But this time, your name is on the band, this is your success or your failure.
Duff:
Totally. I am totally stoked with the record we made. It is the most inspired piece of music I have been involved with in a long time. Commercially successful, that is anybody's guess. Do I feel that it is a judgment on me? I don't give a fuck. There are people who come to see us who dig it and that is all I can ask for.
The Gauntlet:
You don't need to go platinum for it to be considered successful like with other bands you have been in.
Duff:
[laughs] I don't think bands go platinum these days. We made the record for like $20k. The break even for the record is 3,000 units. If we sold 50,000 records by the end of the year, I'd be in shock. We are on an indie label, so selling 20,000 albums would make me happy, that and going out on tour with packed 500 and 1,000 seat rooms.
The Gauntlet:
What lead you to sign with Century Media, great label but your band sticks out.
Duff:
Yeah. When we started putting the songs together last summer, I was pretty beat up. The last few months with Scott [Weiland] were pretty brutal for me. I am a no bullshit kind of guy and I was forced to deal with a lot of bullshit. I can deal with bullshit just fine, but having the drama swirling around at all times was too much. I have seen enough of that in my life in other bands. This is not a comment on Scott, it is just drama. After all that, I went back to Seattle and just wanted to get back to some simplicity. Loaded has been a part of my life for the last ten years or so. We started putting some songs together again and got to the point of asking ourselves how we wanted to put this thing out. We were working with Bongload Records, a really small label and then Century Media came in and said they wanted to put this out. They wanted to work a rock & roll record. We will see how they do. We are more mainstream than the rest of their acts.
The Gauntlet:
Was the album already completed or were you still in the studio when Century Media first heard it?
Duff:
Yeah, we were working on it. I don't know what they heard. I think they might have heard the song 'Sick' though. We were in and out of the studio in like 9 days. It was really quick. It was an easy decision to go with them and the decision wasn't over thought at all. I just wanted to make sure the album was in the stores in the cities we are playing in.
The Gauntlet:
Did you listen to a lot of British rock growing up?
Duff:
Yeah I did. The chemistry of the band really came together and it really came to an apex before we put the songs together. They were more influenced by me I suppose. My influences run the gambit from Thin Lizzy to The Stooges. Mike Squires is really into indie shit and Iron Maiden and Judas Priest. Our music is varied but this is just the Loaded sound. It might sound like the 70's British bands but it isn't on purpose.
The Gauntlet:
Do you enjoy singing or being more in the background?
Duff:
I actually like it. I like to sing. I have become comfortable with my range lately. When we play live, I drink a bunch of Red Bull. I have a rapport with the audience and tell a lot of jokes. I keep it fun all the time. It is just a different way for me to look at music. When I hit the stage playing bass, I have a completely different mindset than when I am singing. There is an art form to all of it. Being a good bass player takes a lot out of you, just like being a good drummer or singer does. I think there is a big misconception that singers are more talented or working harder. There is no difference as far as effort level. Just look at John Paul Jones, he was the genius behind Led Zeppelin. I think it is actually easier to sing and play rhythm guitar than to sing and play bass. I would know.
The Gauntlet:
Why not Loaded, why Duff McKagan's Loaded?
Duff:
Because the band out voted me. They thought this record would be the one that gets us across the threshold here in America. I don't know if I agree with them or not on the name, but here we are.
The Gauntlet:
Nothing to do with Slash having the Snakepit, Izzy having the Ju Ju Hounds, or Steven Adler having Adler's Appetite? Seems to be a common thing amongst the GNR guys.
Duff:
I wasn't going for that, no. It wasn't my idea. [Duff begins having a conversation with Mike Squires] What are you looking at me for like that? It wasn't my idea.
Mike Squires:
It wasn't our idea either.
Duff:
Then whose idea was it?
Mike:
It was the promoter's. We all decided together that we agreed.
Duff:
No, you guys decided. I sat there begrudgingly saying that it was gay.
Mike:
Nobody wanted to put your name up there in lights.
Duff:
I think you wanted to, I think it is gay myself Jason [me].
The Gauntlet:
I'll stand up for you, the few times we have met, you came across very low key and no ego at all.
Duff:
Yeah, because I am a singer now I might have to get an attitude.
Mike:
We aren't in a hurry for that.