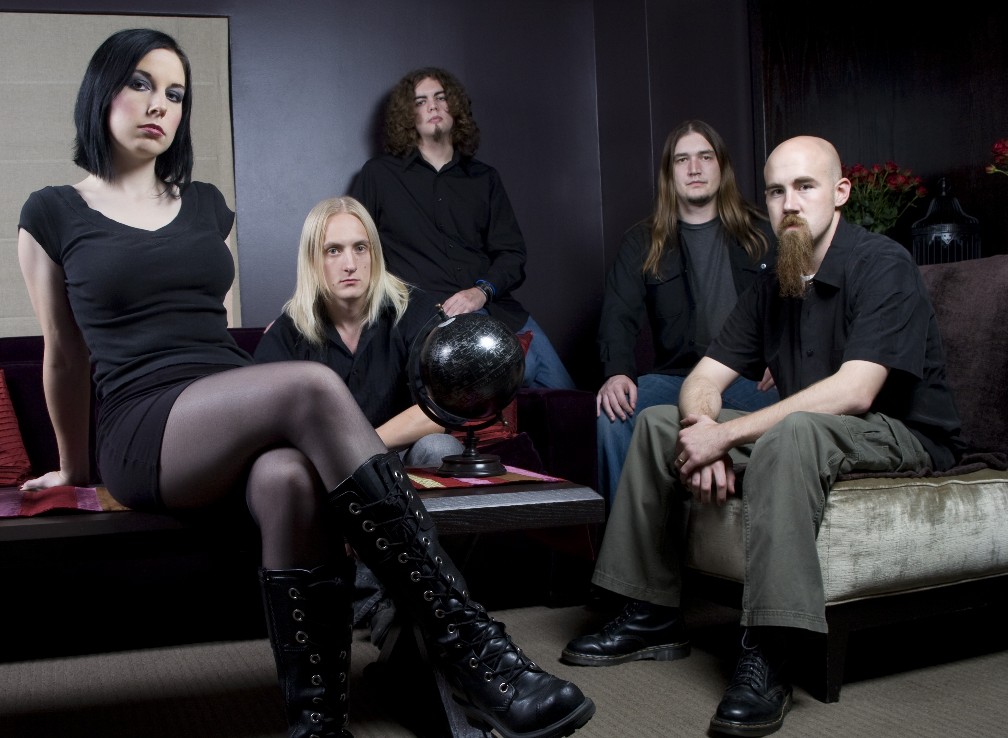 Band Name:
Luna Mortis
Interviewed:
Mary Zimmer
Interviewer:
Date:
2009-05-22
Previous Luna Mortis Interviews
The Gauntlet:
How was Chicago Power fest this year?
Mary:
It was awesome. I attended last year, we didn't play, but this year there wasn't the turnout. The people and bands there were really awesome though.
The Gauntlet:
Nothing against Black Label Society for the fact that Zakk Wylde can kick my ass, but I didn't think they fit as a headliner.
Mary:
Yeah, and they also had Devildriver headlining one night. For whatever reason they didn't pull in the same people as last year. It was really great otherwise, it was a really terrific show.
The Gauntlet:
I like those festivals and I like what the organizers are attempting in mixing the different types of metal. For the bands it means new fans.
Mary:
Yeah, I think so.
The Gauntlet:
Do you make yourself accessible after the show to the fans?
Mary:
We try to.
The Gauntlet:
So no walking out of the venue and straight to your helicopter?
Mary:
Yeah, defiantly. We aren't quite there yet. We hang out and talk to a lot of people. There are a lot of cool people at our shows.
The Gauntlet:
Now your album,
The Absence
has been out a few months already.
Mary:
I think it has been out for three or four months in the states. It comes out today in Japan.
The Gauntlet:
Oh really? Is this interview for the Japanese release? Maybe we should conduct the rest of the interview in Japanese.
Mary:
[laughs] Yeah, you better get on that. I think Japan will do really well for us. We have had a lot of interest from metal magazines over there. I would love to play in Japan, that would be really fucking awesome.
The Gauntlet:
When the band performs live, does it play music just from the new album or do you bring in some songs from the back catalog?
Mary:
We do have a back catalog from before we were signed. We have two releases but they were put out under our old band name, The Ottoman Empire. You can get them on iTunes still. On the Japanese release, we used two of the old tracks. We play them live along with a couple from our EP. We have a lot of fans in the Midwest that really like hearing the old stuff. Maybe when we go out with Edguy we will only play new stuff as we are the openers and our set is shorter.
The Gauntlet:
Why did it take the band so long to rid itself of that awful previous band name? I'm sorry, but that has to be the worst name for a band, I really hated it.
Mary:
Wow! [laughs] Oh man. We talked about ditching it a few years ago and we decided not to at the time as people in the area knew us by that. We did it right around the time of the signing with Century Media. It was our choice. We wanted a different name as it was awful sounding.
The Gauntlet:
So Century Media would have gone with the old name?
Mary:
They put no pressure on us to change the name. We mentioned to them that we were thinking about it and they said we needed to do it now or keep the name as once they signed us, they needed to promote the right band. We just said 'fuck it' and changed our name. We figured that with Century Media, we'd be on the national stage and we didn't want a name like The Ottoman Empire. We just decided to hell with it and made the change. And yes, I greatly prefer the new name. It is cool, I like it a lot.
The Gauntlet:
It fits you guys a lot better.
Mary:
I agree with you so I can laugh at that.
The Gauntlet:
Any plans for a new video?
Mary:
Yes, we are sitting on it for another month or so. David Brodsky did it and it looks really fantastic. It is for the song "Forever More." We did it in Wisconsin where we live in a small town at a church that is not a church anymore. The video has a lot of color and high contrast lighting. There are no religious artifacts though. It is a cool location, we aren't trying to make a statement or anything.
The Gauntlet:
I am glad to hear it isn't the cliché metal band in a warehouse with bad lighting and lots of angst video.
Mary:
It is a little cliché as it is in a building that used to be a church but I think when you see it you will understand it's just a location in the video. It isn't the obvious here is a metal band in a church rebelling against everyone. It is just a cool building.
The Gauntlet:
So it's not you getting back at your parents for putting you in Catholic school?
Mary:
I did go to Catholic school.
The Gauntlet:
I knew it!
Mary:
But that's not the reason.
The Gauntlet:
Were you in choir at church?
Mary:
No. I was always the singer and performer growing up. When I was in high school I realized I was ok at it. I went to college for it and blah blah blah.
The Gauntlet:
Was College where you really learned how to sing and develop your voice?
Mary:
Yes, in college I was learning to be a classical singer pretty much. I trained for 5 years as an opera singer. About a year into it I was asked to be in a metal band by these guys that approached me. I liked really rocking music but was never exposed to metal. They gave me CD's and magazines and it really opened Pandora 's Box. I love metal and there is nothing I would change about that. This is what I want to do with the rest of my life. I never really had the exposure to metal growing up. My parents were big music fans and I listened to a lot of their Rush and Supertramp albums. I guess I had a little exposure to metal with Beavis and Butthead, but never enough to really draw me in.
The Gauntlet:
If you had that exposure to metal you might not have developed your voice and range as you did.
Mary:
I don't think so. When I first started singing in a metal band, I tried really hard to sound like Bruce Dickinson, really bad. If you get our first album it is really obvious. I scaled that back a bit though.
The Gauntlet:
How was it working with Jason [Suecof]?
Mary:
He is my new friend. He won't accept anything less than your ability and really pushes you. He really squeezed out of me the absolute best. I really like working with him.
The Gauntlet:
Who did you vote for last night on American Idol?
Mary:
You sound like my folks. They think that because I am in the music industry I know what's going on and want my thoughts. I don't fucking care. That show sucks. I was so glad when that kid from Finland did his audition in his metal voice. That was cool. In America, they want you to sing a certain way and in a certain style or they don't like you and that is what the show is all about. Parents think American Idol is the way they can get in touch with their kids. It is just like people always want me to sing karaoke with them because I am a singer. It is not that I can't do it, if they bug me enough I'll get up and do some Scorps [Scorpions] or Queensryche. I get nervous as I have a low voice. I can sing the high notes if I go operatic.
The Gauntlet:
Ahh, the Scorpions. I loved them in the 80's. I love the vocals of Stephen Pearcy and Tom Keifer from Cinderella.
Mary:
I love the sound of Pearcy's voice. I don't know if I love Tom's. Sometimes I do as I like the color and how they are gritty. Other times, it hurts to listen. Like the dude from Avenged Sevenfold. I just know he has vocal problems. It hurts me to listen.
The Gauntlet:
Do your parents come out to your shows?
Mary:
They don't come out to many shows as I think it is a little much for them. My dad is really conservative now. They have come out though and they loved it. They were afraid of the bands and were shocked by how nice they were.
The Gauntlet:
I hear that a lot. People don't realize metal bands mainly do it for the fans. There aren't limo's to shows and huge tour riders in metal. There is a lot of face time and interaction between bands and fans in metal.
Mary:
So true. There is no money in it. Maybe someday. If it could only be like the 80's again. It's ok though, I really love what we are doing. I like to get up on stage and play for people, that is what it is all about. I want them to see we aren't a gimmick with that chick thing.
The Gauntlet:
Do you think the female frontwoman is a gimmick?
Mary:
I think it has become one for several bands lately. I won't say which ones, but I think it has become one. There are so few women in the metal scene. There are women who aren't good at what they do so they just get a cute outfit or cute look and get out there. I think it ruins it for those of us who don't suck.
The Gauntlet:
A lot of women in metal bands have been dressing up a bit more and wearing makeup lately.
Mary:
For the Century Media calendar photo shoot, they had me get into a skirt. I would never wear a skirt on stage.
The Gauntlet:
That's right. Are we supposed to address you as Miss January now?
Mary:
[laughs] I don't know. I am January and May so I don't know. [laughs] It is OK to be sexy and look good, but you should have the talent to sing first. If you have it and can bring it, fuckin-a, cool. Then however you want to look is up to you. I think when you put the look first, then there are problems. Nobody ever gives me any problems for being a girl if they see us play live. Even if I am having an off night, if I can get up there, I can contend with the guys and I can do it. A lot of people realize I am not being backed up by a band, but I am part of a band and we can play. When I first got into metal, I knew it would be tough and I knew I'd have to step it up and be better than the guys and work really hard to earn the respect of the guys. That is what matters, the quality. Then no one will have a reason to call you a gimmick.
The Gauntlet:
Having a female in the band makes your music more accessible to girls. Do you see more girls in your audience?
Mary:
Actually now that you mention it, I think I do. Looking at it, I think more women come out to our shows I think because I am not a guy. The reason I am saying that is the last few months especially we have had a lot of girls and females rocking out in the audience. A lot of them come up to me after the show and say I make them want to pick up the guitar or bass again. Now that you mention it, yeah. I had a couple girls who were rocking out come up to me after the show and say they work at Hot Topic and they carry our CD's there and we talked a bit.
The Gauntlet:
I'm just checking out Luna Mortis' Sausage Index ratio on The Gauntlet and I see you do have a good number of females attending your shows. Not many gays or bi-sexuals, but a few lesbians.
Mary:
I have noticed that since I have been in the band, I do get hit on by a lot of women. I am not a lesbian but it is flattering. I think a lot more women are getting into metal now and realizing it is ok. You can be feminine and still be into metal. I don't know why so many people think it is so masculine. I have been seeing more and more women in the pit lately.
The Gauntlet:
I'll be doing my part soon, I am about ready to post a
feature
on all the metal artists penis' I could find. There are quite a few out there too. That should get girls interested in metal.
Mary:
Really! Nice! I will have to check that out. There have been too many of those top 10 hottest in metal lists.