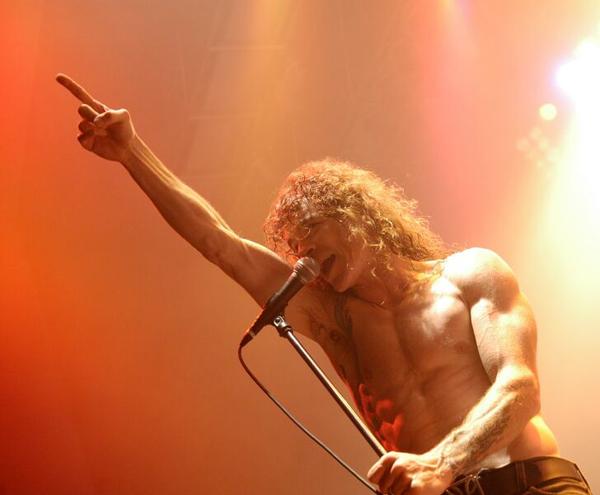 Band Name:
Overkill
Interviewed:
BOBBY 'BLITZ' ELLSWORTH
Interviewer:
Date:
2010-04-20
Previous Overkill Interviews
I AM AT THE HOUSE OF BLUES ON THE SUNSET STRIP TONIGHT TALKING WITH BOBBY "BLITZ" ELLSWORTH THE VOCALIST OF OVERKILL.
SHAUNA O'DONNELL:
HI BOBBY, THANKS FOR TALKING WITH ME. HOW ARE YOU?
Bobby:
Hi Shauna, it's a pleasure. I'm glad you made it here on the 101 (Fwy). Trouble happens that's unforeseen, like flat tires, but here we are at the House of Blues in L.A. with a good show pending.
SHAUNA O'DONNELL:
I INTERVIEW A LOT OF BANDS WHO GET FLAT TIRES, IT'S USUALLY NOT ME, SO THIS IS A FIRST.
Bobby:
You know what I think is really cool about that is that we are the ones that gave you that flat tire.
SHAUNA O'DONNELL:
YES THAT'S TRUE, YOU DID. YOU RECENTLY RELEASED YOUR 25TH ANNIVERSARY RECORD TITLED IRONBOUND. 25 YEARS CONGRATULATIONS ON THAT!
Bobby:
Well, what most people don't understand is that my partner D.D. and I started the band when we were nine, so it makes me 34. (Laughing) This is our sixteenth studio record with 25 years doing it. Our first release was Feel the Fire in 1985 and we have continuously held record deals regardless of climate or popularity. This is what we love so it's really hard for us to stop doing it.
SHAUNA O'DONNELL:
THIS ALBUM WAS YOUR BIGGEST DEBUT IN 16 YEARS, MEANING IT CHARTED ON BILLBOARD'S TOP 200 IN ITS FIRST WEEK OUT.
Bobby:
It's a great testimony to what the scene is about too. There is a great thing about the underground in this metal scene and that is it's unified. The metal guys and girls actually go out and buy the records if they like them. If they are committed to it, they are committed to it.
SHAUNA O'DONNELL:
HOW DOES IT FEEL TO BE ONE OF THE MOST SUCCESSFUL EAST COAST THRASH METAL BANDS OUT THERE?
Bobby:
Well, there is only one. (Laughing) I think we have the most longevity; obviously Anthrax came out of New York also and have great success. I don't know if you'd call them a thrash band, they have many different hats that they wear, but for sure a heavy metal band. I don't necessarily like to pin ribbons on myself, but if you say so, I will have someone else pin it on me later.
SHAUNA O'DONNELL:
WHAT WOULD YOU SAY IS THE KEY TO LONGEVITY IN A BAND?
Bobby:
For me, it was a really simple process and I didn't really recognize it until time had passed. I learned from my parents to take the most of opportunity and if you take the most of opportunity it is really a day to day process as opposed to a long term plan. If we are in L.A. on a Tuesday, this is the most important show of my life and if I look at it like so then usually Wednesday presents itself as an opportunity. I think that before you know it, you are actually accumulating time. It's not about what we've done, it's more so about what we are doing. In this band it's about "Let's make this happen." If 2010 is nothing really to do with 25 years than that's a nice perk. If that is your principal, it actually works itself out; you don't have to plan it.
SHAUNA O'DONNELL:
WHAT IS IT ABOUT YOUR BAND THAT MAKES YOU IDENTIFIABLE? THAT MAKES YOU STAND OUT FROM THE OTHERS?
Bobby:
With regards to the thrash community, besides our age? I saw this on CNN and it said that the highest levels of testosterone are in cops, astronauts and guys who stay in rock bands their entire life. That may help us to stand out. (Laughing) I thought to myself, boy I picked the right profession, I'm glad I'm not selling used cars. I really think that we are the bastard child of two genres, when we were kids there were two things that we loved. One of them was the new wave of British heavy metal, which were the bands like Iron Maiden, Tank and Motorhead. We are still Motorhead fans, that is the ultimate band in my opinion. We were also punk rock fans and coming from New York, we used to go to a place called St. Marks. You would wear leather jackets, ripped jeans and white high tops. There would be the Ramones across the street wearing the same. We are obviously a metal band, but the X factor I really think comes from that punky energy. We became Dead Boys and Sex Pistols fans and when you incorporate this into that new wave of British heavy metal it actually becomes a genre onto itself.
SHAUNA O'DONNELL:
DID YOU SEE THE LEMMY MOVIE?
Bobby:
Yeah, I'm in it.
SHAUNA O'DONNELL:
I READ AN INTERVIEW THAT YOU DID WHERE YOU SAID THAT THE NAME IRONBOUND CAME FROM A NEIGHBORHOOD IN NEW JERSEY. WHEN YOU LOOK FROM AN AERIAL VIEW, THE RAILROAD TRACKS LOOK LIKE…
Bobby:
The neighborhood is tied to the Earth by iron ribbon. Ironbound came up from D.D. and I think it is because it is something that is very common to us. I think it describes us figuratively to the scene because we are tied to this and when he came up with it as a title I said "Man, it is geographic and figurative at the same time." We are tied to it, due to the love of it.
SHAUNA O'DONNELL:
YOU DO ALL OF YOUR OWN PRODUCING RIGHT?
Bobby:
We have been doing our own production since the beginning. At the beginning, it was obviously with the help of others and then as time went on we took over full production. We will always have someone mix it. Occasionally, to mix up the formula, we will bring somebody in. The last time we did it fully, it was 2004 and that was Colin Richardson who produced the whole record with us helping, taking co-production credits and doing the mix. On this last record we produced with Peter Tagtgren doing the mix. He is the ears of the new generation in my opinion.
SHAUNA O'DONNELL:
WHAT DID HE BRING TO THE ALBUM THAT YOU DIDN'T HAVE ON THE PRIOR ONE?
Bobby:
I think he brought organics. It sounded like a band playing, the drums sounded like drums as opposed to being manufactured. I think that is really important sometimes. Popular opinion says that this is an old school record, but it's really not. It's a re-invented old school record, so if you re-invent yourself, you are actually presenting something new. I think what Peter brought to it was taking modern technology, using everything at his disposal and at the same time instead of making it that modern manufactured sound, it sounds like a band playing in a room. That is huge, it is all about energy.
SHAUNA O'DONNELL:
YOU SHOT THE VIDEO FOR THE SONG "BRING ME THE NIGHT"
IN BROOKLYN, NEW YORK. THE VIDEO IS A PERFORMANCE VIDEO. I WAS TALKING TO SOMEONE THE OTHER DAY ABOUT HOW DIFFERENT THE VIDEOS APPEAR TO BE TODAY. REMEMBER BACK WHEN VIDEOS HAD STORY LINES? IT SEEMS LIKE A LOT MORE BANDS ARE DOING THE PERFORMANCE VIDEOS NOW. HAVE YOU NOTICED THAT?
Bobby:
Yes I have, but to take that a step further, Overkill has only done performance videos. That is really about it for us, it's not about concepts, story boards or story lines. When D.D. and I sat down with Kevin Custer to get an understanding for "Bring Me the Night," I mean Kevin is awesome, but the guy is a drummer. When you sit and talk to a drummer who is directing a video, who has the idea of timing and what it's about, live performance comes out and that is what we really needed to have happen. Kevin's vision really took this to the next level as far as I'm concerned.
SHAUNA O'DONNELL:
WHERE CAN THE VIDEO BE SEEN?
Bobby:
It has debuted on Fuse, MTV2, it's all over YouTube, Europe and some local stuff.
SHAUNA O'DONNELL:
YOU ARE CURRENTLY ON YOUR 25TH ANNIVERSARY TOUR ENTITLED "KILLFEST 2010." THE TOUR SPANS ACROSS NORTH AMERICA AND PARTS OF CANADA. HOW IS THE TOUR GOING SO FAR?
Bobby:
So far, so good, I mean the tour started in February. A great indicator on how the record and the tour is doing is when you open the show with a new song and you see mouths moving and singing the opening track of the record. We get to "Bring Me the Night" and I say that I'm not even going to sing the chorus to see what happens. This happened on February 6th in the Netherlands and I was blown away. I realized that the record had impact and if the record has impact then the tour has impact. That is as simple as it is.
SHAUNA O'DONNELL:
YOU HAD TO CANCEL THE VEGAS SHOW YESTERDAY.
Bobby:
Yeah, it was something about Wayne Newton, he stubbed his toe. We were in town, I'm rolling dice and the next thing you know I'm being dragged out by some cop. That was a good reason to cancel.
SHAUNA O'DONNELL:
YOU'LL BE TOURING AUSTRALIA FOR THE FIRST TIME.
Bobby:
Yeah, we will in September. We have done Japan and Korea before, but we are linking up Japan and Australia. It looks like we will be going into China for the first time too. The offer just came in and as long as we're there, why not? Australia is going to be really exciting because I think that they have always had a scene but it's so far removed that it's not the easiest place for most bands to get to. It is going to be really exciting for us.
SHAUNA O'DONNELL:
A LOT OF BANDS TELL ME THAT METAL IS PRETTY BIG IN EUROPE AS OPPOSED TO THE STATES. WOULD YOU AGREE WITH THAT?
Bobby:
I don't necessarily think that. I think that the demographic, obviously is that there are 300 million American people and Germany being the second biggest record market at 80 million people. The idea is that if you spread it throughout Europe then sure it is really powerful, they have great promotion systems, great labels and great magazines. I think that still for all of our years of touring and all our years of releasing, America has always been our best market because of its size. One of the things that I think is unique to Europe is that when this became a dirty word in the States, metal was very passé. Grunge stepped all over it in 1994 and left little boot prints all over it. The idea is that it went underground so there was still a market here, but in Europe it never went underground and was always very visible especially in Germany.
SHAUNA O'DONNELL:
ARE YOU STILL REALLY INTO MOTORCYCLES?
Bobby:
I do bikes, yeah. I have only one right now and it is up on a lift because I'm in Los Angeles and it needs new brakes. I have a 1340 Harley with an 80H engine, but I have thinner head gaskets on it and I've stripped as much of the metal as I could off of it. I'm a 160 lbs soaking wet so it's a matter of physics, when you start getting more compression, you start getting more speed. It's lowered so I like to call it "Dick Dragger."
SHAUNA O'DONNELL:
WHO ARE SOME OF THE NEW BANDS OUT THERE THAT WOULD BE CONSIDERED YOUR SAME GENRE THAT YOU ARE YOU LIKING?
Bobby:
Having Warbringer and Evile with us is a really cool thing. I've seen Warbringer take steps from the last year that we toured the States to maturity to some degree. They know what they are doing and sure they are cut from the 80's metal but the other side of it is that they are getting their own face. I think that is really fantastic and I'm noticing the same thing with Evile. We had done plenty of festivals with these guys overseas and they have a unique approach to things. It is great to travel a road that has already been laid for you, but eventually you are going to have to carve your own way into the jungle. I think these two bands are doing that.
SHAUNA O'DONNELL:
I CAN'T WAIT TO SEE YOU GUYS PLAY TONIGHT. THANK YOU SO MUCH FOR THE INTERVIEW. BEFORE I LET YOU GO WAS THERE ANYTHING YOU'D LIKE TO ADD OR SAY?
Bobby:
Let me tell you something, I always wanted to be a metal DJ, so here we go. (Grabs the mic )
Hey boys and girls! This is your DJ Heavy Metal Bobby Blitz spinning all those heavy metal hits. You hang on this next one's called "Ironbound."