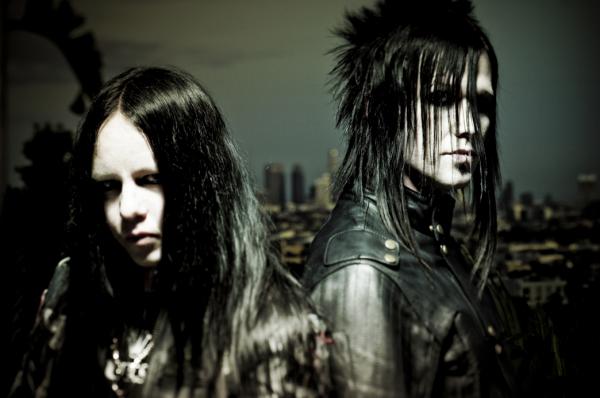 Band Name:
Murderdolls
Interviewed:
Wednesday 13
Interviewer:
Date:
2010-06-15
Previous Murderdolls Interviews
HEY GUYS THIS IS SHAUNA O'DONNELL AND I AM AT THE GLASS HOUSE IN POMONA, CALIFORNIA WITH WEDNESDAY 13 THE VOCALIST OF MURDERDOLLS.
SHAUNA O'DONNELL:
THANKS FOR TALKING WITH ME.
Wednesday 13:
Hello, thank you for having me.
SHAUNA O'DONNELL:
YOU ARE VERY WELCOME. I WOULD LIKE TO THANK YOU FOR THE WONDERFUL SOCK PUPPET VIDEO CLIP YOU DID FOR THE GAUNTLET. DO YOU MAKE SOCK PUPPET VIDEOS OFTEN?
Wednesday 13:
No, we were at our rehearsal space and our manager told us that we had to do a quick video. I didn't want to do a normal video so I said "Let's do sock puppets. Can we do that?" He was like "Are you serious?" I said "Yeah." So I went and got socks really quick and did that. It took about fifteen minutes and it was two takes, but we got it because we are professionals.
SHAUNA O'DONNELL:
I PUT IT UP ON MY FACEBOOK, IT WAS SO FUNNY.
Wednesday 13:
Thank you, we are starting to have fun. We are making movies now and we started this new thing called "Mad Manager." We will piss our manager off and then we retaliate back and forth. It's getting good.
SHAUNA O'DONNELL:
I SAW WHERE YOU THREW FLOUR IN HIS FACE.
Wednesday 13:
He was antiqued.
SHAUNA O'DONNELL:
WHAT WAS HIS REACTION TO HAVING THAT HAPPEN TO HIM?
Wednesday 13:
You know, there is a rule, if you fall asleep on the couch with your shoes on then that's what happens. Take your shoes off!
SHAUNA O'DONNELL:
I NOTICED THAT THE TWO OF YOU HAVE A GREAT SENSE OF HUMOR. WHAT IS THE FUNNIEST PRANK YOU HAVE PULLED ON SOMEONE?
Wednesday 13:
Oh man, I don't know if people think it's funny. When I was a little kid I lived in this neighborhood and my parents were moving. It was my neighborhood, I loved it and it was great. I had this rope that went over this creek because I'm from North Carolina. I used to play in the woods all the time and so I had this big rope that swung across the creek over these jagged rocks and everything like that. That was my rope and I didn't want anyone else to play with it. I climbed up that tree and I was going to cut the rope off before I moved and then I said "No, I'm just going to cut it a little bit." When they would go to swing across the creek, they would go a little bit and then the rope would snap. That was a good prank.
SHAUNA O'DONNELL:
THAT'S FUNNY. ALRIGHT WELL I READ THAT YOU ARE RECENTLY RESURRECTED.
Wednesday 13:
Yes, we have, me and Joey have decided after eight years to do a new record.
SHAUNA O'DONNELL:
HAS IT BEEN EIGHT YEARS SINCE YOU'VE PLAYED A SHOW?
Wednesday 13:
It's been eight years since we recorded the first CD. It's been six years since we played our last show in California in 2004. We just did two off shows and prior to that we had eight months off. That was the last time that version of Murderdolls played. This is our first show tonight and we've had seven or eight days of rehearsal. It's a whole new theme, Joey and I decided we wanted to put a whole new band together and not use the original guys. It is nothing against them, we are just in a different place now, those guys are in different places and we just wanted to do something new and fresh. That is why we did it this way.
SHAUNA O'DONNELL:
WHO ARE THE OTHER BANDMATES THAT WILL BE PLAYING WITH YOU TONIGHT BESIDES JOEY?
Wednesday 13:
Well, I can't say right now. We have to wait until the show.
SHAUNA O'DONNELL:
YOU HAVE A NEW ALBUM COMING OUT IN AUGUST TITLED WOMEN AND CHILDREN LAST, YOUR SECOND ALBUM TO BE EXACT.
THIS ALBUM IS 8 YEARS IN THE MAKING. IS THIS IS THE FIRST TIME YOU GUYS SAT DOWN AND COLLABORATED TOGETHER? WHAT DID YOU DO DIFFERENTLY ON THIS ALBUM THAT YOU DIDN'T DO ON THE FIRST?
Wednesday 13:
This one is completely and totally different. The first Murderdolls record was a combination of my old band and Joey's old band. We took all the songs, smashed them together, reworked some of them, changed some parts and wrote a couple of new songs, but for the most part it was kind of old material. It was stuff that we wrote when we were 18-20 years old living at our parents house just trying to get jobs. Any Murderdolls album is a whole revelation, this is us now, we are in our thirties and we have been through everything you can imagine. We're pissed off! We are still having fun, but we're pissed. This is a very in your face record.
SHAUNA O'DONNELL:
WOULD YOU SAY THAT YOU WROTE THIS PARTICULAR RECORD TO PISS PEOPLE OFF?
Wednesday 13:
No, we just kind of do that naturally. I don't think we have to try that hard to piss anyone off. Ask that guy in there,"Mad Manager." It just happens with us. There is a lot of personal stuff on this record and a lot of stories. There are no horror movies this time; I didn't want to do the whole thing about Dracula and Frankenstein. These are new stories. These songs are scary, dark stories, but they are stories and not about movies this time. It's all over the place; it's a really dark, violent and fun record.
SHAUNA O'DONNELL:
YOU WORKED WITH ZEUSS ON THIS ALBUM. HAD YOU WORKED WITH HIM BEFORE?
Wednesday 13:
It was my first experience working with Zeuss, but Joey had worked with him prior to that. Zeuss is such a great guy; he pushed me to my limits on there. I love that because I've never really had anyone to push me in the studio. He definitely helped me out a lot and brought new ideas to the table that I would have never thought about. I would love to record the future stuff with him as well. He really got into the band because he'd been dealing with so many of the same kind of bands. He is known for the heavier type of stuff. We come in and we have all this stuff. He was like "Oh my god, this sounds like Ministry and this song sounds like Cheap Trick. I've never dealt with this before." He loved it, it was a whole new animal for him and he was a cool guy.
SHAUNA O'DONNELL:
DID YOU HAVE ANY GUEST APPEARANCES ON THE RECORD?
Wednesday 13:
Yeah, we had Mick Mars from Motley Crue come in and play guitar on two tracks, "Drug Me to Hell" and "Blood-stained Valentine." He came in, spent a day and worked on the songs. It was something that Joey and I talked about. We didn't want to have any guests on this record whatsoever, but we were talking about it and we did this song "Drug Me to Hell." We were about to do the guitar solo and I was thinking it had a Mick Mars kind of vibe to it. We knew someone who knew Mick, they called, it was done and he was there in three days recording the tracks. It was really cool to have a guy that I grew up idolizing playing on my record. It is a really cool thing. He is a great guitar player and I consider him to be one of the villains of rock. Our manager used to manage Motley Crue too so he is used to dealing with our shit. He called up Mick and it was done. It was a really cool experience and it was an honor to have him on the record. I can't wait for people to hear it, it's great and it sounds like Mick Mars. You will know it immediately.
SHAUNA O'DONNELL:
YOU ONLY PLAYED 15 SHOWS WHEN YOU RELEASED BEYOND THE VALLEY OF THE MURDERDOLLS?
Wednesday 13:
In America, only in America. We did most of our touring in the UK, all over Europe, Australia and Japan. We did all of that over and over. We only did those few shows, but it was really in the early stages. We did the first batch of shows prior to the record coming out, so no one knew who we were. Once the record came out we started having some more people, but we only played a handful of shows. We would play and then fly out and go to England. We didn't get a chance to do it. This time it's revenge!
SHAUNA O'DONNELL:
WILL YOU DO A FULL NATIONAL TOUR WHEN THE NEW ALBUM DROPS? WHAT WILL YOU DO DIFFERENT THIS TIME?
Wednesday 13:
Yes, we actually go to England on September 18th to open for Korn and Ozzy at Ozzfest. We are doing that and then we come back to the states. We will be doing a tour for six weeks, but I can't tell you what tour that is.
SHAUNA O'DONNELL:
ALL THESE SECRETS!
Wednesday 13:
I can't release it until they tell me I can, but it's happening. It's going to be an amazing tour. People are going to be blown away and it will be in time for Halloween so it will be great.
SHAUNA O'DONNELL:
IS IT MANSON?
Wednesday 13:
We'll see
SHAUNA O'DONNELL:
WHEN YOU GO ON MYSPACE OR FACEBOOK IT IS ALWAYS HARD TO TELL WHICH PAGE IS REALLY YOURS. I WAS ON THIS ONE PAGE AND I HAVE TO ASK YOU IF THIS IS TRUE. DO YOU LIKE THE MOVIE 'FRIED GREEN TOMATOES?'
Wednesday 13:
I hate it, but it's just funny when you put 'Fried Green Tomatoes' next to 'Faces of Death.' That is one of my pages; I have a million of them. I'm a Myspace crazy person. I have fifteen accounts, it's great! I'm a lurker. I'm kidding.
SHAUNA O'DONNELL:
HOW MANY FACEBOOKS?
Wednesday 13:
I only have one and it is my actual name. I only have my family and friends on it.
SHAUNA O'DONNELL:
I ONLY HAVE FOUR MYSPACE PAGES, SO YOU BEAT ME.
Wednesday 13:
Oh Nice!
SHAUNA O'DONNELL:
I WANTED TO THANK YOU SO MUCH FOR THE INTERVIEW. IT WAS AWESOME TALKING WITH YOU. GOOD LUCK ON YOUR FIRST SHOW TONIGHT!
Wednesday 13:
Thank you, we need it. We need some luck.