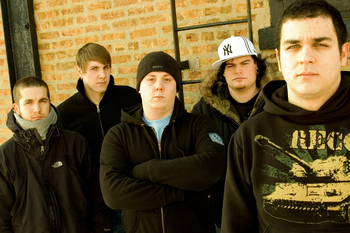 Band Name:
Emmure
Interviewed:
Jesse
Interviewer:
Date:
2007-03-09
Previous Emmure Interviews
The HXC: How's it going?
Jesse: It's going good. We're driving to Rochester for a show with a couple of locals.
The HXC: How long are you on tour for?
Another 11 days then we have a little time off before our Canada tour with Fairwell to Freeway. It will be for two weeks.
The HXC: Are there further tour plans following the Canadian stint?
Yeah we're waiting for confirmation to go on tour with The Warriors and a couple of other bands, we are going to continue grinding hard, keep on the road and keep touring.
The HXC: It says on your bio you guys met online.
Me and Frank live in queens and basically we met up with them through an internet site from Cenniticut and we were looking for other members to join a band. We all got together and hung out and we all got along pretty well. That's how it started.
The HXC: Did you guys have any releases prior to your full length debut with Victory?
Yeah, we had an EP out before the full length, and recorded it with the guitar player from Ion Dissonance. He did the production for it and it helped us a lot. It helped get our name out there, his band is great.
The HXC: Do you plan on touring with Ion Dissonance?
Well we did a miny stint with Ion Dissonance and Sworn Enemy. Ion Dissonance just recorded their CD when we recorded ours.
The HXC: When did the signing with Victory happen?
That happened August, last summer.
The HXC: What influences your music? Says here you guys set out to be "the heaviest and most emotionally driven band". Is it the people you have had experiences with? The music you enjoy?
All that stuff dude, definitely. Just touring in its self and meeting new people, different modes of different music. This is the stuff we want to play and the stuff that the five of us are into and people dig it so that works out well.
The HXC: Would you call Emmure a hardcore band?
No, we're not really a hardcore band. We do have two step parts but we don't consider it to be hardcore hardcore y'know. The stuff I used to listen to was stuff like Crowbar. I would say it goes from motley cure and roses to Pantera to Meshuggah Sevendust. We are all over the place, we started with Motley Crue and GNR then we went to heavier stuff and from there even heavier stuff. So we definitely like a lot of different heavy music.
The HXC: Do you think Emmure will get labeled a particular type of heavy music like what is now being called "metalcore"?
Not at all, it happens with every band and with everyone, it happens y'know. What can we do? You're going to get a lot of people that don't like it. We aren't too worried about it we just want to have fun and just enjoy it while we can.
The HXC: Is there any new material lined up?
Not yet, we're still just making a plan so we can have enough time off in between touring. We went on tour, got signed, and went on for another 5 weeks to write the full length. I just know there's room on the second album for different stuff.
The HXC: For our less Dictionary inclined friends out there, what does Emmure mean?
Emmure was a way of torture where a person would be put in a cage and a wall would be built around them on the cage in a wall. There's a picture of that on the EP, if you take the CD out but we had them reprinted through the other label.
The HXC: Was it a group effort deciding on the name?
Franky picked it before I even joined the band. It definitely does fit the music.
The HXC: How did you guys end up signing with Victory?
Funny story, we were driving out to California and we got an email from Tony, the head of Victory Records, and after a few emails we showcased our material to him. We drove to Chicago to play for them but we had to take a detour on our way to California and took the drive out to Chicago to play for him.
The HXC: So you guys pretty much drove from California back to Chicago for the signing?
Yeah, we were very excited to be working with Victory.
The HXC: Have you had any van problems due to the extensive traveling?
Haha, Some but nothing serious. We have a brand new van we're getting tomorrow.
The HXC: Do you guys manage the band?
Yeah I pretty much run everything, booking shows and such. We are trying to hook up with an agent and a manager.
The HXC: What will the advantages of having both or either a manager and an agent?
They take some of the stress off the band and get alot of shows and it's helpful. I'm a control freak so I like to know about everything, it could be nuisance but you get the bigger tours and you get more respect by getting those bigger shows.
The HXC: Emmure's debut album "Goodbye To The Gallows" is out now on Victory Records.