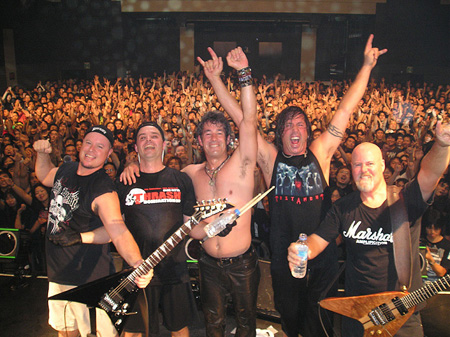 Band Name:
Laaz Rockit
Interviewed:
Aaron Jellum
Interviewer:
Date:
2006-08-24
Previous Laaz Rockit Interviews
Twelve years after going their seperate ways, Laaz Rockit regrouped in it's classic 80's thrash lineup to play Dynamo. A year later, the band released a
DVD
. What's next for these Bay Area thrashers? The Gauntlet finds out.
The Gauntlet: What has been going on with Laaz Rockit?
Aaron: We have been putting this
DVD
together for the last 3 to 4 months. We are kind of spread out so we haven't been playing gigs lately. The drummer is in North Carolina and Phil lives up in Yosemite. We just found out we are going to be doing some dates with Testament in Australia in January. We are looking forward to that. There is a lot of speculation as to whether or not we are going to do another record. Things are pointing to that we are.
The Gauntlet: Have you got that thrash bug again?
Aaron: Yeah, there is a little bit of one going on right now. We aren't going to corner the market or anything, but there is a market out there for what we play and I know there are a lot of fans out there who would love to hear some new material. We are not going to be the next Iron Maiden. We are who we are and we do what we do. I would imagine there is a bit of a market there though.
The Gauntlet: Were you involved in the DVD or did some company buy the footage and put it together.
Aaron: We all put it together. A friend of ours has an editing studio called Malicious Productions and he does short films. A guy named Andre runs it and we spent time with him chopping it and putting it together. It was all done by us, funded by us, and put out by us.
The Gauntlet: After the band disbanded, did you keep making music?
Aaron: I did a project in Concorde called The Dirt Brothers. It was a rock-blues fun kind of band. We did some home recordings but we didn't put anything out for release. We played live though. That just lasted a couple of years. After that it was downhill for me until we got together last year. Phil was playing in different bands here and there, but they were just side projects. The rest of the members, I don't think have done anything. Willie has DDP (Dublin Death Patrol) which is a side project with all his high school buddies.
The Gauntlet: Last year you first took the stage as a band at Dynamo 2005?
Aaron: Actually it was at FnR which is the pre-party for Dynamo. We played it the night before, and then the following day we played Dynamo. That was our first time back on stage with the original members.
The Gauntlet: When you first took the stage, how was it?
Aaron: It was a trip man, it was like going back in time. It was a really great feeling. It is indescribable really. It was definitely like going back twenty years in time. Here we are in our forties rockin' out.
The Gauntlet: I have seen pictures and you guys look like a kid on X-mas morning finding a bike under the tree; although a little less hair.
Aaron: [laughs] Now, we play shows like it is our last. We never know if we are going to play again. That is how we handle the shows.
The Gauntlet: The band began when you were 18 and in college. Do you find it hard to keep playing an aggressive type of music?
Aaron: No, I am still a big metal fan and I still love playing this type of music. I wouldn't do it if I didn't want to.
The Gauntlet: What music are you currently listening to?
Aaron: I listen to Mudvayne, Devildriver, Acid Drinkers, Killswitch Engage, Chimaira, Himsa. Those fuckers kill. My musical interests are so wide, but I still listen to a lot of metal.
The Gauntlet: What do you think of this new breed of 'thrash' band? Bands like Trivium?
Aaron: I have heard Trivium. I think they are alright. Too many people are mixing the fucking super melodic chorus' and then the deathcore vocals. It is just too predictable. Everybody is trying to do that. I would rather just hear a band be heavy and do a song with out the fucking melodic choruses. Do one or the other and don't try to mix it up. I think Trivium tries to do a lot of that, but I do like their heavier stuff.
The Gauntlet: Has writing begun for the next album?
Aaron: I've got probably eight songs written. They don't have vocals yet. I am just holding off to see how the DVD does. Like we were talking before about it being worth it for us to do a record. I kinda want to get some feedback from the DVD and see where people's heads are at before I dive in headfirst on a record. I just want to get these songs off my plate. They are written. Some have been written over the last ten years. A lot of it is newer. But I've got to get them off my plate or they'll just sit there and no one will ever hear them.
The Gauntlet: If you have been writing Laaz Rockit songs for the last ten years, have you always planned on starting up the band again?
Aaron: It has probably been more like eight years. But no, I have always just kept writing the same style of music without the band. It is kind of weird I know. I have always kept them and held on to them. Since then, I probably have two that are that old and the rest are pretty recent. They will still stand up to the time that has passed, I guarantee it.
The Gauntlet: In what vain is the new material in if compared to previous albums?
Aaron: I'd say they are more in the Gack style and vain. I don't know if you are familiar with the record we did when we disbanded. We actually renamed the band Gack. We did a record that was released in Japan. It was fucking one of our best albums, we should have never changed our name. There were so many different members and it didn't feel right. I'd say it is more along those lines. It is a hard to find album. It is a fucking rarity. It is a great record, one of Mike's better vocal albums. I think the newer stuff is somewhat similar, but not entirely.
The Gauntlet: What is the timetable for this?
Aaron: My goal is to try to have this done by March of next year so we'll have to dive into it September or October. We'll try to wrap it up by March or April of next year. That is my wish list, but I don't know if it will happen. I'd like to do at least one more record before we…you know. We see all these bands performing and we wonder how many more years do we have where people will still take us seriously. We are still young at heart. We may not look all that young anymore or have the hair we did, but I think we have a couple more years in us. It will be cool to get some stuff out and then call it a career. We will see what happens.
The Gauntlet: Would one more album be a great cap to the career?
Aaron: It will be closure. Something for us to look forward to and something for us to have. We'll be able to say we did it.
The Gauntlet: We need you out there to show some of these new guys what thrash is.
Aaron: Yeah man. So many people are writing such killer shit now and I hear some music and think "Fuck, I can't compete with it." But then I think to myself, "don't sell yourself short." There is a lot of killer shit coming out these days. I think the stuff we have is really strong and will surprise a lot of people for sure.
Buy DVD