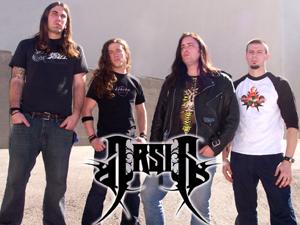 Band Name:
Arsis
Interviewed:
Jim Malone
Interviewer:
Date:
2008-08-01
Previous Arsis Interviews
The Gauntlet: Did you record all the instruments for the new album yourself, as you have done for some of your recordings on the past?
Jim Malone: No, I didn't actually. It was all shared between all the band members.
The Gauntlet: That was the first time that everyone has participated right?
Jim: Oh yeah, oh yeah.
The Gauntlet: How did you make that decision?
Jim: There were finally competent enough players in the band to record in a studio setting. I've always wanted that so it was an easy decision.
The Gauntlet: How was it working with Zeuss at Planet Z Studios? Was that your idea?
Jim: It was actually the label's suggestion initially, that we might want to work with Zeuss. After checking out some of his past work we really thought that it was the way to go. I thought he was amazing to work with, honestly. I'd work with him again in a heartbeat given the opportunity.
The Gauntlet: So everything went smoothly? No bumps in the road?
Jim: Oh yeah, no issues.
The Gauntlet: Was it nice operating with a Nuclear Blast budget this time around?
Jim: Indeed, indeed (laughs). Yea, it was a lot better than trying to work with a Willowtip budget to make a decent album. [Arsis were previously signed to Willowtip Records]
The Gauntlet: How did you guys originally get signed to Nuclear Blast?
Jim: Gerardo, the label manager over at Nuclear Blast USA, had actually contacted us a number of years ago, right after our first album was released. Both Nuclear Blast and a couple of other labels were actually interested in signing the band and buying the contract from Willowtip and re-releasing "A Celebration of Guilt" [Arsis' first album]. Willowtip wasn't too into that idea so we had to fulfill our contract with Willowtip before we were able to sign to Nuclear Blast. We kept in touch with Gerardo through those years and as soon as our contract was up with Willowtip we had one waiting for Nuclear Blast.
The Gauntlet: How is the "Thrash and Burn" tour going so far?
Jim: Hmm, it's going well. I think it's a weird lineup for us, but it's going pretty well.
The Gauntlet: Are you guys getting a good response? You kind of stick out on that bill like a sore thumb.
Jim: Yea, the response has been good so far. We definitely do stick out. I think now that Abigail Williams is on the tour that makes it a little bit better, we don't feel quite so out of place.
The Gauntlet: Must be weird to be the only band without breakdowns, right?
Jim: Exactly.
The Gauntlet: What town are you in right now?
Jim: We are in Dayton, OH.
The Gauntlet: Is it a total shithole or what?
Jim: Honestly, it was a 10 hour drive from the last venue, I drove the first 5 or 6 hours, and then I slept from, like, 7:00 this morning until about an hour ago, so I kinda missed the surrounding area and the drive in - I've only seen the back of the club. Hopefully, I'll be able to take a walk here in a little bit and kind of assess the area better. But it's Ohio - it's probably a shithole (laughs).
The Gauntlet: Hopefully all your friends back home will turn up for the Virginia Beach show and make you feel a little more at home, right?
Jim: Exactly. That's what I'm hoping for. I've actually always wanted to play that club in Virginia Beach, so we'll see how that goes.
The Gauntlet: Is this the first tour with your new drummer?
Jim: Yes, yes, it's the first tour with Shawn Priest.
The Gauntlet: How is he working out so far?
Jim: Awesome. He is BY FAR the BEST drummer we've ever had.
The Gauntlet: What does he bring to the band? What can he do that your old drummers couldn't do?
Jim: Well... our first drummer [Mike Van Dyne] was very solid, and was technical enough I think, but he did have his limitations. Darren [Cesca, Arsis' second drummer] technically could probably do just about anything you'd ask him to do, but live his tempo was a little ehhh, and he was very hard to work with. You know, the reason he's not in the band anymore (laughs). This new drummer is just amazing through and through. Just a great guy, easy to get along with, and he can play anything that we've ever recorded perfectly. And his tempos live are just solid as one could hope for.
The Gauntlet: Your material is all very technical, is there anything you've ever struggled to play in a live setting, or do you make sure to only write stuff that you can handle?
Jim: I always try to write songs that I know I'm going to be able to play live. It's actually kinda weird, sometimes what may seem like, "Oh, that's really technical, are you really going to be able to do vocals and
remember the lyrics at the same time?" Sometimes those are actually the easiest things to do live (laughs). Sometimes some crazy tapping parts are easier for me to sing over than some syncopated thrash riff or something.
The Gauntlet: Your songs are generally all long as well, is it a struggle deciding what to fit into your short set on this tour?
Jim: Yea, we just try to keep it simple, and for this fest are trying to pick the songs that we have that have quasi-breakdowns in them (laughs).
The Gauntlet: So are kids doing the hardcore dancing thing for you guys?
Jim: No, not yet. We'll see.
The Gauntlet: Out of the other bands on the tour, who are you enjoying watching every night?
Jim: Darkest Hour's fun to watch every night. Abigail Williams, obviously, I enjoy watching them. Winds of Plague probably has one of the best stage shows on the entire tour. All the bands are good in their own respect, you know?
The Gauntlet: Any touring plans set for after Thrash and Burn?
Jim: Yea, I believe we're supposed to go to Europe with Morbid Angel in November.
The Gauntlet: No way.
Jim: Yea, the tour should be pretty darn amazing. It's Morbid Angel, Kataklysm, Marduk, Keep of Kalessin, and then us opening. So I'm really looking forward to it.
The Gauntlet: It's like a dream tour.
Jim: Yea, yea it is. I couldn't ask for anything else.
The Gauntlet: Quick, give me your top 5 albums of 2008.
Jim: Oh geez... man, I'm trying to think if I've actually heard an album that was released this year yet... That's a darn good question... Oh, I do enjoy that new Keep of Kalessin album actually, "Kolossus" I believe is the name of it. That's pretty awesome. I really enjoy that band. I'm trying to think...
The Gauntlet: Maybe we should go top 5 all time?
Jim: OK, sure. I'll say Mercyful Fate's "Don't Break the Oath," King Diamond's "Them," The Cure's "The Head on the Door," umm...
The Gauntlet: The Cure? I didn't expect that one!
Jim: Yea (laughs). Yea, I love The Cure. Let see... Birthday Massacre's "Violet," and then Dissection's "Storm of the Light's Bane," and Carcass' "Heartwork" would probably both be up there too I'd imagine.
The Gauntlet: If there was a metal pie chart for Arsis, how much would each subgenre occupy?
Jim: Black metal would probably be the majority, then 80's metal, then power metal a little less than that, and then death metal. Death metal and power metal are probably tied.
The Gauntlet: Alright, that's it, thanks a lot Jim.
Jim: Thanks, take care.