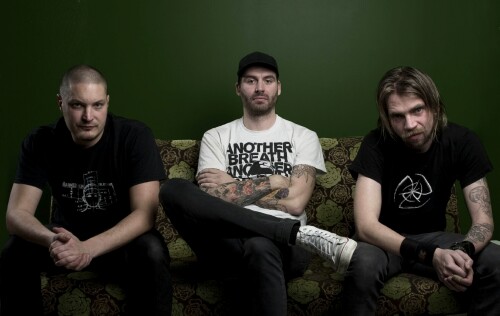 Band Name:
Victims
Interviewed:
Andy and Johan
Interviewer:
Date:
2009-02-26
Previous Victims Interviews
Victims are a Swedish crust/grind band that fans of Brutal Truth, Disfear, and older Napalm Death. They just released a fantastic album called
Victims
on Deathwish Inc. The Gauntlet spoke with Johan (bass and vocals) and Andy (drums) from the band about their music and the Swedish underground scene.
The Gauntlet: First off, since this will be for a more metal leaning site, can you tell our readers about the band's history?
Johan: We started out in 1997 as a 4-piece, with me on vocals, Andy on
drums, Marcus on guitar and Andy on bass. We were influenced by Discharge, Motorhead and some American hardcore from the 80's. We then released the album
Neverendinglasting
on Yellow Dog records (2001). After that album Marcus left the band and we got Jon (Outlast, Sayyadina, Nasum) on guitar. Felix from Havoc Records signed us and then we released 3 records on his label. In 2006 Andy left so I grabbed the bass and kept on singing as well. In 2008 we released the album
Killer
on Combat Rock Industry Records in Europe and Havoc Records in the states on vinyl. In February 2009
Killer
was released on Deathwish Records in the US on CD. A whole lot of touring have been done during these years, both in Europe and in the States. In December 2008 we decided to try out to have 2 guitar players, and our friend Gareth Smith (Raging Speedhorn) joined the band, and we are really happy with how everything is sounding.
Sweden has a fine history of d-beat influenced bands like Skitsystem
and Svart Parad but how is the scene going today? Are there a lot of newer bands we should keep our eyes out for?
Johan: There are new bands coming out all the time here in Sweden, here is some of the really good ones right now: Nitad, We Live In Trenches, Sista Sekunden, Harda Tider, Fy Fan, Kvoteringen, and Sonic Ritual.
Andy: As Johan says there are always new great bands coming up here in Sweden. Some bands that you should keep your eyes out for are the ones Johan mentioned and also Destroy All Planets, Bastard Priest, Big Hands, Pyramido, Vanhelgd, Maim, Raised By Drunks and probably more that are slipping my mind right now.
The Gauntlet: You just released Killer in the States through Deathwish Inc. How did you hook up with them?
Johan: It's our friend Ryan from Coliseum who did the do the artwork
for the
Killer
album and also gave us a spot on the Coliseum North
American tour last Spring. He is a good friend with Jake at Deathwish Inc and asked him if we were interested.
Andy: We have to give credits to Ryan/Coliseum for the Deathwish Inc thing. We were talking during our tour with Coliseum about how we were looking for a new label in the States and Deathwish Inc came up so Ryan just hooked us
up with Jake at the label. We really like & respect what Deathwish Inc has done over the years so we are really stoked about working with them.
The Gauntlet: What kind of themes do you tackle lyrically on Killer?
Johan: There's a lot of feelings and questions about the life we are living. A lot of complains and anger and frustration. I always want to have the feeling of a possibility for a change in the lyrics, not only a totally negative attitude to everything.
Andy: Everyday madness I would say, both personally and political.
The Gauntlet: We imagine you play with both crust/punk and metal bands. Has the metal scene been receptive in the live setting so far?
Johan: Yes they have, or I guess they have; I hope anyway. It feels like we can play both metal and crust and hardcore-shows these days. We hope and wish it to be more shows with mixed line-ups in the future. The three scenes are different from each other but in the end it's all the same.
Andy: Yes, we try to be as flexible as possible when it come to shows and
touring. We donīt see any reason why not. A lot of people are way too narrow-minded when it comes to this if you ask me. I rather see a mix of bands when I go to a show than 5 bands that kind of sound the same. I think the response from the metal scene has been pretty good for us, and I think it's getting better and better.
The Gauntlet: Gareth Smith (ex-Raging Speedhorn) has recently joined the band. Can we expect the new material the band writes to go in a more metal leaning direction? Has he changed the dynamic a lot?
Johan: Yeah! We are so glad that Gareth have joined the band, it feels great! I don't think the new songs would be in the direction of metal, I think we are going to continue in the same way as before. He's definitely going to change and improve us as songwriters but we're still going to sound like Victims.
Andy: It feels really good to have him with us. I think the guitar sound is more dynamic/bigger now, which is going to be great live. As for songwriting I really look forward to see what he can do for us. But are we headed into a more metal direction? I don't think so. There will be a change of course, but will still sound like Victims as Johan says.
The Gauntlet: You'll be playing the Maryland Deathfest this coming May. Who are you looking forward to seeing the most?
Johan: I would say that Pestilence, Bolt Thrower, and Napalm Death are the 3 big ones (for me anyway) Also looking forward to check out Brutal Truth. A lot of Swedes at this fest, so I guess the party is going to be off the hook since we are the beer drinkers from Hell! Other good ones are Rotten Sound, Flesh Parade, Pig Destroyer, and Trap Them.
Andy: There are some really great bands playing the fest and I really hope that I will be able to see Bolt Thrower and Napalm Death. Other bands that are worth checking out are Sayyadina, Trap Them, Rotten Sound, Splitter, Pestilence, Venomous Concept, Brutal Truth and probably many more that I forget that playing right now.
The Gauntlet: For readers who aren't too familiar with the sound, what are 5 essential Swedish hardcore/punk records they should seek out?
Johan:
1. Anti Cimex - Absolute Country Of Sweden
2. Disfear - A Brutal Sight Of War'
3. Wolfbrigade - Comalive
4. Meanwhile - Reality Or Nothing
5. G-ANX - Flashbacks
Andy:
1. Bombanfall
2. No Security
3. Skitsystem
4. Martyrdod
5. Svart Sno