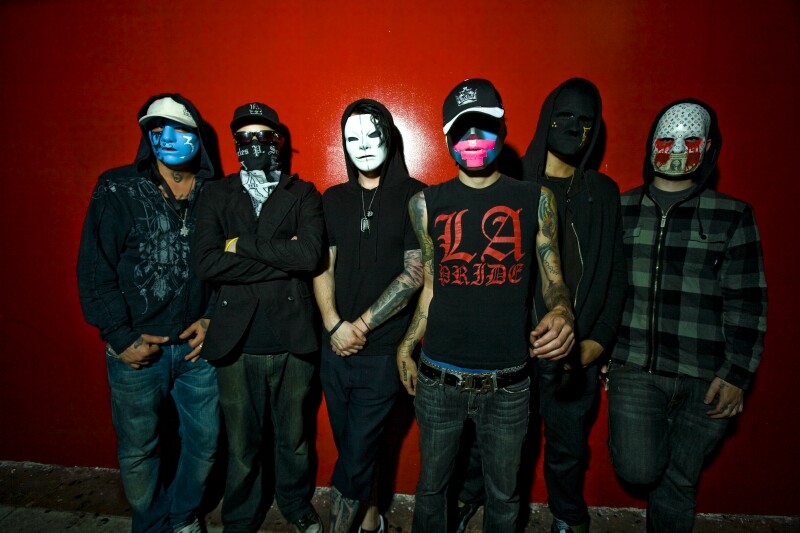 Band Name:
Hollywood Undead
Interviewed:
J-Dog
Interviewer:
Date:
2008-08-30
Previous Hollywood Undead Interviews
The Gauntlet: What's new?
J-Dog: Hold on one second, I need to get untangled from my wires. Fuck dude. Hold on…OK.
The Gauntlet: You still have a corded phone? Get with the 90's man.
J-Dog: It's a cell phone but I have one of those headsets and got tangled up cause I was listening to music on it. Where are you located?
The Gauntlet: Los Angeles.
J-Dog: We are in Hollywood, but I guess you can figure that out by the name.
The Gauntlet: Not necessarily. The LA Angels are in Anaheim. Maybe you guys live in Culver City but Culver City Undead would be a stupid band name. Hollywood is one of those common places that everyone knows where it is.
J-Dog: That's true. There are a ton of bands that say they are from Hollywood but are really from Orange County. I think the last band that really made it and was from Hollywood was Guns N' Roses.
The Gauntlet: How long did it take to write and record the new album "Swan Songs?"
J-Dog: The album was 3 years in the making. The album itself has 14 songs, but we had 25-30 songs written. We recorded the album with Don Gilmore who recorded Linkin Park but we weren't happy with the way it turned out. We didn't like all the songs that came out. He was a really good producer though. Then we did some tracks with Danny Lohner from Nine Inch Nails. Those songs came out really good.
The Gauntlet: Didn't you have a deal with Interscope before with AM/Octone?
J-Dog: Yeah, we signed with Interscope first. They have a joint venture with MySpace. That didn't really work out. The direction the band wanted to go was different than the way the label wanted to go with us. We weren't able to come to a happy medium. Jimmy Iovine suggested we sign with Octone. We started working with them and couldn't be happier now.
The Gauntlet: You don't mind being the black sheep of the label?
J-Dog: They have Flyleaf that is a Christian band. They also have Maroon 5 which is very main stream and pop. We probably won't get much MTV play but we have been shocked with all the radio time we have been getting with the edited versions of our songs. The label has told us to calm down several times though.
The Gauntlet: How was the music video shoot?
J-Dog: It was out of control. We filmed over 3 days and broke a ton of shit. The video crew wanted to leave as they couldn't handle us anymore. I think the label likes our craziness in a way, but it makes them nervous at the same time.
The Gauntlet: What were some of the things you guys did that made the video crew want to split?
J-Dog: Some of the props were super soaker guns, blow up dolls and an endless supply of alcohol. We'd show up at 10am and start drinking. One of the guys was shooting the director with the super soaker. Another guy locked himself in a hotel room with one of the strippers with all of the equipment. Someone else was throwing mic stands around. There was also lots of puking. They were trying to get us to listen and follow directions but after a certain amount of alcohol you just stop listening. After 3 days of that they just couldn't take it anymore. They did a great job with the video though. They were just very on edge. A couple tried to leave. Some of the girls didn't want to be there. We were like dude, if you don't want to be here then leave.
The Gauntlet: What were some of the things that Interscope did to make the deal fall apart?
J-Dog: MySpace Records tried to tone us down a lot. We didn't want to though. They wanted us to take songs off the album and censor a lot of others. Octone let us be ourselves and that is the best thing an artist can have. In all honesty, no other label can compete with Octone.
The Gauntlet: What are your thoughts on the clean version of the album?
J-Dog: It is necessary. You can take the filthiest rapper in the world and his label will release a clean version. 50 Cent has entire songs with different lyrics. If you want to survive, you have to have clean lyrics.
The Gauntlet: How important is the bands image to the band?
J-Dog: Image is important to any band. I'll reference 50 Cent again. When he first came out you saw his tats and heard about him getting shot. With us, we all dress the way we dress. We where the masks as we don't want people to know what we look like. That is all part of the image. When it comes down to it, we all have separate masks.
The Gauntlet: With all the drinking and drugs, how long can the band last?
J-Dog: That depends. We don't do drugs though. We all grew up in Hollywood and I have seen enough drugs in my life to kill 50 people. I have had friends die from them. My best friend in high school was on heroin. I have seen him go through crazy shit like splitting his head open in the garage. With drinking, we have gotten better. We know we can't be crazy all the time. We are learning when we can do it.
The Gauntlet: On the album, you thank beer, wine and pussy.
J-Dog: [laughs] Yeah, we like all the pussy.
The Gauntlet: Any one in particular?
J-Dog: When it comes down to it, 90% of the pussy you get is from beer or wine. I think people are scared to admit that, but I'm not. Alcohol makes certain dreams come true.
The Gauntlet: What is the craziest thing you ever did with a girl?
J-Dog: I don't want to say that in an interview as it has come up in the band before. All of the band members know about it and one of the guys moms found out about it and told my mom. Then my mom confronted me on it. It's not anything I want to bring up. My mom already cried once.
The Gauntlet: You ever piss on a girl?
J-Dog: No, but my neighbor has. He pissed in this girl's mouth. Another friend of mine was tag teaming this girl and pissed on her afterwards. It was pretty gross.
The Gauntlet: What do you have against the Musicians Institute?
J-Dog: I think they are shooting out cookie cutter kids. I grew up in the same apartment for the last 15 years. When I walk down the street, I see all these kids who think they are too cool for school and going to be rock stars because they are taking guitar classes. There are just millions of kids coming out of these schools that don't have what it takes. They think by taking guitar classes they will be fronting some scream band and be famous. I think the school gives false hope.
The Gauntlet: Does the band write the music arrangements on the album?
J-Dog: Yeah, we write everything. Our main song writer is Deuce. He is the main song writer and writes all the hooks. We all come up with our verses and lyrics though and bring it all together. There are no outside writers who aren't in the band.
The Gauntlet: You have an upcoming tour?
J-Dog: Honestly I don't know. I heard it is a small headlining tour. My sister knows the tour dates better than I do. I am excited to go though and can't wait to get out there.