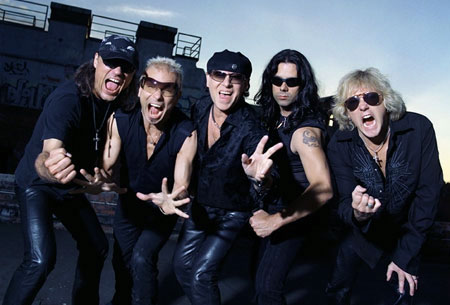 Band Name:
Scorpions
Interviewed:
Rudolf Schenker
Interviewer:
Date:
2010-01-27
Previous Scorpions Interviews
Rudolf Schenker:
Jason! How are you?
The Gauntlet:
Doing great. Where are you right now?
Rudolf:
I am in Germany, at the studio and putting the last bits and pieces mastering wise on the album "Sting in the Tail."
The Gauntlet:
How is the album coming along?
Rudolf:
Fantastic. After listening to the whole thing in one piece, this album is the essence of the 80's for us with a twist. It is like the best songs from the 80's. We made the decision to have two producers [Mikael Andersson and Martin Hansen] in Sweden to work in my studio in Hanover Germany and also in Stockholm. I will tell you one important thing was, one of the producers was a great guitar player and the other a great engineer. One of the producer's went through our entire back catalog and said he would kick my ass to get the same guitar riffs and playing. He also wanted to get the same out of Klaus with his melodies. It was a lot of fun and inspiration to work with the guys. The album speaks for itself.
The Gauntlet:
It sound's like you are excited about the new album.
Rudolf:
Very much.
The Gauntlet:
With a catalog spanning 40 years, what made you go back to the 80's for this album.
Rudolf:
What we did in the 80's, nobody can do it anymore except band's like AC/DC, Kiss and maybe Ozzy. In this case, we can do something others can't do. We had this great creative moment and were inspired by the writing. Our producer came and said we had this special sound and if we could capture this sound on the hard disc it would be very special. That is what we did. Under his supervision, we were really surprised by ourselves. In the 90's everything was changed by grunge and alternative music. It was hard for us to play that way. In a way we were hiding our talent. Now we don't have to do that. Nobody can do it like we are doing it.
The Gauntlet:
I hear 80's and hardrock and immediately think of a ballad. Did you guys record a ballad for "Sting in the Tail"?
Rudolf:
We have a ballad on the album and a song called 'Sly'. It is the name of a few thousand girls in France. We made a baby boom in France and a bunch of parents had the idea to call the girl babies 'Sly' after the song "Still Loving You". Out of that, the idea came from Klaus and he was writing about a girl who was born in 1985 right after "Still Loving You" came out. This song has the same quality as "Still Loving You". We have another ballad that is strong too called "Lorelei" about the Rhine and this rock that has a fairy tale. There are two ballads and the rest just rocks like crazy. The album comes out late in March in the United States.
The Gauntlet:
Are there any guest vocalists like in the past?
Rudolf:
Yes. One woman named Tarja [Turunen]. She is the old woman from a band called Nightwish. She is on the song "The Good Die Young".
The Gauntlet:
I don't think she is an old woman though.
Rudolf:
What! [laughs] No a young woman. I meant she was the old or last singer from the band [laughs]. Sorry. I should say former singer!
The Gauntlet:
When will the album be completed.
Rudolf:
It is done. Maybe in five hours it will be fully mastered. The artwork, booklet and sleeve are all done. It is really progressing and everything is about to go to print. The album cover was done by somebody who is not known. It is a cover that was done by different people. One is a t-shirt designer who does shirts for Wacken. With the help of Klaus and I, we created this album cover for "Sting in the Tail".
The Gauntlet:
Any standout tracks?
Rudolf:
"The Good Die Young" and "Raised on Rock" are outstanding already. And "Sly" which I told you about already. There is also another called "The Best Is Yet to Come". They are all good, but these are just a little ahead of the rest. We want this album to show that the Scorpions still kick ass and are rocking like a hurricane.
The Gauntlet:
I heard the shocking news on Sunday.
Rudolf:
We were mixing the album and listening to the whole thing and became excited. Our manager came to us with an idea and said why don't you make this your last album as we weren't going to be able to top this. He wants us to leave a good image with the people by still being able to stand on stage and kicking ass, not up there sitting down. That would be the best way to finish the career. We'd have an amazing album and live show to say goodbye. We first thought he was joking then after doing some thinking thought that would be the best thing to do. Everyone has their own things going on outside of the band now. My brother has asked me a lot of times to make a Schenker Brother guitar and album. The guitar will be done by Dean Guitar's. It is a good thing as we will be putting all of our energy into the album and tour and make it into a big party with the Scorpion's fans.
The Gauntlet:
You do realize it isn't very rock n' roll to retire. You need to overdose and there has to be vomit involved somehow.
Rudolf:
[laughs] But we aren't retiring. We are only stopping the Scorpions on a very high level. The best is yet to come and that will be the next record. We don't want to retire. We just don't want to do another album where we are experimenting and have people saying it isn't good. So we are giving them that classic Scorpion's sound. We want to all keep rocking, just in a different way.
The Gauntlet:
I think it goes to show you aren't sick. There are so many bands out there that have a sickness and can't walk away. It is like a drug.
Rudolf:
Yeah, "Sting of the Tail" is a great album. When we go on stage we get that sting that is like a drug. We come from Germany. Nobody thinks a rock band from Germany can make it. We took the hard way. If you go on stage because you want to, you have fun and the audience has fun. But if you go on stage because you have to and don't have fun, it is just shit. It is not the way the Scorpions want to finish their career. We will go for two to three year on tour, then we will see how old we really are. It is good to make the decision before hand as it makes it much more easy.
The Gauntlet:
You recorded this album not knowing this would be the last. Would you have changed anything if you knew this was it?
Rudolf:
I just do what I feel in my heart. If it is right, then I know it is right. The 90's were different. It was difficult to make decisions. The heart and the stomach said to do it this way and reality said to do it this way. The world turned upside down and it was really hard to make decisions. Since 2000, it has become easy again to make decisions out of your heart. We made decisions out of something that came together under pressure. Inside the clock was already ticking and telling us there was time to finish and somehow we put all our energy together and made something special.
The Gauntlet:
What is a standout high point of your career?
Rudolf:
When Gorbachev was still in power, he invited us to the Kremlin. We were the only rock band ever that came into the Kremlin. That was something very very special. We always said our parents came with tanks and we came with guitars. We also played Rock N Rio, and The Wall and Peace festivals. And playing in Krakow Poland in front of 800,000 people. It was amazing. This career was really a fantastic journey through life.
The Gauntlet:
What about lowpoints?
Rudolf:
When Klaus lost his voice. We were about to break into the market and Klaus lost his voice. It was friendship that kept us together. When I started the Scorpions, I was looking for friendship. Good musicians of course, but also friendship. Klaus became stronger than before and then our next record got into the top 10 in America, that was the Scorpion's way.