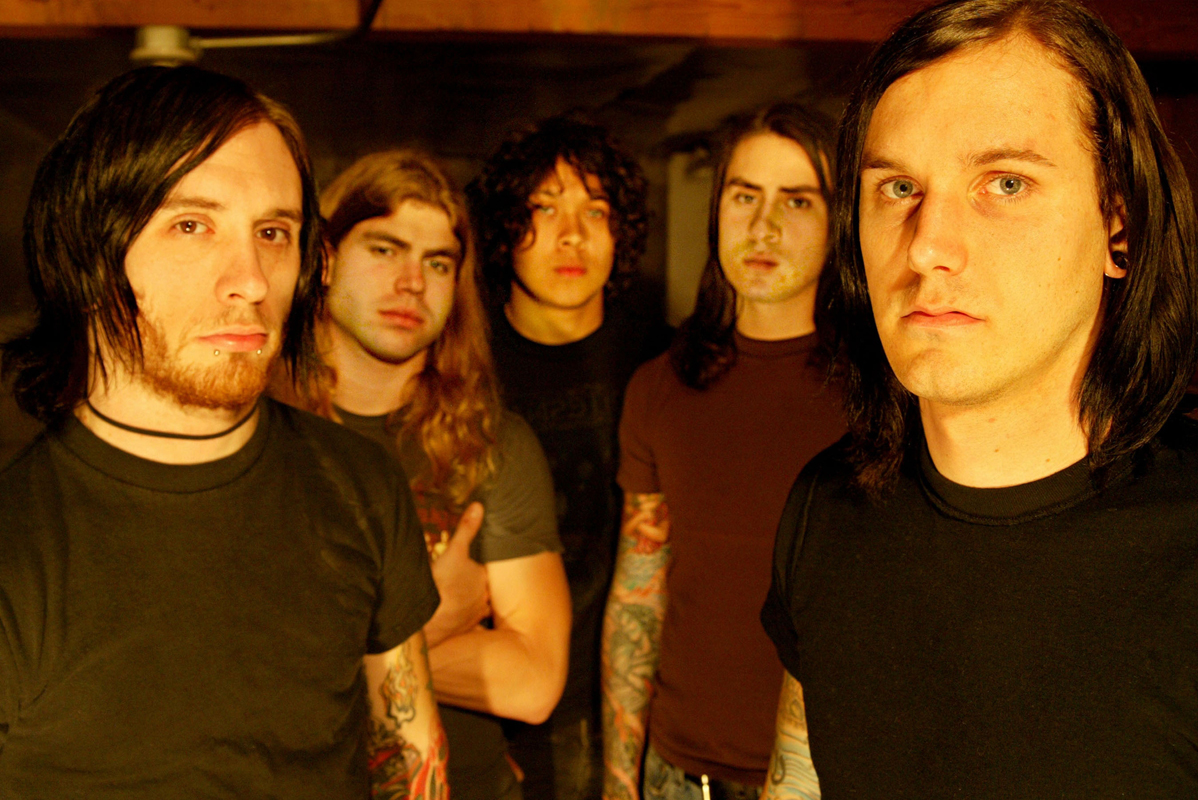 Band Name:
As I Lay Dying
Interviewed:
Jordan Mancuso
Interviewer:
Date:
2005-08-20
Previous As I Lay Dying Interviews
As I Lay Dying
An interview with drummer Jordan Mancuso
By Charlie Steffens, aka Gnarly Charlie
at Ozzfest 05, Second Stage
Hyundai Pavillion
San Bernardino, California
August 20, 2005
Let the music do the talking …
As I Lay Dying is a high-powered quintet from San Diego, California. Their album Shadows are Security (Metal Blade) has been widely acclaimed, giving the members of band the thrust to go where they could not have imagined …say, maybe a little more than a year ago. They recently played their hearts and asses off during Ozzfest '05 sharing the Second Stage with Wicked Wisdom, Gizmachi, Trivium, Soilwork, It Dies Today, Bury Your Dead, The Black Dahlia Murder, Arch Enemy, The Haunted, A Dozen Furies, Mastodon, Killswitch Engage, and headliner Rob Zombie.
Soon they will be out providing main support for Slipknot for a few weeks to then wrap up 2005 to do a headline tour with Norma Jean, Madball, and A Life Once Lost. Not bad for five youngsters who believed in their rock and roll dreams, and whose collective ethic, apparently, is to work hard, play hard and pray hard.
The Gauntlet: How does it feel to be on Ozzfest?
Jordan: Amazing. It's definitely different than any other tour we've done, crowd wise. Ozzfest crowd is like no other crowd, you know what I mean? If people go to one show a year they go to Ozzfest. To get a chance to play in front of those people ...we're very honored, plus the fact that being on the bill with such great bands, like bands I grew up listening to.
The Gauntlet: You're one of the founding members of this band, right?
Jordan: Me and Tim [Lambresi], our singer are the only original members. We've had a lot of member changes, actually. We've probably had about fifteen to twenty guitar and bass players. So we've gone through our fair share of guitar players, bass players. We've had this line-up for a little over a year, so it's been pretty solid …so hopefully we're going to stick with it.
The Gauntlet: You have two studio releases that are labeled.
Jordan: Yeah, we have a split EP and our first full length, that only sold a few thousand copies. That's what we toured on at first. It was cool-- it was nothing big. The record - I don't think- was anything amazing but it gave us a chance to support something on the road.
The Gauntlet: It seems apparent that you guys are still rooted in your faith. I didn't hear any profanity from Tim or the rest of you in between songs during your set. To be on a mixed bill like this …I'm sure there's no conflict with the other bands, even though you might subscribe to another magazine, let's say.
Jordan: There were definitely barriers that we had to cross and we really had to prove ourselves, I think, because a lot of Christian bands have been liked because they are a Christian band, by Christians or whoever. Everybody on this tour has been amazing. There's been no beef or no one's giving us grief because of it, which is cool. We want people to like us for our music, not for what we believe, obviously. We want the music the music to make the impact at first.
The Gauntlet: The lyrical content isn't exactly walking and skipping in the flowers, man. It's pretty dark and insightful. Who writes the lyrics?
Jordan: Usually it's Tim who writes most of the lyrics. Before we go and record we'll sit down and talk about them all, so we can understand where he's coming from. This album is actually a concept album. A lot of our lyrics are real life experiences, not even like being a Christian or not. It's just real life experiences that everybody goes through day in and day out. We want to reach people on that sort of level, and be like—"Hey, we go through this stuff just like you do." Let people know there's hope.
The Gauntlet: Who are your favorite drummers?
Jordan: I grew up listening to Megadeth and Pantera …Vinnie Paul was probably one of the biggest influences on me. Raymond Herrera from Fear Factory …
The Gauntlet: Oh yeah, he's awesome …
Jordan: He's a great drummer. Very solid, mechanical …I love that. Vinnie Paul -his style of playing is so great. He just pounds those drums, you know? I just love when drummers hit the things really hard …it looks cool and it sounds good. The thing with Vinnie Paul is that I take a lot from him, I guess …his passion when he plays. I've actually only seen him play live once. It was with Damageplan, it wasn't with Pantera.
The Gauntlet: Me too, I saw Damageplan in LA, a month before his brother Dimebag died.
Jordan: Exactly. I saw them in Anaheim, at the House of Blues. When I saw him play, I saw a huge smile on his face. You can just tell he loves what he does. I want to be like that. I want people to see how passionate I am when we're playing and what I believe.
The Gauntlet: The heaviness alone will filter through all the people who are saying "This is Christian, so it's gotta be kind of lame …" You know, the stereotyping …
Jordan: Yeah! (laughs)
The Gauntlet: You tour a lot. Whenever the pressure builds up, do you guys resolve it in a pretty healthy way?
Jordan: Definitely. It's hard being on the road. That's why we've had so many different members. They don't want it enough to be out here all the time …they get homesick or miss their girlfriends and end up going home. Me and Tim have a really good communication, because we've doing things a certain way for so long. Like getting new people in the band …it takes time for them to adjust. We all get along very, very well. Everybody squabbles. We live together twenty four hours every single day, you know? There's going to be fights, there's going to be squabbles, but we all in the end get along.
The Gauntlet: Who impresses you right now on the Ozzfest line-up?
Jordan: Killswitch [Engage], of course. They always impress me. I love watching them, they're so talented. Rob Zombie, definitely. Those guys have so much energy live. It's like watching Iron Maiden. For a live performance -it's something to strive for. Man, I hope we can have that kind of live performance and live sound someday. Bruce Dickinson doesn't head bang or anything, like we do, but his energy level is just so high. He just catches air jumping over the monitors and he's how old and he's still doing this? (laughs) It's not what you do, but it's just the energy behind it.
The Gauntlet: All of you in the band are Christians?
Jordan: Yes.
The Gauntlet: What do you do about the groupies and temptations on the road? Are there groupies?
Jordan: None that we get involved with. You know, what's weird is that a lot of people don't know that we're a Christian band. We're not necessarily a Christian band, but we're all Christians, and some don't know our beliefs and kind of like how we live. We're kind of a target sometimes for them.
The Gauntlet: They're watching you. "Let's see them screw up."
Jordan: Exactly, yeah. We keep each other accountable. Most of us have girlfriends, anyway. I'm the only one who doesn't, actually.
The Gauntlet: You're immersed in the music, huh? Does anybody have the same drive or work ethic as you?
Jordan: Definitely. Me and Tim have gone through so much in this band. We started this band and we didn't know it was ever going to get to this point. We thought we'd sell 10, 000 records and be able to tour once a year, and we were stoked. Then, all of a sudden things just started building up. But we both have a drive and a passion for it. I think everybody in this band does, or else we wouldn't be doing it, because it's not something you can just do half-way. It's not something you can just be mediocre about, it's something you really, really gotta want. The people that usually are mediocre about it -they don't last that long. That's why we've had different members. I think it's important for everybody to be passionate about what they're doing. To me, if you're not doing something with passion it's not going to make the difference that you want it to.
The Gauntlet: In some bands, a member will quit to pursue their religious convictions, but you guys are already here, formed, and no one needs to leave. Would you think that being known as a Christian band or a band who has Christian members is detrimental from a commercial standpoint or as far as garnering an audience?
Jordan: Really …we don't have Christian distribution. We don't want it. There are many reasons why we don't want that. We're not ashamed of what we believe at all, but our idea is that we want people to initially like us for our music—like us because they like the band, not because we're believers or whatever. Then that opens up opportunities for us, like true opportunities …I guess meaningful opportunities. We were in Revolver and one of the little sayings on the outside of the pages said - Jesus, they're good. Little stuff like that -it doesn't bother me at all. I'm totally okay with people referring to us as a Christian band, but initially I want people to like us for our music.
The Gauntlet: You have a lot of people out in the Ozzfest audience, for sure. What's up after this tour?
Jordan: A lot! [laughs] We got two-and-a-half weeks off after this tour, we go to Europe for three weeks, fly straight to Chicago and start a Slipknot tour. So, that's going to be unreal. They said we're going to be main support for that tour. It's so bizarre for me -I'm so scared. It's going to be amazing. Then after that we come home for a week, get our production ready and going out and doing the headline tour until Christmas. That's going to be with Norma Jean, Madball and A Life Once Lost.
The Gauntlet: Excellent. Thanks for your time, Jordan.
http://www.asilaydying.com