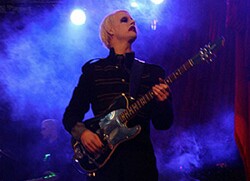 Band Name:
Zombie, Rob
Interviewed:
John 5
Interviewer:
Date:
2006-05-05
Previous Zombie, Rob Interviews
The Gauntlet: Today is the last day of the Lacuna Coil / Rob Zombie tour.
John 5: That's it. We will come home for the KROQ Weenie Roast and also do Jimmey Kimmel Show. I'll have a little time off, then we go back out in June.
The Gauntlet: Is the June tour with Anthrax?
John 5: Yeah, how did you hear about the Anthrax Tour already?
The Gauntlet: I just heard about it a couple hours ago.
John 5: Rob Zombie picked them to open.
The Gauntlet: So at this point, Loser is done.
John 5: That's right. I started the band at the same time I was working with Rob Zombie. It was just so difficult to be in two places at once. It was impossible actually. But I did it as long as I could. I decided to stay with Rob. There is so much stuff going on. I just decided to stay over here. I know I made the right decision so I am really happy about it. Hopefully that record will see the light of day. It is such an amazing record.
The Gauntlet: Isn't there some sort of satisfaction as to being in your own band, calling the shots?
John 5: Well yeah, of course there is. With Rob, I get to write music with him which is very fortunate for me. I am not a hired guitar player and I am contributing. I am happy and lucky to be doing this music. I also have my own instrumental records and I am my own boss. I am working on my third one right now. Being in Rob's band, I don't feel like a hired gun as he treats us all so well. I am really happy with where I am right now.
The Gauntlet: Does it concern you that Rob has given up music before and goes 4-5 years between albums?
John 5: Yes, but actually right now he is so happy with the band so we have a lot of things coming up with the band. He is going to keep going with the band. There is a lot of stuff going on. I am going to be working for quite a while.
The Gauntlet: How does working with Rob compare to working with some of the other artists you have worked with?
John 5: I'll say this when I am out of Rob Zombie, who knows when that will be. Rob is the best I have worked with. He is great. We have a great time on stage together. It has been the single greatest experience I have had working with someone, hands down.
The Gauntlet: You are one of the most versatile guitarists out there. You have worked with K.D. Lang, Marilyn Manson, Salt-n-Pepper, etc.
John 5: I just love to play different styles of music. I just love to do it. On my instrumental records, it is half country and half rock. I love it. It is a great way to get my aggression and craziness out. I am really happy with what I am doing career and music wise.
The Gauntlet: Are there any bands or artists you would like to collaborate with?
John 5: I would like to work with Prince one day. I think he is really cool. It would be really wild. He has such a great work ethic. I haven't really thought about that in a while.
The Gauntlet: How come you still use the name 'John 5' as it was a name from your Manson days.
John 5: After I got out of Manson, I was putting out my instrumental record. No one would know the name John Lowrey if I put that on an album. But the name John 5 is known all over the world so I kept using the name. It's kind of like a character when I get up on stage. I am so different up there. I am just so crazy. It is a Ying and Yang kind of thing.
The Gauntlet: I understand at tonight's show they'll be shooting the video for "American Witch"
John 5: Yeah, we are pretty excited about that. They'll be shooting us playing on stage.
The Gauntlet: Will it be a live video, or just cuts of live footage?
John 5: I think it will be a concept with some live footage.
The Gauntlet: With Rob being an accomplished cinematographer, does he involve the band with the video story lines?
John 5: No, why would he! [laughs] He's a genius of that. I don't have any input. His ideas are ten billion times better than mine. I just write songs and play guitar. Ill never try to direct or act or any of that shit. That is far beyond my means.