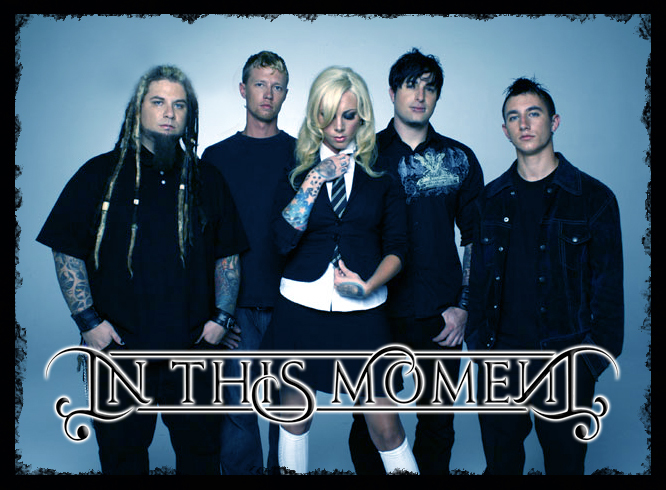 Band Name:
In This Moment
Interviewed:
Chris Howorth
Interviewer:
Date:
2010-07-10
Previous In This Moment Interviews
HEY GUYS THIS IS SHAUNA O'DONNELL AND I AM IN SAN BERNARDINO, CALIFORNIA FOR THE KICK OFF OF THE ROCKSTAR ENERGY DRINK MAYHEM FESTIVAL. I AM HERE WITH CHRIS HOWORTH OF IN THIS MOMENT.
SHAUNA O'DONNELL:
HI CHRIS, THANKS FOR TALKING WITH ME.
Chris:
Hi, how are you doing?
SHAUNA O'DONNELL:
I'M DOING REALLY GOOD. I AM SO EXCITED BECAUSE YOU HAVE A NEW ALBUM TITLED A STAR-CROSSED WASTELAND COMING OUT ON THE 13TH OF JULY. CONGRATULATIONS!
Chris:
Thank you very much, we are really excited too!
SHAUNA O'DONNELL:
TELL ME WHAT INSPIRED THE TITLE OF THE ALBUM.
Chris:
It's one of those things where we kind of had the songs written and we had started working on them in the studio. We knew we had to come up with a name for the album and a theme. We were sitting outside thinking about it. Maria had just come out of a relationship that went bad and they had always called themselves star-crossed lovers and so we thought maybe we would do a twist on that. We came up with that and we also came up with a little theme for it. It's a deserted western place, everyone is fighting for survival and she is the white horse. It's a general theme that we put to the whole thing.
SHAUNA O'DONNELL:
YOU GUYS DO A LOT WITH YOUR THEMES.
Chris:
What we've done with the last three albums is come up with a good title, having the album theme around that title and make it all tie together. It makes it more interesting for the fans and for us too.
SHAUNA O'DONNELL:
THIS RECORD IS BEING DESCRIBED AS HEAVIER AND DARKER. TELL US WHAT WAS GOING ON DURING THE WRITING PROCESS.
Chris:
I think it was a combination of the fact that she was going through these things and feeling darker. The album before that, we were more positive and happy. I think also we had done Warped Tour and a lot more alternative type tours throughout the course of The Dream album cycle and we came to realize that metal is a big part of us. Our metal fans were always at all these shows, but the other fans were more fly by night. They weren't as loyal as the metal fans. I've always known that, I've been into metal my whole life, metal is like a community. We wanted to make sure that everyone knew that we were metal and we wanted to define ourselves with this current album.
SHAUNA O'DONNELL:
YOU GUYS EVOLVED.
Chris:
Yep, exactly
SHAUNA O'DONNELL:
YOU WORKED WITH KEVIN CHURKO IN LAS VEGAS. YOU WORKED WITH HIM ON THE PREVIOUS RECORD. WHAT WAS IT THAT HE BROUGHT TO THE TABLE DURING PRODUCTION?
Chris:
Kevin brings everything to the table. He is the wizard of producing and we loved what he did with The Dream. When we started to do the new album, Kevin wanted to go heavier too, he was all about it. Every step of the way from the demos that we were sending to him, to the studio, Kevin has played a part in everything.
SHAUNA O'DONNELL:
WAS IT HARD TO GET THINGS DONE BEING IN VEGAS?
Chris:
Everyone always asked that. We weren't actually on the Strip. We were in a house off the Strip. There were casinos around and stuff, but we all lived in the same house while we were making the record. We were pretty much focused on making the record and we didn't really go out to the casinos that much. Every once in a while we would, but mostly it was about getting the work done.
SHAUNA O'DONNELL:
HOW ARE THINGS GOING WITH YOUR NEW BASS PLAYER KYLE? ARE THE FANS RECEIVING HIM WELL?
Chris:
The fans are receiving him great; we tested him out on our first headlining tour. That was the first thing he ever did with us in November and December of last year. Some fans even thought he was still Jesse with long hair or something. I mean people didn't even really notice, a few of the diehards did, but everyone has really accepted Kyle. He fits in with us personality wise, he looks really cool and he is a great musician. It all worked out good.
SHAUNA O'DONNELL:
I LOVE THE SONG "THE GUN SHOW." HOW ARE PEOPLE RESPONDING TO THE SINGLE?
Chris:
It's either absolute love or absolute hatred. One or the other, but most people like it. We are getting an overwhelmingly positive response from it, but there are some people who just hate it. They like more melodic stuff and don't understand why we would do something like that. I understand both sides. I think we just wanted to come out with a really heavy metal track to show everybody that In This Moment is back in metal and we're embracing that part of ourselves. The record has a lot more depth to it than just that song.
SHAUNA O'DONNELL:
THE VIDEO IS BADASS. IT LOOKS LIKE THEY USED OLD FILM, DO YOU KNOW WHAT THE TECHNIQUE WAS THAT THEY USED?
Chris:
They probably just used some old film filter, but we actually filmed it at a ranch up in the hills of Tujunga, California and it was a dusty area. The whole thing had that dusty, dirty and grainy vibe. The film filter that he used gave it that Wild West look.
SHAUNA O'DONNELL:
WELL, I LOVE IT. SO HERE WE ARE AT MAYHEM. WHAT WILL YOUR SET LIST BE COMPRISED OF TODAY? WHAT IS THE NEW TO OLD RATIO?
Chris:
We are doing a lot more new than old. It's a half an hour set, so we get to play about six songs. We will play four new songs and two old songs. The old songs are from the first album, we are keeping it all heavy this time. There are not really any pop songs in there. We are playing the new song off the album that is a duet with a lot of melodic layers in it. We are going to see how that goes over today, but mostly we will keep it straight metal.
SHAUNA O'DONNELL:
YOU HAVE A GUEST VOCALIST RIGHT? ADRIAN PATRICK FROM OTHERWISE SINGS WITH MARIA ON "THE PROMISE."
Chris:
Yeah, it's a cool story. Adrian did the song on the album, it was written for Ivan Moody of Five Finger Death Punch. He was supposed to do it, but business got in the way at the end. Adrian had laid the testing vocals so we could show Ivan what the song was all about. We loved Adrian's voice right off the bat and it ended up that we chose to go with him instead of finding someone else maybe with a little bit more of a name to do it. Adrian and his brother from the band Otherwise are going to follow us on the whole tour. They are going to try and make every show, so they can promote their band, but also so he can get on stage and make the song sound good and be presented to the fans in the right way. It's going to be cool and it will be a nice surprise for everybody for him to come out on stage and do that song with her.
SHAUNA O'DONNELL:
WHAT IS YOUR FAVORITE SONG TO PERFORM OFF THE NEW ALBUM?
Chris:
I like to play "Just Drive" because that is a really get up and go song. They are all really fun to play; we've been practicing the m a lot. "The Promise" is cool and "The Gun Show" is even fun to play too even though it is simplistic.
SHAUNA O'DONNELL:
WHAT ARE THE PLANS AFTER MAYHEM, ANOTHER TOUR PERHAPS?
Chris:
The immediate plans are that we end Mayhem on the 20th and then we will do about a week and a half of headlining dates. We are going to L.A. and then Vegas. We are taking off about a month and do some overseas stuff in that time. We will be starting up again in November and December and continuing on. We don't know what we are doing yet in November and December. We don't really have it perfectly planned out yet.
SHAUNA O'DONNELL:
THANK YOU SO MUCH FOR THE INTERVIEW CHRIS. HAVE A KILLER SHOW TONIGHT. BEFORE I LET YOU GO WAS THERE ANYTHING YOU'D LIKE TO ADD OR SAY?
Chris:
Thanks for the interview, it was awesome and come out to Mayhem everybody. Check us out!