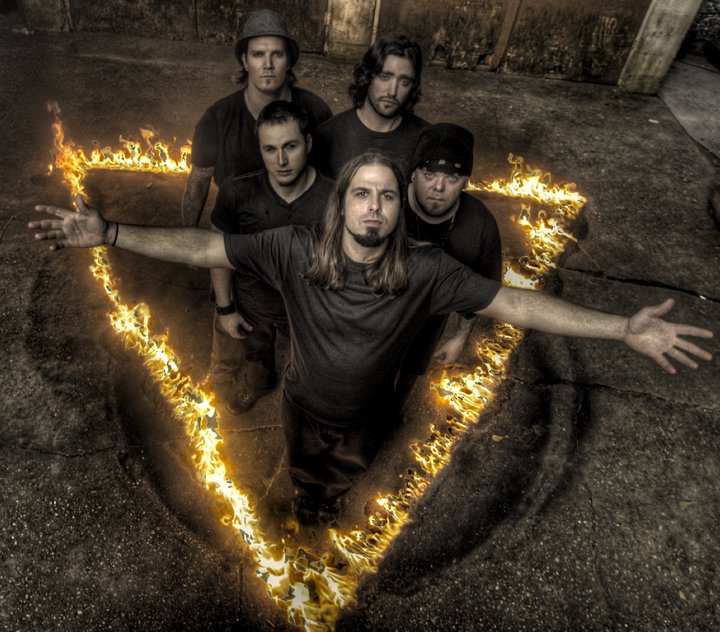 Band Name:
Interviewed:
Nate Grimes - drums
Interviewer:
Date:
2011-02-24
Previous Interviews
HI NATE, THANKS FOR TALKING WITH ME. MINDSLIP IS FROM JACKSONVILLE, FLORIDA. WHAT IS THE MUSIC SCENE LIKE THERE?
It's hard to say actually, I don't know, I'm just over everybody being stuck up. I wish more people would get along, try to support other local bands and help out more. It's all about lending a helping hand. I scratch your back and you scratch mine. That's how I work. I can't make everybody like me, but Mindslip is that band that will throw bands on the bill that we think have potential. We are willing to work with other bands amongst other bands not willing to work with us sometimes.
YOU GUYS ARE PRETTY HANDS ON WHEN IT COMES TO THE BAND. YOU ARE UNSIGNED, YOU MANAGE THE BAND YOURSELF AND PRETTY MUCH DO EVERYTHING. WHAT DO YOU THINK IS THE MOST DIFFICULT PART OF BEING A DIY BAND?
I guess it varies for every band. There is so much work involved when you are doing everything. When you are self managed, you do everything like emails, phone calls, stage props and rehearsals. There is so much to do. When you are a signed band, you basically get told to be here, you are there and you really don't know what is going on. I talk to a lot of guys who are in unsigned bands. They are frustrated with the scene and how it's changed. It's a lot of work. That's all I can really say about it. I bust my ass and I know the other guys do too. We do the artwork also, we do it all.
YOU GUYS DESIGN YOUR ALBUM COVERS TOO?
Yes, everything, we do all of the artwork and the storylines. All of the songs are written by Matt Boucher (our singer) and Rob Miller (Lead Guitarist). We seem to incorporate really great songs and I think we have a great product. Right now we are trying to focus on touring and getting our name out there.
HOW LONG HAS THE BAND BEEN AROUND?
It was originated in 2005 by Matt Boucher and Rob Miller. They have been kicking strong. They have dealt with a lot of members in and out that were not committed and not willing to stick around. We now have a core group and we are ready to take over the masses.
HOW LONG HAVE YOU BEEN WITH THE BAND AND HOW DID IT COME TO BE THAT YOU JOINED?
I joined the band in October of 2010. I've seen these guys around for years. I was previously in a band called the Secret State. I called Matt one day because they were auditioning drummers. I happened to know the bass player that they were using to go on the road. He had done some dates with us with the Secret State. He text me Matt's number and I ended up getting with Matt. He came the next day, watched me play the drums at my house and said he wanted me to come to rehearsals. Here we are and it's been going great. We did the promo pictures and the promo video. We have done a lot in the past three months. We got the band out of Jacksonville and did some dates in Tupelo and Tallahassee. We are starting to get out there more on tour.
YOUR FIRST FULL LENGTH ALBUM PERPETUAL BURNING COMPLETELY SOLD OUT AND IS ONLY AVAILABLE ONLINE NOW. THAT IS REMARKABLE. YOUR SECOND RELEASE IN 2010 TITLED RISING UP HAS HAD SOME SUCCESS AS WELL. TELL ME ABOUT THE SINGLE "BROKEN PICTURE FRAMES." WHAT IS THE SONG ABOUT?
We based that song around a storyline. It's about a broken family, a younger brother and sister who dealt with a mom and dad who are together and then not together. So many families deal with that nowadays with so many divorces going on and kids coming up in broken families. Everybody can relate to that. "Broken Picture Frames" means maybe never seeing that mom or dad in that picture frame. It's that whole realm of wanting to know who your mother and father is, but it's broken. You want to try and change that and make things better.
WHAT KIND OF AN IMPACT DID THAT SONG HAVE FOR YOUR BAND?
So far we have got really great responses. There are always songs on the Rising Up album that get requested, but it's mostly "Broken Picture Frames," "Under the Spell" and "Hollywood Girl."
IS "JADE" THE OTHER SINGLE?
Yes, "Jade" is another single that we have pushed. It has done well, but we have had better responses from other tracks.
I WATCHED THE VIDEO FOR "BROKEN PICTURE FRAMES" DIRECTED BY SEAN BABAS. TELL US ABOUT THE DAY OF THE SHOOT.
We flew him down from Chicago and he came in for three days. He came to the site and got a vibe of what everything was like. He got an idea of what we wanted to go for. We woke up at 4:30 a.m. on Saturday morning, drove to the site, started setting up and we shot for seventeen hours that whole day. It was a lot of work, a lot of shooting and a lot of scenes. It was a lot of playing the song over and over and over again. Overall, I am very happy with the product and I think we are going to get a great response from it. We hope it opens doors for Mindslip. We can only hope for the best. It's our first video, but Sean Babas was great to have on board and do what he did. The guy has a vision. We are blessed to even have a music video with the budget we work with right now. The video release party is on February 25th. We are going to go out there and rock out. We have sold over a hundred tickets already. It will be a packed house and a great night.
CURRENTLY YOU ARE IN THE STUDIO WORKING ON THE BAND'S THIRD RELEASE. WILL IT BE A FULL LENGTH OR EP?
We are actually debating that right now. We wrote four songs, two that were written prior and two that are brand new. We are starting to add them to the live set. It depends on our budget and how things go for the rest of the year. If things go good then we will probably end up releasing another full length on our own, otherwise it will be four to six songs on an EP.
A LOT OF BANDS ARE MAKING EP'S INSTEAD OF FULL LENGTHS NOW. DO YOU THINK THAT IS BECAUSE OF BUDGET OR DO YOU THINK IT IS BECAUSE OF THE WAY ITUNES WORKS NOW WHERE PEOPLE ARE JUST INTERESTED IN GETTING SINGLES AS OPPOSED TO AN ENTIRE ALBUM?
It's hard to say, I think it goes both ways honestly. I think it is a budget thing. I think that sometimes they don't think that people are going to listen to the full album and that they want to just hear those unique songs. I like to think different, that people are old school about it, they want to get the album, see what the band is about, read the lyrics and get into every song. That is how bands make it big. They have a story, they are being real about it and they are not just putting on a front. There are so many bands that are in it because of an image. We are in it for the music and we want bands to get back to that point. Be about the music, not the money, the fame and everything that goes along with it.
ARE YOU SELF PRODUCING?
We actually worked with a guy that we work really well with and have worked with for many years. His name is Stan Martell. He has a studio out of Kingsland, Georgia. It is about a forty-five minute drive from us. We actually built off his studio. He was working out of a couple rooms and he closed off his garage to turn it into a studio. He makes us sound good and he makes us sound right, so we continue to work with him. He has his ideas that he likes to drop in there. His producing is awesome.
HAVE YOU CONSIDERED A TITLE FOR THE RECORD YET OR IS IT STILL TOO SOON?
It's a little too soon. We are still trying to figure out which direction we want to go.
DO YOU HAVE AN ESTIMATED TIME OF RELEASE?
I'm saying that July or August would be a fair estimate of when we would release it.
HOW INVOLVED ARE YOU IN THE WRITING PROCESS OF THIS ALBUM?
I'm a huge part in it, without any piece of the puzzle in the band; I don't think we would have what we have now. These new songs are really starting to say something and really starting to talk about deep things and life situations instead of about women all the time. We have a lot to say. I've been writing a lot of the lyrics along with Matt and I've got a lot to say. I try to contribute as much as possible.
THE BAND HAS TOURED WITH THE LIKES OF SKINDRED, SEVENDUST AND RED JUMPSUIT APPARATUS TO NAME A FEW. WHICH SHOW WAS THE MOST MEMORABLE FOR YOU AND WHY?
I would have to say our last show in Tupelo with Joan Red was a lot of fun. The whole vibe and the whole night went so smooth. There were over 300 people there. It was just a really good time. We weren't playing with any big headliners or anything like that. We were out with our buddies in Joan Red. We love those guys. They support us and we support them as much as possible. I think that was the most memorable for the band at this point. It was a wild trip to just leave for four days, we had a bunch of snowball fights and it was a really good time.
YOU GUYS ARE PREPPING FOR YOUR "COAST TO COAST" TOUR. I ASSUME YOU BOOK YOUR OWN SHOWS.
We book our own shows, but Rick Anderson helps out a lot with that. A lot of local venues help us out around the country.
WHAT REGIONS WILL YOU BE HITTING?
I like to call it a "seven." We will head up to Georgia, then head out to Nashville, head back down through Tallahassee, maybe go back to Ybor, Tampa and all those areas, Orlando and then come back to Jacksonville.
WHAT CAN PEOPLE EXPECT TO SEE AT A LIVE SHOW?
It is very high energy. One of our new touring members that we brought in is Lane Maverick of OTEP. He just blows up the stage and gets everybody into it. We all have our own energy and it's madness. It's a lot of great music and a lot of great vibes. We want people to dig it, get into it and lose their minds. We want to keep cranking out the music, get on the road and tell people about Mindslip.
THANKS SO MUCH FOR THE INTERVIEW. IT WAS AWESOME TALKING WITH YOU.
It was a pleasure Shauna.
WOULD YOU LIKE TO ADD OR SAY ANYTHING?
Come out and support anytime you see Mindslip. Pick up our new record that is going to drop this year.