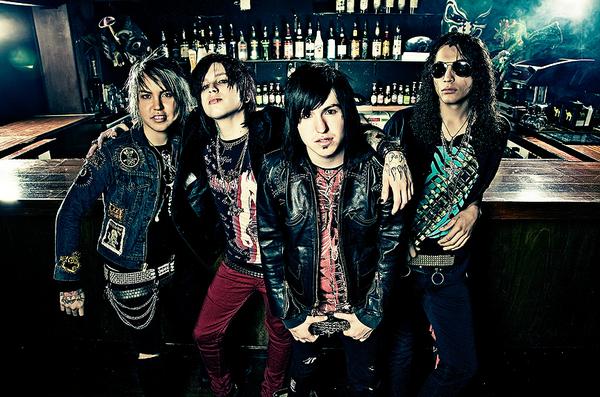 Band Name:
Interviewed:
Robert Ortiz - drums
Interviewer:
Date:
2011-01-11
Previous Interviews
YOUR NEW ALBUM TITLED ISSUES IS OUT SO CONGRATS ON THAT.
Thanks!
IT DEBUTED AT #3 AND #4 ON BILLBOARD. YOU MUST HAVE BEEN VERY HAPPY.
It was pretty gnarly when I was looking at all the different charts. I was like "Holy crap! Are we really in that realm right now?" It seems like a "one day we will be there" kind of thing, but we are there. It's pretty insane.
IS ONE OF THE SONGS CO-WRITTEN BY MICK MARS OF MOTLEY CRUE?
No, the band is very open, we like collaborating with other people, experimenting and seeing what other artists take on music is. That's how you get better. If you only know one way your whole life, you're never going to evolve and you'll be stuck. Sometimes that works, but for us it's always an ever changing thing while having our roots there also. Mick Mars is someone who actually hit us up. We went to his house and jammed. It was really cool to be there and we ended up working on a song together. It was coming together, but it didn't really click quite that much. The vocals didn't quite line up for that song and they ended up getting put more and more on the bottom of the list of songs that can make the album. If we could re-work it, I'm sure it is something that we could do, but it didn't make the cut this time.
YOU SAY THAT YOU HAVE EVOLVED. HOW DOES THIS ALBUM DIFFER FROM THE FIRST TWO?
Sometimes you have to let things speak for themselves. You can't always label everything. We didn't have an approach; there wasn't any one formula that worked. We kind of knew what we wanted this time around. It was sounding cohesive. Yeah, all the songs differ from each other, but they sort of fit. We had something bigger in mind and the songs were more artistic to us. I really feel like the first album is an attempt to make it, it's an escape. It's when you say "We are going to go home and take over the world." You go and make that album with that in mind. You are kind of like making songs really quick in your garage, they come together and it's not necessarily your sound because it is not something you truly worked on for that long. You are not really developed yet. The second album we went through a lot of changes and we needed to get something done. There were some songs that I'm really proud of and there are other songs that you can hear that we were not a band yet. We were still figuring shit out. With this album it was clear to us that this is what we want to sound like and we even evolved how we look to match that sound because that is how much we believe in it. The vision is there. Right now the show we are trying to put together is for bands that are beyond where we are. We are ahead of ourselves, but that's what we do, we push ourselves. We are always on to the next level. Maybe it's because we have A.D.D., so we don't stay happy with one thing for too long. It could be that we are overly ambitious. My philosophy is that we should put on a show that belongs in an arena even before we are in an arena because that is going to get us there.
I WANTED TO TALK A BIT ABOUT THE RELEASE PARTY FOR THE RECORD AT CRAZY GIRL'S. WHY DID YOU GUYS DECIDE TO HAVE YOUR CD RELEASE PARTY AT A LINGERIE CLUB?
I don't know man. I'm going to level with you. I'm not even going to try to sugar coat it because there is no point. Honesty is always the best policy. I fucking hate shit like that and so does the band. We did a whole week of that stuff for the release of the album. I love playing shows for our fans who are expecting a killer show. We are out there because we want to put on a show. Shows like that seem so cheesy to me. It's an industry thing where no one there is your fan necessarily. They may like you and believe in you, but no one is going to cry over the music and really feel it. We chose that because it was like a homage to Motley Crue and that is part of something that we love. We did an interview with Nikki Sixx that morning. We've tried to escape some of the stuff like girls and debauchery in parts of our music, but that is still inside of us too to be reckless and have girls around. We wanted to film it and we should be releasing that video pretty soon. It's a live performance and I'm not super stoked on it, but it will be fine. It's for the song "City of Sin." That song is about our home town, which is clubs, strippers and booze. It's part of us like everything else. It was fun though.
YES, IT WAS VERY FUN. SPEAKING OF VIDEOS, I LOVE THE MUSIC VIDEO FOR "ISSUES." IT CAME OUT AMAZING. WAS THIS WAS YOUR FIRST VIDEO?
No, it's amazing because the world is starting to get introduced. I've had trouble with stardom already, before I'm even a star and now I'm starting to realize there is a whole world out there that doesn't know who I am. This is our fourth video actually. We did a video for our last record "10 Miles Wide" on an airplane. We did three or four before that and "Issues" was the first one for this album.
YOU GUYS HAD TO PULL OFF OF THE BULLET FOR MY VALENTINE EUROPEAN TOUR SO THAT MAX YOUR BASS PLAYER COULD ENTER REHAB FOR DRUG AND ALCOHOL ADDICTION. MAX IS LIKE A BROTHER TO YOU AND OF COURSE YOU WANT TO SEE HIM GET BETTER, BUT AS A BAND I IMAGINE IT WAS REALLY HARD FOR YOU GUYS TO GO THROUGH THAT PERIOD OF TIME.
Yeah, there is never a dull moment with this band that is for damn sure. I mean, yeah, it was really hard. It was hardest for him. He didn't come in and say "Dude I'm so fucked up that I need to get into rehab." I don't want to reveal too much about the shit he was doing in his life, but let's just say he was fucked up and he had a lot going on. We have always known about his issues. He's gotten clean and he's gone back on. It's never seemed to slow the band down, but at the same time with a band it's always go, go go! There is always another opportunity to get bigger, another tour that is going to help your band and all this kind of shit. There was never really a chance for him to fully address his own issues and say "Okay it's time." There was never a moment for the band. As long as he is not too fucked up to get in the way of the band, let him do what he wants, but we finally reached a point where we said "Hey Max, you are really starting to scare us. We are worried about you. We are here to tell you that we love you and we are worried." It wasn't like "You're fucked up and if you don't clean up you are out of the band." He is not an asshole, there was never a problem with his commitment to the band or his love for us and our love for him. That was never a question. We are strong, we love each other and I like him. We had to tell him "You know dude, you've really got problems and we need to handle it." He finished out the tour. He got cleaned up a little bit, but he was still drinking and doing some stuff. We were getting ready to go on that Bullet tour and he called us two days before and said "Hey guys, I've really been going back and forth about this. I don't want to disappoint you guys, I don't want to slow the band down in any way and I don't want to hurt the band, but I think I need to get into rehab. I'm at a point where I'm cleaned up and I really want to go full force with this and really change my life around." We told him "Fuck the band, dude, save your life." That is most important because if he dies then the band is fucked anyway. The Bullet tour is a huge opportunity, it's a big missed out thing, but we can always go back and try to do it again. Sometimes the planets don't align, but I have my friend still.
WHAT IS GREAT IS THAT YOU SUPPORTED HIM AND THERE WERE NEVER ANY DISCUSSIONS OF REPLACING HIM BECAUSE OF THAT. ON JANUARY 20TH 2010 YOU ARE KICKING OFF THE NORTH AMERICAN HEADLINING TOUR CALLED 'THE DEAD MASQUERADE TOUR.' THIS WILL MARK THE RETURN OF MAX. ARE YOU LOOKING FORWARD TO GETTING BACK ON THE ROAD AND DOING YOUR THING?
I've had a hell of a week. Going on tour is never easy. It is a difficult lifestyle if you make it difficult. It can be an extremely fun and rewarding one if you allow it to be. I'm close to my family and I love them. I'm very private and I don't talk about myself a lot. I'm doing this interview, but I'm actually still holding back on some stuff. I don't like to reveal a lot. I don't feel that's the best way. There is stuff about the music that you like to reveal, but I have trouble with that on tour because I don't like people always on me and judging me. That is what I'm there for, but at the same time I'm so proud of the work that we've done and I'm so proud of myself as a musician. I have to go put it on display. The time apart from home and family is difficult, but needed. I'm actually very excited to go on tour. We have this great new record that we get to bring to life and win people over with. It is doing better than our other albums so far. It still hasn't reached too many people, so it's our chance to show it and make people fall in love with it the way we have.
THERE ARE A LOT OF PEOPLE THAT LOVE YOUR MUSIC. THAT HAS GOT TO FEEL GOOD.
Yeah, that's the whole thing, that's what I'm really excited about. For the first time ever, I'm actually 100% looking forward to going on tour and I've been doing this for five years.
DO YOU PLAN ON STAYING ON THE ROAD FOR MOST OF 2011?
I do, because I believe in this record. At the end of the year or years to come, I don't know if we will ever be able to repeat the magic that we have done with this album. I hope we do, we will try everything that we have, but for now I absolutely love this album. It's what I've wanted to hear. I'm happy, I love it and I'm a fan of this album. This is my chance to take this masterpiece that we have created together and say "Look world, this is what I've done." I do plan on staying on the road and working my ass off to make sure people hear it.
YOU SHOULD BE PROUD, IT IS A GREAT RECORD. THANK YOU SO MUCH FOR THE INTERVIEW. IT WAS GREAT TALKING WITH YOU.
For sure, you too.