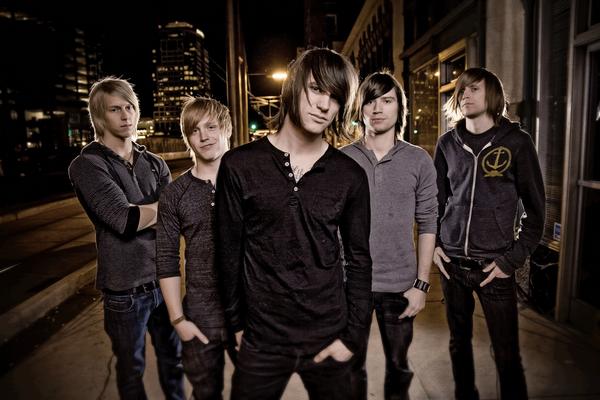 Band Name:
Interviewed:
Beau Bokan (Vocals)
Interviewer:
Date:
2010-06-24
Previous Interviews
I HAVE BEAU THE VOCALIST OF BLESS THE FALL ON THE PHONE WITH ME TODAY.
SHAUNA O'DONNELL:
HI BEAU AND THANKS FOR CHATTING WITH ME.
Beau:
Hi, what's going on?
SHAUNA O'DONNELL:
YOU KNOW WHAT I HEARD ABOUT YOU?
Beau:
Uh oh! No, I don't know, tell me.
SHAUNA O'DONNELL:
I HEARD THAT YOU GUYS ARE TOTALLY FUN AND AMAZING TO INTERVIEW.
Beau:
Are we? Maybe if you get all of us in one room, actually that would probably be a mess. I'd say that you are lucky that you just have me because I think when we are all together nothing really gets done. I don't know how we even made an album, or how any kind of progress is made with our band. We are all so ADD. When we all hang out it's like a bunch of monkeys.
SHAUNA O'DONNELL:
YOU CAN'T SIT STILL FOR A MINUTE HUH?
Beau:
No, it's really hard.
SHAUNA O'DONNELL:
I GET WHAT YOU MEAN; I HAVE A SHORT ATTENTION SPAN TOO. SO, I GUESS THE INTERVIEW IS OVER THEN.
Beau:
Yeah, I'll talk to you later.
SHAUNA O'DONNELL:
ALL KIDDING ASIDE, I'M KIND OF CURIOUS HOW THE NAME BLESS THE FALL CAME ABOUT.
Beau:
Jared our bass player named the band before I was in the band. It's kind of like Bless the fall of man. It's pretty deep, but Jared is the one who gets all of the credit for that.
SHAUNA O'DONNELL:
YOU'RE LATEST RELEASE WITNESS IS DOING VERY WELL. HOW DOES THIS ALBUM DIFFER FROM THE FIRST TWO BESIDES YOU BEING THE VOCALIST NOW?
Beau:
When I first started writing and hanging out with the band I could tell that they had matured a lot since the last album. That is basically all it is, it's growing up and learning how to write music a little bit more so that it is not all over the place. Our songs are a lot more structured and easier to listen to. They are not scattered all over the place, they definitely have a direction and we took a lot of time on every part. If there was something that we didn't like, it was out the window. Every single thing you hear on the album we literally over analyzed. It was the best that we could do and we can't wait to make the next record and make it even better.
SHAUNA O'DONNELL:
NOW THAT YOU ARE ON BOARD, THERE WILL OBVIOUSLY BE SOME VARIATION IN THE WRITING. HOW IS YOUR WRITING DIFFERENT FROM CRAIG'S?
Beau:
I'm not sure, I've never really compared. I guess kids could probably tell you better than I could. Everything I write is from real life experiences. There are no made up stories or fictitious happenings. It's all about overcoming certain ghosts from the past. I have a song about a friend that past away in a plane crash. It's all from the heart, and it's all real.
SHAUNA O'DONNELL:
WHICH SONG IS ABOUT YOUR FRIEND IN THE PLANE CRASH?
Beau:
"Stay Still" the last track on the album.
SHAUNA O'DONNELL:
DO YOU THINK YOU GET MORE POPULAR WITH EACH ALBUM YOU PUT OUT? DO YOU SEE A GROWTH IN YOUR FANBASE?
Beau:
Yeah, definitely, I think if we didn't we wouldn't be able to do what we do for a living. It is awesome that over the past year that I've been in the band, we've seen it climbing and climbing. We have literally traveled the world. We just got back from Australia and all these kids out there have the album. It is so rad to see.
SHAUNA O'DONNELL:
I BET IT IS SO COOL TO LOOK OUT AND SEE ALL OF THE FANS MOUTHING THE WORDS TO YOUR SONGS.
Beau:
Yeah, that is one of the coolest things ever about being in a band. I take it very seriously because kids are going to be singing it back to you and trying to apply it to their everyday lives and experiences. You have to make sure it is real and legit.
SHAUNA O'DONNELL:
TELL ME ABOUT THE PUNK GOES CLASSIC ROCK CD. IS IT A CD WITH A BUNCH OF BANDS DOING CLASSIC ROCK COVERS?
Beau:
Yeah, it's a series of CD's that they have put out over the years like Punk Goes Pop, Punk Goes Metal and this one is Punk Goes Classic Rock. It is the first one they've done for classic rock. We didn't know we were going to do it and then they approached us a couple days before the deadline and asked us. We were in Europe and agreed to do it. A dude from our label sent us a list of songs and we picked "Dream On." I have loved the song for the longest time. The fact that I got to cover it, or try to cover it, was just an amazing opportunity. We actually threw it together right when we got home from Europe. I was super sick, but I somehow mustered out these insane high notes. I don't know where they came from. I was possessed I think because I really don't know how I did it. We were able to put the song together and we are really proud of it.
SHAUNA O'DONNELL:
IT'S A HARD SONG TO SING IN THE FIRST PLACE.
Beau:
Yeah, Steven Tyler is amazing. He is definitely a guy I grew up watching as a kid. He has definitely been one of my favorite singers.
SHAUNA O'DONNELL:
THAT BAND IS STILL KICKING BUTT.
Beau:
Yeah and he's like 80. It's amazing that these guys are still somehow shredding on stage. Shit man! I hope I can do that when I'm that old. I'll be trying at least.
SHAUNA O'DONNELL:
THE VIDEO FOR "WHAT'S LEFT OF ME" IS HIGH ENERGY. TELL ME ABOUT THE DAY OF THE SHOOT.
Beau:
That was the first video I have ever made in my entire life, so that was cool. The guys were telling me to just relax, but it was so weird. You know how a lot of people lip sync? I was actually singing it out loud. By the end of the day I was really tired. It was a short day compared to most videos. Darren Doane did the video and he is really good. He was really quick with things and it was a few takes really. We then did individual takes. It was rad, but really simple, nothing crazy. We actually just filmed another video for "To Hell and Back." We had a cool story line so it will be cool when it comes out.
SHAUNA O'DONNELL:
WHEN DOES IT COME OUT?
Beau:
It should be before the Cool Tour or early during the tour. It's already done; we are just waiting on a couple things. Our label is trying to get it played on certain TV channels and they have to see who wants the exclusive on it. It's a little bit of a process, but I'm really stoked on the video. It's really creepy, Nazi and still it's us rocking out.
SHAUNA O'DONNELL:
BY THE LOOKS OF YOUR TOUR SCHEDULE, YOU ARE NEVER GOING HOME.
Beau:
Never, ever, I never want to go home either. Yeah we are doing this Cool Tour, then South America and Europe. We are doing a huge U.S. tour, but I can't say who with. It will be sweet; it will be a month and a half of touring. It's been crazy since I joined the band.
SHAUNA O'DONNELL:
LET'S START WITH THE COOL TOUR. WHAT AN AMAZING PACKAGE. I PERSONALLY CANNOT WAIT TO GO.
Beau:
Yeah it's going to be great. What day are you going to?
SHAUNA O'DONNELL:
I WILL BE THERE JULY 31ST.
Beau:
The L.A. show? Oh nice! I grew up in East L.A. in the ghetto. I grew up going to shows at the Palladium and The Troubador. It's going to be a dream to play at the Palladium because I have seen some of my favorite bands there as a kid. I grew up in L.A., but I'm in Huntington Beach now.
SHAUNA O'DONNELL:
I NOTICED THAT YOU TOUR WITH AUGUST BURNS RED A LOT. ARE YOU GUYS REALLY CLOSE FRIENDS?
Beau:
Yeah we did the one U.S. tour with them and we hit it off. We were doing main support for them and they just kill it. They are such a huge band and for us to be able to do main support for them was a great opportunity and we are all really stoked. Our booking agent books them as well I think. They asked if we wanted to go back to South America and we had already been there once. It just makes sense because our bands are kind of similar. We have a lot of the same fans so it works.
SHAUNA O'DONNELL:
WHEN YOU ARE PACKING TO GO ON TOUR, WHAT IS THE ONE THING YOU CANNOT LEAVE BEHIND?
Beau:
I cannot leave behind my black Guess skinny jeans. I have two pairs and it is all I wear, or my white Converse actually. I've been wearing white Converse for the last few years or so. I have a pair of Nikes that I wear too sometimes. I will switch off because my Converse are all sweaty and smelly after a show. I don't want to wear them all night so I will put on my Nikes meanwhile. I'd say my Converse, let's say that.
SHAUNA O'DONNELL:
DO YOU FIND THEM TO BE COMFORTABLE? I FIND THEM TO BE TOO NARROW. THEY HURT MY FEET.
Beau:
Oh really? No, I love them; they're part of my feet now I think.
SHAUNA O'DONNELL:
WHAT DO YOU GUYS DO FOR FUN WHILE ON TOUR?
Beau:
Sometimes it's hard to party, especially if you have a long drive. We are not on a bus or anything. We all like going ghost hunting. We will find a cool abandoned warehouse or insane asylum. We will look it up online and we will all go in there with flashlights and scare the shit out of each other. If you look at our blogs from the 'Bangover Tour', I think it's the third tour blog, you will see our merch guy crying on videotape.
SHAUNA O'DONNELL:
DO YOU GUYS EVER WATCH 'GHOST HUNTERS?'
Beau:
We kind of do, we film our own Ghost Hunters so they are like our competition.
SHAUNA O'DONNELL:
WELL, THEY HAVE THIS SHOW WHERE THEY HAVE INTERNS COME IN TO TRY AND BE GHOST HUNTERS. IT WOULD BE GREAT IF THEY HAD ALL FIVE OF YOU ON THE SHOW.
Beau:
Dude, that would be awesome! I'm going to talk to our label about that because if Ghost Hunters saw our tour video they would be way into it. We are all super creeped out and having a good time. Our merch dude was actually pretty drunk and he freaks out. I've shown people that don't even like our band and they think it's the funniest thing on Earth. He was kind of a mess. That is a great idea. I need to email them directly after this interview and let them know we need to get on Ghost Hunters.
SHAUNA O'DONNELL:
I THINK THAT WOULD BE GREAT! WHAT DID IT FEEL LIKE THE FIRST TIME SOMEONE ASKED FOR YOUR AUTOGRAPH?
Beau:
It was cool; it is always a flattering thing. I know some people get desensitized to it after so long. In my old band we struggled and didn't really get too popular. We worked our asses off and didn't really get anywhere. Where I'm at now, I work my ass off and it is actually paying off. I really, really appreciate every single fan and every one that comes up and asks for an autograph or picture. I don't think I'm anything too special, so I'm always pretty proud to do so. Every kid that comes up I'm like "Give me a hug!" They are like "Oh, okay!" There are times where I honestly have to leave or I'm sick and can't really hang out. I feel bad because these kids come to the show and I want to give them something to go home with. Sometimes we have to peace out pretty soon and we can't always hang out at the merch booth, but I'd say 9 times out of 10 we try to come out to the merch table.
SHAUNA O'DONNELL:
COOL, WHEN YOU COME TO L.A. I WILL MEET UP WITH YOU AT THE MERCH BOOTH.
Beau:
Yeah do it, we will go right after we play or after the show is done. We will be there throughout the night at some point.
SHAUNA O'DONNELL:
WHAT DOES THE TATTOO AROUND YOUR NECK SAY?
Beau:
It says We Are Loyal Like Brothers. It's from The Get Up Kids, they are one of my favorite bands. It's a song called "Red Letter Day." A few of my friends and I have the same tattoo or the same lyrics tattooed on us.
SHAUNA O'DONNELL:
THAT IS SO AWESOME. THANK YOU SO MUCH FOR THE INTERVIEW. IT WAS GREAT TALKING WITH YOU. YOU ARE A LOT OF FUN.
Beau:
Aww thank you so much, so I will see you at the Palladium.
SHAUNA O'DONNELL:
YES DEFINITELY, GOOD LUCK ON THE UPCOMING TOUR.
IS THERE ANYTHING YOU WOULD LIKE TO ADD OR SAY?
Beau:
To everyone, keep being awesome and supporting music. Grab our CD, it's in all sorts of stores!