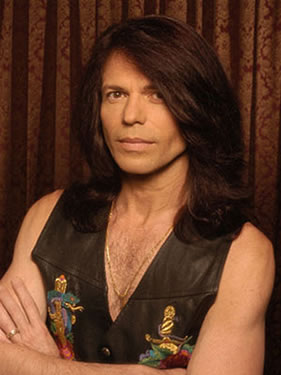 Band Name:
Interviewed:
Rudy Sarzo
Interviewer:
Date:
2010-04-15
Previous Interviews
SHAUNA O'DONNELL:
YOU HAVE HAD QUITE AN EXTENSIVE MUSIC CAREER. HOW LONG HAVE YOU BEEN IN THE BUSINESS?
Rudy Sarzo:
Almost 30 years now. Ozzy was the first band that I went out with on a world tour. Previous to that, I was playing with Randy Rhoades in Quiet Riot, but that was more of a local scene.
SHAUNA O'DONNELL:
WHY DON'T WE GO AHEAD AND TALK ABOUT THINGS YOU HAVE GOING ON CURRENTLY? I READ THAT YOU ARE A BASSIST/GUITARIST. DO YOU PLAY BOTH?
Rudy Sarzo:
I dabble in guitar; I use it as a writing tool. I'm a professional bass player; I'm not a professional guitar player. That's a big difference.
SHAUNA O'DONNELL:
DO YOU PLAY ANY OTHER INSTRUMENTS?
Rudy Sarzo:
Yes, I play keyboards, but then again I only use them as a medium so I can express myself and add to the musical pallet. I will use it when writing songs or showing songs to people that I'm going to be collaborating with, but it is not something that I go out there and make a living at. I do play tambourine in a Stevie Nicks tribute band.
SHAUNA O'DONNELL:
REALLY? WELL, THAT'S COOL.
Rudy Sarzo:
I'm only kidding. That was a very light joke.
SHAUNA O'DONNELL:
IT WAS FUNNY.
Rudy Sarzo:
If you listen to any of the graphic Motel songs, it's probably the loudest instrument on any record. There was actually a guy who was known for just playing the tambourine because all of their songs were recorded live, there was no dubbing or anything like that. It's not as easy as it looks, as a matter of fact I just finished wrapping up this show called 'Rock and Roll Fantasy Camp.' It's a reality show for VH1 Classic. There are three counselors that the show focuses on, Kip Winger, Mike Hudson and myself. We help bands that are comprised of people that have never met each other. They are put through situations while we take them through the rock star experience of recording in a studio, writing original material and performing live. In one of the performances, I did get to play tambourine on stage and it's not as easy as it looks. You cannot drink and play tambourine. I don't drink, but I could see somebody going up there drunk and not playing tambourine that good.
SHAUNA O'DONNELL:
THEY'D BE PLAYING TOO MUCH TAMBOURINE.
Rudy Sarzo:
Yes and it's always the loudest thing because it has that frequency that cuts through anything. The tambourine will be louder than the guitar is for some reason, it's crazy.
SHAUNA O'DONNELL:
WHEN WILL THE SHOW AIR?
Rudy Sarzo:
It will air on July 9th and it's a reality show, so it's a series. It was an amazing experience.
SHAUNA O'DONNELL:
I KNOW YOU ARE A SONGWRITER, DO YOU DO ANY PRODUCING?
Rudy Sarzo:
Yes as a matter of fact I have done producing not only in anglo, but also in Castilian. One of my first production experiences was going down to South America in Argentina to produce an Argentinean heavy metal band called Logos. Later on I released it through my own label Sarzo Music. I've had my own label, I've produced, I've written songs, I play and I do some juggling.
SHAUNA O'DONNELL:
WHEN DID YOU START PLAYING BASS?
Rudy Sarzo:
I'd say 1966.
SHAUNA O'DONNELL:
DID YOU GROW UP IN A MUSICAL FAMILY?
Rudy Sarzo:
No, my brother just played guitar. He is a professional musician. There is a new revolution of kids playing guitar today because of Rock Band and Guitar Hero. I've seen a lot of musicians go from playing the plastic instrument to actually learning the instrument. We had something like that called The British Invasion back in the 60's where there was a major influence in just about every kid growing up that picked up an instrument. Only a few of us went on to become professional musicians. A lot of my old friends still have the equipment and guitars that they used to play in the 60's in their closets.
SHAUNA O'DONNELL:
HOW MANY BANDS DO YOU HAVE UNDER YOUR LABEL?
Rudy Sarzo:
I don't have the label anymore, just like a lot of major labels don't exist anymore.
SHAUNA O'DONNELL:
YEAH, THERE ARE A LOT MORE INDIE LABELS NOW.
Rudy Sarzo:
Yeah, what I'm looking to do now is producing and developing bands.
SHAUNA O'DONNELL:
DO YOU HAVE YOUR OWN STUDIO?
Rudy Sarzo:
I still do, in fact my brother and I have a studio. He works a lot with movie soundtracks and so on.
SHAUNA O'DONNELL:
YEAH I WAS GOING TO BRING THAT UP. YOU ARE DOING DIGITAL ANIMATION AND VIDEO WORK NOW.
Rudy Sarzo:
Yeah, my major in college was mass communications, so I've always approached music as not just being an audio medium. I approach it as being an audio/visual because a lot of my inspirations came from visual music artists. If you look at the Beatles contributions, it wasn't only about music, they had films and documentaries. They had a series of videos. They did a video for "Strawberry Fields" and knew the concept of the workings of music videos. They were very much aware of that and it is something that made an impact on me. It is important to not just have audio, but you need to have video to convey your message. I was a product of MTV and without it bands like Quiet Riot and Whitesnake never would have had the success that we did. What I'm doing now is working with a lot of animation, software, hardware and video companies like Fuji and Sony. I am basically the "audio evangelist" for them. I make musicians aware. At the NAMM Show I did the demo for how to create 3D stereoscopic music videos. You have to be aware of all the new trends. I just got back from N.A.B. in Las Vegas; I was there for the National Association of Broadcasting Convention. Everything was about 3D stereoscopic for the consumer, not just for theatre. Yesterday I was watching this Mitsubishi big screen with a Blu Ray stereoscopic copy of Tim Burton's Alice in Wonderland. It was the same experience that I had watching it on IMAX. It was compelling and that is coming to your home. These are tools to tell your story and share your message, but I think we as humans are getting more immersed into what the artist is trying to convey.
SHAUNA O'DONNELL:
WHAT WOULD YOU SAY TO THE BANDS WHO FEEL THAT MAKING MTV STYLE VIDEOS IS TOO COSTLY AND THAT THERE ARE NO OUTLETS FOR THEM?
Rudy Sarzo:
I have the answer to that, which is why I am the "evangelist" for it. Costly no, if you use Sony Vegas to make audio, you already have the tool to make your video. You can buy a camera that will shoot HD. What it takes is imagination. When we used to make the videos, the record company would finance it and we would pay for it just like making a record. The record company took it out of your royalty; nevertheless a production team would be hired. The experience that I had was this; they would listen to the song and approach us with a concept. Let's say we would agree on it, then we would start shooting. All we had to do was basically show up and do it. We were not involved in the story board or story line. Hopefully at the end of the day we would be happy with it. Now, this is also the musician's contribution to when we used to make a record. We would go and start writing material and then the producer that was assigned by the record label would show up about a week before we went into the studio, listen to the songs and give their pre-production critiques about arrangements or whatever. We would then go into the studio and you were there to play your part. Any great producer would kick you out of the mixing room, tell you to go home or out on tour and when he is done he will send you the final mix. It was not as hands on as it is today out of necessity. Musicians right now from the very first note that they write of a song will see it right through to the end. That same approach and those same tools have to be done with your video. It is very simple, once you have that song all you have to do is use a little bit of imagination. In a music video what the consumer wants to do is to connect with who the band is. Without the video presentation you will not have the who, the what and the why. The consumer will want to know, who are these guys, what are they all about and why should I buy their record. That is basically answered with the video, the music is just the what, but you need all of the other elements before you present them with the music. It is cheaper to make a music video then it is to go out and buy all of the audio equipment that you need to make a record. Let's say you want to make a video without any special effects, if you want to add special effects there are very inexpensive tools you can use. I can take a band and for less than $100, I can put them in a room with a green screen, which is basically a sheet or anything that has a certain color to it. You use the alpha channel of whatever you are shooting with your video and then you composite it with your footage. There is a library of footage that you can use, you can create your own and you can create 3D animation, whatever you want. Before you know it, you have a very professional looking video. I would highly recommend associating yourself with a lot of visual artists. I would say 99% of the visual artists that I know and I'm talking about top of the line guys who have worked on 'Lord of the Rings', they are either musicians or music fans. They are jumping at the bits to get involved with music videos and working with bands. They will create collaboration with a band and create music videos. You can take that footage and use it on stage. OK Go does that, they made that video themselves. One camera, one shot, that was it and look what it did for their career. All of the tools are available; I have them all on my laptop.
SHAUNA O'DONNELL:
WOULD YOU LIKE ME TO SEND BANDS YOUR WAY?
Rudy Sarzo:
How about this, you send bands my way and I will show them how to do it themselves. That is what I'm here for and why I work with all of those companies. There is so much technology available out there and ironically all of the major corporations do not know how to reach other major corporations, so I will put them together. All of these companies are run by human beings and as human beings we all have the same characteristics.
SHAUNA O'DONNELL:
I WOULD LIKE TO SEE SOME BETTER VIDEOS COMING OUT WITH SOME OF THESE BANDS. I GET DISAPPOINTED WHEN YOU GO TO THEIR PAGES AND THERE ARE NO VIDEOS. SOME WILL POST LIVE FOOTAGE OF THEM IN THE STUDIO OR FOOTAGE OF THEM OUT ON THE ROAD. THOSE ARE GREAT BECAUSE THEY ARE HILARIOUS AND IT SHOWS A DIFFERENT SIDE TO THE BAND, BUT I WOULD LOVE TO SEE MORE VIDEOS TELL THE STORY BEHIND THE SONG.
Rudy Sarzo:
There are pros and cons to that because sometimes if the video is really strong then that is what you associate that song with forever. If it is that strong then it will also establish an identity for the group and maybe that is what the group needs. You need a branding or a logo of what the band is all about. An example would be Iron Maiden, the character they have "Eddie" is just as strong or stronger as any of the individuals in the group as being identifiable. That is what a good video can do for you. David Lee Roth was able to add an extra dimension to Van Halen, not only were they a great band, but they were also very entertaining and funny. They could have never done that just with their music alone.
SHAUNA O'DONNELL:
LOOK AT THE FOO FIGHTERS, THEY GO OUT OF THEIR WAY TO MAKE THESE GREAT VIDEOS THAT MAKE YOU LAUGH.
Rudy Sarzo:
They are not only funny, but "There Goes My Hero" is a beautiful video. They can be funny and they can be as dramatic as they want to be.
SHAUNA O'DONNELL:
YOU HAVE BEEN IN THE INDUSTRY A LONG TIME, IT MUST AMAZE YOU TO SIT BACK AND WATCH THE EVOLUTION OF THE MUSIC INDUSTRY. I THINK IT IS GREAT THAT YOU CAN EVOLVE WITH IT AND GO ALONG WITH WHATEVER COMES ALONG.
Rudy Sarzo:
The secret is to embrace the paradigm shift. Once it's shifted, it's like the seasons. I know musicians who were rock stars of the 70's and when the 80's came in and MTV was there to take them to the next level, they were not able to adapt. They suffered from it.
SHAUNA O'DONNELL:
PART OF THE KEY TO SUCCESS IS BEING ABLE TO CHANGE.
Rudy Sarzo:
Evolve, embrace it and accept it. When grunge came, I knew that I could not be in a grunge band because that is not who I am, so instead of me trying to be something that I am not, I went into different things. Grunge players are not only embracing players of my generation, because I'm really a 70's guy, they are now pairing with us. It is great and right now the playing field has become completely leveled. There is really no record industry to start shelving bands or categorizing what era you are from, it has become all level. If you listen to a kid's IPod, they are going to have Smashing Pumpkins and they are going to have Led Zeppelin. They will have what they like, not what they are being told to like.
SHAUNA O'DONNELL:
YOU ARE CURRENTLY IN BLUE OYSTER CULT RIGHT?
Rudy Sarzo:
Yes, I go between Dio and Blue Oyster Cult. I went on tour last November with Dio and then Ronnie was diagnosed with stomach cancer. I saw him at the Golden Gods and he looked great. They have dates to go out this summer. He is doing wonderful, he's about done with his chemo and he actually looked and sounded better than I've seen him in a long time.
SHAUNA O'DONNELL:
THAT'S GOOD, I'M GLAD TO HEAR THAT. I SAW DATES UP ON BLUE OYSTER CULT'S PAGE AND IT LOOKS LIKE YOU WILL BE OUT UNTIL OCTOBER.
Rudy Sarzo:
Yes and beyond that. There is a whole bunch of stuff that I cannot talk about now, but I'm doing some projects. I'm always busy and doing stuff.
SHAUNA O'DONNELL:
I WANTED TO CATCH YOU AT A SHOW.
Rudy Sarzo:
Yeah, we will be in Woodland Hills in the middle of summer. It is a big community show. We will be around, let me know which one you want to come down to.
SHAUNA O'DONNELL:
DO YOU EVER WATCH 'THAT METAL SHOW' ON VH1 CLASSIC?
Rudy Sarzo:
I was on it three weeks ago. If you go to the website they will put it online. Go to VH1Classic, then to 'That Metal Show' and all of the shows are listed. I had a blast doing it; they are friends of mine, so it was really comfortable.
SHAUNA O'DONNELL:
THANKS SO MUCH FOR THE INTERVIEW; IT WAS A LOT OF FUN. IF SOMEONE IS INTERESTED IN LEARNING HOW TO DO A MUSIC VIDEO THROUGH YOU, HOW DO THEY GET IN TOUCH?
Rudy Sarzo:
I will share with them information about the tools that they will need. Have them go to my fan page on Facebook, the Official
Rudy Sarzo
Fan Page. Thank you so much Shauna.