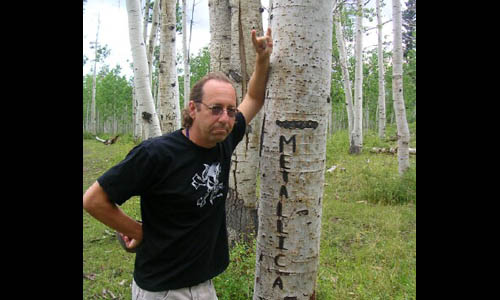 Band Name:
Interviewed:
Lonn Friend
Interviewer:
Date:
2006-08-08
Previous Interviews
The Gauntlet: How does it feel being the one asked the questions?
Lonn Friend: Jason, I am really enjoying this process. I have been for 20 years on the other side. To have created something; some piece of art that you are talking about gives me a sense of what the artist feels like. The way I have approached interviews over the years is to just share personalities and see if the vibe was there. It's amazing stuff, like the first time I sat with Steven Tyler. That's when you know you were meant to be doing this because I have never been a confrontational guy. For the most part for the people that have read the book, they want to understand the journey and to see what happened in between the cracks. I am digging the whole process.
The Gauntlet: I always loved your interview style for that reason. You weren't this faceless being firing off questions, but you conversed with the band and asked these questions that opened 50 more doors. You may have been a fly on the wall, but you still knew when to interact.
Lonn Friend: That is where all the great stuff came from. I went into my RIP cover interview with Jimmy Page with only one question. I was either going to sink or swim with that one volley. I am not a researcher. I have never been minutia minded. I know a little about a lot of things. Led Zeppelin is one of those mystical art bands that I didn't study growing up. They just came into my life when they did. So there I was just sitting in this tour bus with Jimmy Page and that crazy Chuck Berry story comes up, the one in the Aerosmith chapter. A few months later, I'm interviewing Jimmy and its flowing not because of my knowledge of Zep but because of the bond we forged on that bus ride over a salacious tale he just happened to find incredibly amusing. I started the RIP Q&A with 'So when Bonzo died did you know it was over?' There was this pregnant pause and then he just launched in to this effortless rap about the crossroads of Led Zeppelin and the death of John Bonham. He just took it from there. I admire writers that have fifteen pointed questions. I admire them when they go into an interview armed with facts and figures. It's a different style and I respect it. On my radio show I was Lonn their friend; come in and hang with me. If you hang with me, the fans are going to dig the interaction. They aren't going to just get a writer and an artist with an invisible wall between them. They are getting two guys hanging out. It has always been about hanging out. I would instill that in my writers. That was why they became writers for RIP. And they knew how to translate that environment into words. These guys hung out and they were great at what they did. That's why our magazine was what it was. I didn't understand the whole tabloid aspect. That is really touched on in the Guns N' Roses chapter. I touched on that in the Slash cover story I did when he was upstairs shooting heroin and Robert John came downstairs after shooting him and said maybe we should leave. I said 'did Slash ask me to leave?' I decided to sit there and see how things played out. There was a immense sense of trust for Slash to even reappear that evening. I was the editor of a hard rock magazine that his band helped put on the map. His eyes were practically closed, he was stoned but he still amazingly coherent. I didn't push him into any topic that he didn't want to talk about. I just let the tape roll as long as he wanted to continue talking. When I wrote the piece, I didn't think it was appropriate to bring the readers into Slash's toxic shadow so to speak. How was it going to help me with my relationship with the band by revealing to the world that the guitarist was messed up. The content about what he said is what made the magazine and the article was so compelling. And the awesome pictures that Robert took. The photograph of him in the shower with that cigarette dangling, wasted and wet, was so iconoclastic. That's what defined RIP because nobody had that access and nobody could get that image. What we did wasn't an invasion of privacy it was more a reflection of the true spirit of the artist at that moment in time.
The Gauntlet: Where did you draw the line on what to write about? Covering the 80's, nothing the bands did made them look good.
Lonn Friend: Well we drew the line at if anything was just pandering or glorified the decline an artists morality or was simply for shock vale, that's where we drew the line. If I am on the road with Motley Crue and I'm the guy giving the backstage passes out to the girls coming up to me, if it fits to the story then that's what belongs there. Doing it for the shock value is what become precarious. The media believe that people love to see is the fall of an individual, especially the fall of a celebrity. I didn't ascribe to that mindset and never believed it served my higher purpose as a journalist or whatever you want to call me. That's probably why I haven't been as financially successful as I might have been. That sort of mindset is where our society has been. People love to see there celebrities fall. That's what is happening right now with Mel Gibson. They are all clamoring around him and want to burn him in effigy rather than want to know what he was going through at the time. I have gotten very insightful in the last few years.
The Gauntlet: Your Chuck Berry story while on the Aerosmith bus was so unexpected. I was and still am in total shock by that story.
Lonn Friend: I was there, and Allan MacDonnell and I witnessed it. I couldn't really write about that as our legal department had issues with that until we discovered someone else had already written about it so it is in the public domain. Pamela Des Barres I think referenced the video. Allan did, too, in his new memoir, Prisoner of X: 20 Years in the Hole at Huster Magazine. A great read, by the way. Chuck's notorious sex tapes are not a secret anymore. What makes the whole thing so wild and individual and so personal to me is that I'm telling the story to rock legends! Jimmy Page, Steven Tyler and Joe Perry and they have never heard it. Think of the context, that's what is so wicked. I had been on a bus for four hours watching these historic figures discuss life, love, the blues - it's my ultimate fly on the wall experience, and Steven Tyler chimes up 45 minutes from London and says 'Lonn, you worked for Hustler, don't you have any stories?' My brain just clicked on Chuck.
The Gauntlet: If you told that story and it was Kurt Cobain on the bus, you would have never gotten anywhere. How'd you know that was the story to tell?
Lonn: That's my whole life, it's unscripted. A lot of times I haven't a clue what I am doing. It is really clueless. When I did the first Headbanger's Ball slot I didn't have a clue what I was doing. I had never been in front of the camera. We did a promotion with Megadeth where they filmed me and my staff running around Hollywood meeting rockers. My instinct told me not to use a script, to do what I know. Which was, leave it up to spontaneity. My first spot was in August 1991. Metallica gave me the cover of the black album to present to the world. What a honor and rush that was. All I did was hold it up. My movement and speech were stilted, a bit nervous. I got more comfortable and animated over the next two years. I loved that gig. I was just being me, an overgrown kid telling fans about what was happening with their favorite bands.
The Gauntlet: I heard you are planning a tour?
Lonn: I'm working on it. It isn't easy. My publisher has been great supporting the book out of the box and setting up signings in L.A., Vegas and Phoenix but to go out and really get to the fans, the cities, I have to finance the sojourn myself somehow. Raise capital, throw a fund raiser, a concert like the old RIP parties back in the day where the groups would play in support of the magazine. I'm reaching out to friends. Got a venue secured. We'll see what happens. I'd like to take the book out on the road from October to December. Do lots of rock radio stations and in stores. The Lonn Friend Planet Rock Caravan. If it's meant to happen, it'll happen.
The Gauntlet: So I'll finally be able to attend one of the infamous RIP-style parties?
Lonn: Well, the concept will be the same. We'll get a couple of great bands to play for me. The end result will be different. Instead of the magazine getting the cash, I will get the cash as that is what I need to get out on the road. I think I will just leave it up to trust and the group or groups that could perform will reveal itself in the next couple weeks. I just need one great band in there to make sure we sell out the venue and then add local bands. I like to use the platform to expose the younger acts.
The Gauntlet: If done right, I like the shows with a nice mix of different bands.
Lonn: Yeah, a real eclectic mix. What people don't know about that incredible RIP party in 1991 with Soundgarden, Pearl Jam, Alice in Chains and Temple of the Dog was some of the earlier groups on the bill were Thunder from England and The Screaming Trees from Australia. Neither of those groups broke in the United States. The labels flew them over here for the RIP party. It was all about promotion and raising awareness on the younger acts.
The Gauntlet: The music business has changed so much in the last ten years; do you ever want to get back in?
Lonn: I am always writing on a freelance basis and I take assignments as they come to me. I did a lot of writing during my 2 ½ years in Las Vegas. As far as going back to a corporate gig, it would have to be really unique and attractive. I couldn't go anywhere where there was a hint of slavery involved like I encountered at Arista from 1994 - 1998 which is articulated rather specifically in the book. The interesting thing about Clive is he has such a hold over the industry. He hyper manages. Most people are indebted to him in their own successes that they'd never ruffle feathers. It is a real ring kissers paradise in his kingdom. That chapter appears on the surface as indicting but its more about my failure and how I didn't fit into the record business the way the infrastructure was setup. If I used the term making a deal with the devil, that's my choice as I took the big check. Who is to say if The Bogman got big and played on MTV they would have broke big. They may have only made two records and broken up. And life would have been different for everyone. Cause and effect. I've learned a lot, my friend, since hitting the spiritual path which as heaven would have it, Clive sent me on by not renewing my contract and placing me without a gig for the first time in my career. That pause changed me forever. It's still changing me. I don't blame anyone for anything anymore. We create our realities. I guess I've become a heavy MENTAL mystic!
The Gauntlet: Was your time at Arista dreadful?
Lonn: No, it was eye opening. I got lost in my own sense of self-importance. I had this big expense account and big salary. The reason the chapter rings so bloody truthful is it wasn't me doing what I was supposed to do. I was writing memoranda not road stories. I was trying to get on a soapbox and tell these people who had these very specific ways to bring an artist from something to nothing. They didn't hear my voice. Arista failed at rock n' roll the entire time they were a label because of the way they looked at the genre: you had to hit fast and be accepted on the radio. Rock is by nature a grassroots phenomena. You find the band, the band finds you, somehow, someway. No one path brings you to the connection. I don't know what my next gig is, I think I'm unemployable. I am sure another book will be on the horizon if this book does well. I have been getting very positive responses. If you are a band and have what you believe is a really good record, you wonder who out there is hearing it, hearing about it. Best way to reach the fans is to physically GO to them, tour, play live, make contact. I have a book that I think has some really great tales. How does it find the audience, those incredible RIP readers that helped us document a incredible moment in music history? It gets to people through talking to people like you. I'm not arrogant about this. I learned about media from Lars Ulrich during the '…And Justice For All' campaign. He would talk to the smallest fanzine or the biggest network. It all served the higher purpose. You never know vast the connective tissue can be of the public consumption of media. Who am I to say NO to a publication or writer or anyone with a platform who wants to hear my story? I feel honored when people can quote from the book. That means they read it, it's respectful.
The Gauntlet: Do you think you have a good movie in you like Cameron Crowes 'Almost Famous?'
Lonn: I have given my book to three movie people so far, only because they happened to be 80's metal rock fans. It's organic. I'd like to get a copy of Planet Rock to McG, who directed the Charlies Angels films. He was a devout fan of RIP, told me that in the back of a limo once after a VH1 awards show. I am not shopping myself anywhere.. What Cameron did in the 70's with Zeppelin and the Allman Brothers is me in the late 80s and 90s with GN'R and Metallica. We were allowed inside and did what we did via personality, access and a fan's true love of music. Lester Bangs told Cam not to become friends with the rock stars. He did. I did, too, or least I thought I did. I examine that relationship in the book. Cam is one of my heroes and a friend. Given those two sources of inspiration, if someone reads my book and thinks there is some tale that can visually be translated, I am willing to look at that. I really don't know and I can't think in those terms. I need to stay focused on getting the written word out and let somebody else focus on that manifestation of this book.
The Gauntlet: In the book, you talk about your earlier days working at Hustler. Who are the most fucked up and debauched group of people: rock stars or porn stars?
Lonn: [laughs] Well, I don't like to make indictments, but back in the 80's before pornography was legitimized and mainstream where you could watch it on HBO at 10pm, there was an underbelly aspect to the porn business. It was very insular and they kept to themselves and they threw conventions. When you walked into them, you felt like you were going into a one of a kind experience. There were no outsiders allowed. There was a mindset to the porn industry that was very inclusive. I was an insider because I was a film critic for the biggest magazine from 1983 - 1985. I saw that world from the inside. I only give a little taste of that in the book as seasoning, but not as a main course. What is important in the book is my transition from Hustler to RIP was made effortless because the culture of pornography fit so perfectly in the culture of metal. It was decadent, it was chicks, it was loud, it was debauched. When I took over RIP, the first thing that the artist wanted to do was come up to the Flynt offices and check out the new skin pix. I took Jon [Bon Jovi] and Richie [Sambora], Steven [Tyler], Axl [Rose], Tommy Lee and Nikki Sixx, Sebastian Bach, Don Dokken. They all got the tour of the Hustler photo department. The Aerosmith chapter is where I illustrate how I used porn as a bonding device. And not just with people like Steven Tyler, but industry people like Rick Rubin and John Kalodner. They all loved that stuff. The other magazines didn't have that cache of goodies. I used the resources at my disposal. Of course, what happens in that 'Smith chapter? Tyler goes through a change, I go through a change, and years down the road, we're talking about crossing over and quoting Kahlil Gibran's The Prophet. "Take me to the other side!" Sing it, Steven!
Buy 'Life on Planet Rock'
Official Site