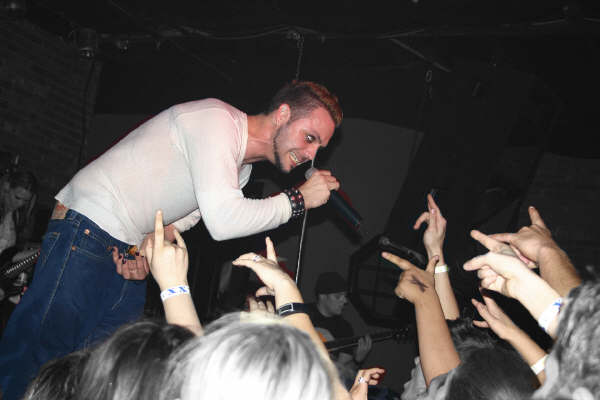 Band Name:
Interviewed:
Justin
Interviewer:
Date:
2006-06-14
Previous Interviews
Having just resigned with Universal Records for the bands third album "Foiled", I caught up with Blue October vocalist/songwriter Justin who has been recuperating a broken leg.
The Gauntlet: What's been going on?
Justin: Been off from touring for about a month and a half. We are getting ready to go back out. I just got approval from my doctor so I am all ready to go back.
The Gauntlet: You didn't want to be up on stage performing with a broken ankle?
Justin: Well it is pretty bad. I had to have surgery on it and everything. If it was just a broken foot I would put on a cast and go rock it out. It was just crazy it had to happen when it did.
The Gauntlet: I read you were running bases on a baseball field.
Justin: Yeah, like a dumb ass. I was in my dress shoes and my suit. It wasn't the best attire to be doing that in. I hit home plate and there was sand on the plate and my foot slipped out right under me.
The Gauntlet: What do you do in the off time?
Justin: I have been trying to write, but mainly doing physical therapy. I have been really bored, but doing a lot of interviews and press. Every time I start writing a song, I start focusing on my leg. And that's not what I want a song about.
The Gauntlet: The new Blue October album came out about the same time all this happened. And it's doing great on the charts.
Justin: Yeah, supposedly it is still rising up on the charts. I just wish I could be out there supporting it.
The Gauntlet: It's pretty good to be doing so well without tour support. Bands aren't supposed to release an album and then go on vacation with no support.
Justin: Yeah.
The Gauntlet: Did you have to take any different steps in writing this album than previous ones?
Justin: Actually, we usually work with a lot of producers and stuff like that. We worked with a few, but this time it was more about being honest with what style of music we actually are and showcasing that. We aren't just one type of band and that is something that is good and bad about us. For the writing, I went away to LA to be alone in writing this album. Just the darkness of where to go next and wondering if this album would even be heard helped make this album. Usually I write the songs on the road and we rehearse them. These were all writing alone and we didn't rehearse them til we hit the studio.
The Gauntlet: So was there any involvement from the band?
Justin: Oh yeah, every time I wrote a song I would demo it so the band could hear and so I could see what their thoughts were. I definitely wouldn't go and make an album by myself.
The Gauntlet: So you weren't a total recluse like Howard Hughes; living in a closet and storing urine in a jar while writing "Foiled"?
Justin: [laughs] Well, actually I was for those six months. I sent a few things out and called them on the phone, but the calls were very brief. I had sent them about 30 songs that they could choose from that we could work on.
The Gauntlet: The lyrics are almost like listening to you read from your private diary. You have a lot of personal stuff on this album.
Justin: Yeah and that seems to bite me sometime. I can only imagine what Eminem went through. I am not comparing myself to him as he is a genius, but he is so open to talk about things in his life. I write things and we put it out and I'm like 'Oh shit, what did I do?'
The Gauntlet: Is it therapeutic in a way?
Justin: Yeah, when I was there for the six months, it was more like trying to figure out what was wrong in my head. It might be selfish, but I had to go there to get answers for myself. When I listen to it now and I'm not in that place anymore, I have to remind myself it was something I had to do to get here.
The Gauntlet: The lyrical content on "Foiled" seems like you wrote it in a different frame of mind from the previous albums.
Justin: It is just where I have been lately; for the past 3 years. I have been trying to make sense of a lot of stupid mistakes I have made in the past whether it be drug addition or who I have treated like crap. I have kind of begun noticing it's not just with Blue October and the band, but there are actual feelings. In making this record, I began realizing how damaging you can be to people if you don't think of people first.
The Gauntlet: Do you worry about running out of lyrics now that your demons are silent?
Justin: You know, I think about that all the time since my leg has been broken. I wonder if that's it. Every songwriter has that though and then something will happen in your life and then you have 6 songs in a month. I don't try to dwell on that fact.
The Gauntlet: Hopefully we won't hear on the next album 10 songs about running bases in a dress suit and breaking your leg.
Justin: You gotta be kidding me [laughs]. That's hilarious.
The Gauntlet: "Foiled" is going to be released on Universal Records. The label dropped you after a previous release. I know this is the nature of the business as bands get signed and dropped all the time. Did the band have any apprehensions re-signing with Universal?
Justin: Of course there were. It is like you said. A business is a business. If I owned Nike and I hired someone to make the best shoe and it didn't sell, I'd fire them too. When we got approached by numerous labels making this album, Universal was the only label with a plan. They knew what went wrong the first time around and knew how to correct these things. Other labels sent 1-2 people to our showcases and Universal brought hundreds of people along with the president. That is what sealed the deal for us; a plan is always good.
The Gauntlet: Couldn't things have been done differently in the past to avoid being dropped the first time?
Justin: No, it was a timing issue. Korn and Limp Bizkit were big back then. We are no where like them. When we released our second album, Coldplay and The Strokes were hot. Now there is a little gate where we can peak our head out there. They could have worked the album til the end of time and it wouldn't have worked. If they work our old material now, it might work as our style hasn't changed. MTV and VH1 are more susceptible to our style of music.
The Gauntlet: So you were just ahead of your time?
Justin: I don't know about that, we were just trying to fit.
The Gauntlet: Do you feel privileged to be given a second chance with a major label?
Justin: Yes, we are very blessed to get a second shot. Most bands get dropped and they give up. That's when all the stupid drugs started. I took the debauchery way out. Then I cleaned myself up and put it into music instead of up my nose.
The Gauntlet: Are you looking forward to getting back out there on tour?
Justin: Oh yeah! I am just ready to get back up stage and let some of this frustration out on the audience.
The Gauntlet: What are the tour plans?
Justin: It looks like we will make it out to Europe this year. We are doing our first run in the US with People in Planes. That is all we know right now. We are looking for support for the next run. We are trying to get some really cool bands. When we get it done, I'll be able to answer that question.