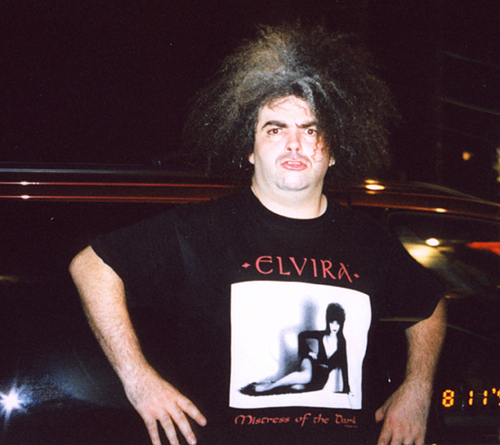 Band Name:
Interviewed:
Buzz
Interviewer:
Date:
2006-05-30
Previous Interviews
The Gauntlet: Do you guys have a title your next album yet? Any titles that you've ruled out that you'd like to share?
Buzz: We do have a title but we won't say what it is until we've rolled tape on it in the studio. It's a weird habit we picked up about 15 years ago for no real reason at all. So far the titles we've ruled out are: "Tight butts drive me nuts", "Elvis and a red hot poker", "How old's your sister?", and "Keep it coming bitch".
The Gauntlet: How many tracks will be on this one?
Buzz: I have no idea. Usually we just record until we have what feels like an album.
The Gauntlet: What are some song titles floating around?
Buzz: Once again our superstitious nature won't allow that to happen but here's some titles that won't be on the record: "What did you call me?", " Dude can you take me to the post office?" "Someone stole the shit I stole". " Get off my back you dumb bastard", and "How much did you think they were going to charge?".
The Gauntlet: How many full lengths does this mark for The Melvins? It seems you can compete with Patton and Zorn these days.
Buzz: I don't know, a shit load. I suppose we COULD compete with Patton and Zorn but they seem to be in a competition all by themselves, so who could be bothered?
The Gauntlet: Having been recording and playing in the band since its conception, do the writing and recording processes just come naturally now?
Buzz: Nothing is ever easy or natural. Recording is better now only because of the vast amount of time we've spent in the studio but we tend to run into trouble trying to figure out HOW we want it to sound. I have no interest in doing things "normally". There are plenty of bands out there willing to do that sort of thing so we don't need or want to. I think sometimes people have a bit of a problem with that but I remain unconcerned. We think it's all good.
The Gauntlet: What are some tour plans following the album?
Buzz: When we tour we are trying to sell ALL of our records so it really matters very little when we tour. I'm happy about this. We just had a live record of the entire Houdini album come out so we do have a U.S. tour planned for the fall.
The Gauntlet: How do you bide your time between the Melvins and Fantomas?
Buzz: There IS more to life than beating your meat but I'm not sure what. It's really about all I have time for between the two bands. Actually I'm not that busy but, you know..
The Gauntlet: What other projects do you have in the works?
Buzz: Other than recording a new record, planning and doing a three and a half month tour of the U.S. and England, finishing up a remix record for sometime next year, putting out an 8 inch Melvins Qee Bear by July and always writing songs I seem to have nothing but free time. I think I'll also be doing some vocals on the next Napalm Death record and a project with Lustmord.
The Gauntlet: Will there be any guest appearances on the album? Will the guest appearances be by humans or other objects?
Buzz: I'm not sure. I'm really going to look into that other objects thing though, now I'm intrigued.
The Gauntlet: If you could compare any album of the Melvins past to the new one which one would come close?
Buzz: it's a really close call with the Pigs of the Roman Empire, Stag, Ozma, Stoner Witch and Colossus of Destiny.
The Gauntlet: About how long will it take for the albums recording sessions to be done?
Buzz: About two weeks give or take a few days.
The Gauntlet: Have you ever thought about starting your own label? You could re release all the Melvins material from the past 15 years, you know do the remastered thing and release the entire catalog again, I hear that's quite popular these days.
Buzz: Maybe but we've already done a lot of remastering of our older records.
The Gauntlet: How many more Melvins albums will there be?
Buzz: One more at least.
The Gauntlet: Is there anything that strikes your attention in the world of music currently?
Buzz: I like the Black Heart Procession, The Locust and the Trevor Dunn Trio Convulsant.
The Gauntlet: Just some profile questions for you now, so people can get to know the real Buzz; Is your hair a real pain in the ass to take care of?
Buzz: Does it look like I DO anything to it? Does it look like I spend ANY time on it at all? I let it do what it wants. Big surprise.
The Gauntlet: What's your favorite kind of sandwich?
Buzz: A "love" sandwich or as Dale likes to call it a "tuna sub".
The Gauntlet: If you were turned into a zombie and could eat one persons brains before your head was blown off with a shotgun, who would it be?
Buzz: Raquel Welchs.
The Gauntlet: If you could go back in time, what historical moment would you witness?
Buzz: I'd be in the lead plane during the WWII fire bombing of Tokyo.
The Gauntlet: That's all on my end Buzz! Thanks for taking the time out to do this, is there anything you would like to add?
Buzz: Elegance is it's own reward.