Wolverine Bio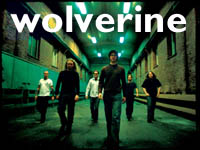 Band Members
Mikael Zell - Guitar
Thomas Jansson - Bass
Stefan Zell - Vocals
Per Broddesson - Guitar
Andreas Baglien - Keys
Marcus Losbjer - Drums and growls
Subgenres
melodic death metal
progressive
Stefan Zell and Marcus Losbjer formed Sweden's Wolverine in 1995. From the start they played death metal with melodic influences but when they released their first record, Fervent Dream, in November 1999 the music had evolved into progressive metal.
Fervent Dream got an overwhelming reception all over the world and was soon sold out. The band also played outside Sweden for the first time in connection with the release of the album, headlining Holland's Prog Power festival, amongst others.
IIn the beginning of 2001 Fervent Dream was re-mastered and re-released as a digi-pack with two bonus tracks. During the summer that same year the band went down to Germany and recorded the follow up to Fervent Dream; The Window Purpose.
The Window Purpose was released in December and the response was once again overwhelming. It was appointed "Album of the month" in January 2002 by Holland's most important metal magazine Aardschok. Once again Wolverine played around Europe to promote the album with great success.
This album caught the ear of Elitist records, which quickly signed the band to a four-album deal.
The band has just recently completed work on their third effort entitled Cold light of Monday, their debut for Elitist Records. The album explores the really dark side of the band and tells the story of a young abused woman, Sarah, during some really critical years of her life:
A shivering girl sits all alone upon a cold floor in a filthy apartment. All that keeps her company are the sounds of the city's evening traffic coming through the only window. The radiators produce a haunting symphony of sounds that sends shivers down her spine. Her face and body are bruised and battered. She looks like some sort of twisted artwork with her blood running down her pale skinny legs
She's trying to remember how she ended up here. Where did it all go wrong? Trying to remember, and yes, finally finding the beginning of it all.
This is where the album starts and the subsequent songs reflect on the journey Sarah has taken.
The music shows a departure from the band's previous material, but showcases a band with a depth and maturity in their song writing approach that's comparable with the World's best in their field. The genuine emotion and sombre tone portrayed in the songs is a fitting tribute to the album's concept. Wolverine have taken a bold step with Cold Light Of Monday and it's more than paid off.