Fleshcrawl Bio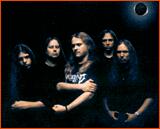 Band Members
vocals - Alex Pretzer
guitarist/bassist - Mike Hanus
guitarist - Stefan Hanus
drummer/vocalist - Bastian Herzog
Before Fleshcrawl signed a contract with Black Mark Production in May 1992, several of their publications (demo/7") had already gained attention in the underground. In June of that same year, the debut album "Descend Into The Absurd" was recorded in the Stockholm Montezuma Studio. Two years later the follow-up album "Impurity" was produced in Dan Swan's Unisound Studio.



With their brutal and uncompromising deathmetal, Fleshcrawl received best reviews for both recordings in the international metal-press.



Energetic, brutal shows distinguish Fleshcrawl live on stage. This they could demonstrate forcibly on the Easter Bash Tour 1995 together with Deicide, Cathedral, Brutal Truth, Sinister and Kataklysm.



End of December 1995 Fleshcrawl started on recording their third album "Bloodsoul". For this they entered the Swedish Abyss Studio, where they confined eight new songs on the toughest sort onto the recording tape assisted by engineer Peter Tägtgren (Hypocrisy). Just as before they received very good critics in the international scene-press.



The good cooperation with Peter Tgtgren resulted in a totally crushing production on "Bloodsoul" and made the decision easy for the guys to select once again the Abyss Studio to record their fourth output.



"Bloodred Massacre" was produced within two weeks mid-August 1997 ­ a musical massacre containing nine blood-soaked songs. Titles like "Hellspawn", "Bloodred Massacre", "Dark Dimension" or "Slaughter at Dawn" are speaking for themselves. Fleshcrawl has put a high value on composing their songs without compromise, intensive and brutal, without narrowing down the margin for carefully reflected song-writing, thrilling tunes and musical details. With his flexible voice Fleshcrawl's new singer Sven Groþ has given new accents to all the songs. In addition to eight of their own compositions, Fleshcrawl once more included a cover version in their album - this time Slayer's legendary "Necrophiliac".



Germany's First-Class-Deathmetal-Act is back - and remember...only death is real!