Wings Bio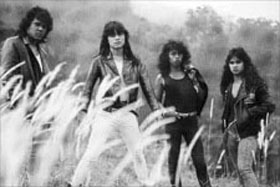 Band Members
Ahmad Azar Othman ``Awie`` - Vocals
Samsaidi Ulong Idris ``Eddie`` - Bass
Zamin Abdul Kadir ``Joe`` - Guitar
Azmi Hashim ``Black`` - Drums
WINGS is one of the better known Malaysian Heavy Metal bands, releasing their first album 'Belenggu Irama' in 1987. Having released a string of massively selling albums WINGS profile is certainly enhanced by the inclusion of lead singer 'Awie' (Ahmad Azhar Othman), also respected as one of the country's top ranking actors for his roles in such blockbusters as 'Iskandar'. The band's line up for these recordings comprised vocalist Awie, guitarist Sham, bass player 'Eddie' (Samsaidi Ulong Idris) and 'Black' (Azmi Hashim) on the drums. WINGS subsequently underwent a great degree of line up turmoil, firstly with Sham being replaced by 'Joe' (real name Zamin Abdul Kadir) for the records 'Hukum Karma' in 1989 and 'Teori Domino', recorded at Synchro Sound Recording Studios in Kuala Lumpur, in 1990. Then Black left the band, being superseded by Jojet for a fourth album, 1991's 'Jerangkung Dalam Almari'. Upon completion of a fifth outing WINGS suffered the loss of both Awie and Jojet.

Regrouping, former member Black returned to the drums for two successive albums, 'Wings And Superfriends I' and 'Wings And Superfriends II'. 'Mel' (Ismail Zainuddin) would be incorporated as lead vocalist for the 1996 offering 'Orang Asing', after which the new singer exited for a solo career. 'Mus' (Mustafa Din), erstwhile singer for MAY, was next in line to front the band. This version of WINGS issued 'Biru Mata Hitamku' 1996 and 'Puisi Aidilfitri' in early 1997.

Awie made a return to WINGS in 2000, the same year the band put in its debut concert in Brunei.