Blare Bitch Project Bio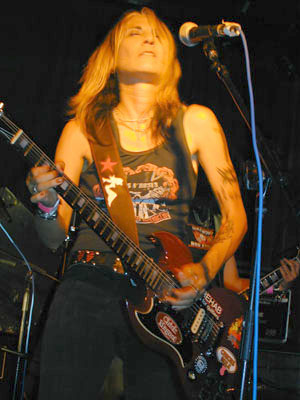 Band Members
Blare N. Bitch - Lead Guitar, vocals
Punky - Lead Guitar, vocals
Johnny Black- Bass
Chase Manhattan - Drums
WE'RE THE BLARE BITCH PROJECT
AND WE DON'T GIVE A FUCK!

If you have pent up passion and unreleased emotion and if all you need is one good scream, one good thrash, one good reason to get off this is the band that'll take you there.



Lead guitarist Blare N. Bitch who rocked your world in BETTY BLOWTORCH -- has something she wants you to hear and since her name IS her style -- you can bet she is going to ROCK you and she's going to ROCK YOU LOUD! Blare recruited lead guitarist Punky, the illegitimate love child of Joe Perry & Keith Richards, to help turn up the volume, Chase Manhattan dominates the skins after coming off the road of DEE DEE RAMONE'S last two years of world touring. He adds the passion that fills an arena and pounds the shit out of the drums until they fall off the stage. When Johnny Black gets a little agitated about the lack of alcohol in his blood stream he turns up some serious volume and rips some serious riffs.



This band incites emotional riots with just one squeal of well-manipulated feedback, powerhouse rhythms and dual lead guitars. Two voices bring to the stage the love, hate and all the life in between with songs that make their fans sweat and scream for more. BBP plays until their strings break, their fingers bleed, their amps smoke, the drums fall off the stage and until their audience is deaf and loving it.



Blare Bitch Project is here. Get used to it.