Dark Nova Interview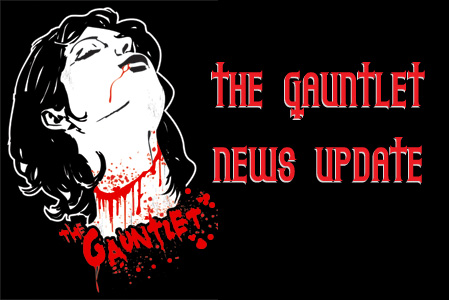 Creating a musical atmosphere that is not only highly dramatic, but sonically fluid and emphatic, Grecian progressive metal act Dark Nova deliver music that is as bold as it is emotionally powerful. Their latest Black Lotus records release "Sivilla" is a compelling musical journey that is oblivious to trends and imitation. Vocalist Michael Choulakis gives insight into the intricacies of the new record with The Gauntlet's omnipresent Erin Fox.


The Gauntlet: Dark Nova has been in existence now for almost two decades. How did the considerable amount of experience that the band has amounted assist you in the making of "Sivilla"?

Michael Choulakis: First of all we have become better musicians, and that is very important to us as we are becoming more and more capable of describing our feelings through our music, which we believe has become more profound. And because of our fairly long cooperation, our style has become more solid and precise. Our songs seem better processed and built than ever before.


The Gauntlet: The band has endured some hardships in getting a significant amount of exposure up to this point due to label troubles and an unstable line-up. Do you think that your newfound relationship with Black Lotus Records and the release of the new record will change this for you?

Michael Choulakis: Definitely! We are so pleased of the current status in our line-up that unless something totally unpredictable happens, we'll be staying for many years to come. Every single one of us feels that in Dark Nova we have found exactly what we were looking for in terms of music and collaboration. And with Black Lotus, we have found a great amount of support, so a great burden has been lifted off our shoulders.


The Gauntlet: Is this then, somewhat of a new chapter in the history of Dark Nova?

Michael Choulakis: Yeah! At last we can now devote ourselves to our music-writing without having to worry of how or when our next album comes out.


The Gauntlet: Tell us about the events leading up to the creation of Sivilla.

Michael Choulakis: First I'll have to explain the concept of "Sivilla" a little. Sivillas in the ancient times were priestesses of the ancient Greek god Apollo, women who had the gift of foresight to be found in many great cities across the Mediterranean. At that time it was a common practice that when a country had a serious problem, such as going to war or having to face some domestic crisis, they would go to the Sivilla to find out from her the will of the gods. However her words were always enigmatic and could often be easily misinterpreted. Dark Nova always liked to go around the concept of power, be it political, religious or any other expression of it. The lyrics of course are modern and do not include ancient myths and tales. They refer to the modern Sivillas that try to guide our footsteps in life, though ultimately they are usually nothing more than the inner voice we are bound to listen to or turn away from. Musically now, you can meet various Sivillas through rhythm and melodies inspired by different cultures. Not that this album is ethnic or folklore in any way whatsoever.


The Gauntlet: What was the most exciting aspect of making this new record?

Michael Choulakis: Recording in the studio. We try hard (and we had a lot of fun too) to bring new sounds and atmosphere to "Sivilla". To compare different music elements like classical music, Andalusian melodies, medieval themes, classical guitars.


The Gauntlet: What is it about Sivilla that makes it completely different from anything that you have done in the past?

Michael Choulakis: A serious record company, better studios, the right persons -at last- to write music with, and the fact that all these years we have become better musicians and more sophisticated.


The Gauntlet: What are some of the influences of the individual band members?

Michael Choulakis: Our influences come mainly from the heavy metal of the '80s and our studies in classic and modern music. Additionally, here in Greece we have our own music style counting over 3000 years of age, which are rooted very deeply inside of us. Plus, geographically we stand in the middle of many other different cultures and civilizations and of course their music. However our music never strays from the metal genre, sometimes with power or progressive elements, but always heavy. We will never stop listening to the music of AC/DC, Dio, Black Sabbath, Ozzy Osbourne, Judas Priest, Iron Maiden, Metallica. As for the newer bands, we admire the works of Symphony X, Pain of Salvation, Ayreon, Opeth and others but I can't say that we are practically influenced by them.


The Gauntlet: How was the song Come Into My Nightmare brought to life?

Michael Choulakis: At first it was a mid-tempo song. Now it is a fast song with many different elements. From the baroque feeling and classical music to more haunted and soundtrack atmosphere somewhere in the middle before the solo. First we wrote the main theme. The lyrics came after.


The Gauntlet: What is been the most exciting live performance the band has played to date?

Michael Choulakis: Definitely the most important was back in the 1997 in Rockwave festival with Bruce Dickinson, Grip Inc and Megadeth. It was the first time that we played in front of about 7000-8000 people. Only half an hour as we were the opening act but so exciting!


The Gauntlet: Why is it that you approach your music from such a dramatic perspective?

Michael Choulakis: Everything just happens! We love the great melodies and the lyricism. Maybe we don't like very much the majors or the pentatonic scales. (smiles)


The Gauntlet: In what condition do you perceive the current Hellas heavy metal scene to be?

Michael Choulakis: The Greek metal scene has always been active since the early '80s, though not quite noticed by major labels. Starting about 10 years ago, the Greek scene flourishes and has put out some stunning works from bands such as Rotting Christ, Septic Flesh, Nightfall, Innerwish, Fragile Vastness and Wastefall. As for us, we practically are the oldest Greek metal band still active and we try our best to put the level higher every time.


The Gauntlet: What has been your favorite country outside of your homeland to perform in?

Michael Choulakis: Everywhere in south Europe and the States.


The Gauntlet: Is it very difficult for bands in Hellas to become well known?

Michael Choulakis: There are many bands in Greece, there are so many good musicians but unfortunately there are no serious persons like tour managers, band managers and stuff like that. There are some record companies but they haven't the right people to promote a band outside from our country.


The Gauntlet: Are there any artists in specific that you aspire to share a stage with?

Michael Choulakis: We had played with many artists all these years and this is an honor for us. Megadeth, Testament, Gamma Ray, Fates Warning we are very proud for it. Every moment counts.


The Gauntlet: What do you see that the future holds for Dark Nova?

Michael Choulakis: Good albums and many great live shows. Hopefully, our road will lead us to the States someday. So, we hope that we will be seeing each other soon.

More Tour Dates
Tags:
Dark Nova , Michael Choulakis , interviews
Buy Dark Nova Merch
|
Follow us on Twitter
|
Like Us
Date: Jul 28, 2005
As Reported by:
EF