Battlelore issue update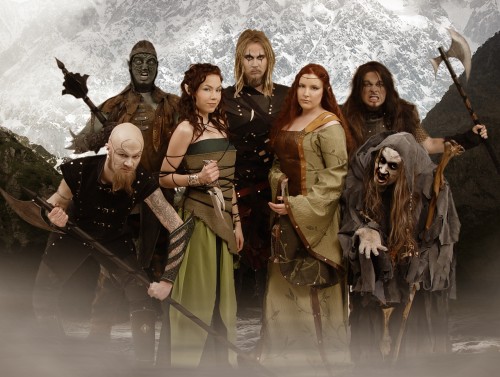 Finland's BATTLELORE have have announced that the bands new album will be released on February 8 in North America via Napalm Records.

Battlelore recently the following update:

Battlelore has finished working on their sixth full length album named Doombound. The album consists of 11 songs, one of which is instrumental. This is Battlelore's first concept album - all the lyrics together tell the story of J.R.R. Tolkien's tragic hero Túrin Turambar and his kin. One of the songs is sung completely in Finnish in appreciation to Battlelore's beautiful home country Finland and Kalevala, the national Finnish epic. The songs themselves are more dynamic, atmospheric and epic than ever before - prepare for the ultimate music experience and a life-long journey through the eyes of a fallen hero!

As before on Battlelore albums, there will be a jewel case edition of the album and a special limited edition digipack including some rare material. This time around the extra material is more special than ever before - as a thank you to all Battlelore fans and followers for their enormous support over the past 10 years, the band has compiled a bonus DVD from their personal materials. The 10 Years Of Battlelore bonus DVD includes material from two live shows, two tour videos, a huge photo gallery and all of Battlelore's music videos.

The band comments: "This is the kind of material of us that has never been seen before. We wanted our fans to see, how much their support means to us and what being a part of the Battlelore family is really like. Enjoy, we sure have!"

The tracklist for Doombound is as follows:

'Bloodstained'
'Iron Of Death'
'Bow And Helm'
'Enchanted'
'Kärmessurma'
'Olden Gods'
'Fate Of The Betrayed'
'Men As Wolves'
'Last of the Lords'
'Doombound'
'Kielo' (instrumental)

The release dates for the album are:

Europe - January 28th, 2011
North America - February 8th, 2011

Following is Battlelore's updated bio:

In 2010, after over 10 years of making music together, Battlelore concentrated on making new songs for the upcoming album, Doombound. Besides a visit to Ibiza with Hard Rock Hell Road Trip, they decided to stay in Finland and make this the best album so far. Concentrating on the new songs and the new album proved to be great choices as in the studio, June-July 2010, the songs turned out to be more versatile and bombastic, more dynamic and epic, atmospheric, fun and serious, and free of old habits - and still they sounded like Battlelore. Sound Supreme Studios and producer Janne Saksa were the perfect pair for Battlelore to spread their wings and try different approaches to song writing, as Janne's excellent ear and feel for details made Battlelore do their best and concentrate on all aspects of the songs. A talented young cellist, Markus Vuoristo, visited Battlelore in the studio and played the cello for two songs, thus giving the songs the perfect finishing touches and complementing all the other instruments and vocals.

Dan Swanö, the legendary metal god, played a guitar solo on one of the songs and did the mixing for Battlelore again, and gave the songs and sounds the perfect final touch to make this the greatest album in Battlelore history. As the first and so far only concept album, telling the story of Tolkien's tragic hero Túrin Turambar and his kin, this album takes Battlelore to a completely new level of song writing. The songs do not bow down to anyone - this is who we are and what you get. Included in "Doombound" limited edition digipack is 10 years of Battlelore bonus DVD featuring two incredible live shows from Nosturi, Finland, tour videos from Europe and Finland, a huge photo gallery and all of Battlelore's music videos. The DVD was made to all the fans and followers as a thank you for the support they have given the band during these years. The release of Doombound is set for January 2011.
More Tour Dates
Tags:
Battlelore, Napalm Records
Buy Battlelore Merch
|
Follow us on Twitter
|
Like Us
Date: Nov 17, 2010
As Reported by:
Jason Fisher