Nasum Drummer Offers New Update Regarding "Grind Finale"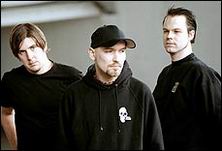 Nasum drummer Anders Jakobson posted the statement below on the band's official website regarding the collection of Nasum material that will be released along with some other updates about his current going-ons.

"The picture discs are under production right now. I've been in contact with GMR Music and they will release the first three albums during the summer starting with 'Helvete' June 20. I'm still not sure how these will be sold, especially not for non-Swedes. I am quite sure that I will NOT sell them via Nasum.com, simply because I will not get more than our personal copies as it is today. Maybe I will get some extra, I don't know that now. There is also a discussion between GMR and Burning Heart about doing a 'Shift' picture disc and it looks like that's going to happen too, but at a later date. To release it right now would interfere with No Tolerance's vinyl edition. But it will probably happen, and that's great.

"The production of 'Grind Finale', the two-disc compilation of all non-album material from NASUM, is progressing as well. I've got Albert Mudrian's foreword and it's quite excellent. I have also had discussions with Relapse about the packaging of the album and I think we have settled on a REALLY nice package that is not the usual for these kinds of records. I'll tell you more when I'm absolutely sure about the package. I'm also awaiting the first drafts of the artwork from Orion and Jonathan at Relapse's art department. Can't wait and I will share the artwork with you once the time is right.

"What else? Oh yeah, I went to Mieszko's grave today. It still feels awkward going there. I do not really know what to do there. Should I speak with him? I guess right now just being there is fine. The grave is still missing a proper headstone and I hope there will be one soon. But there were some healthy grass growing on the grave and I see that as a positive sign.

"I met Emma, Mieszko's girlfriend, briefly last week and she was actually standing and walking without any support. That was also a very positive sign. It really looks like she will recover as the doctors have said. Wonderful!

"I still haven't played any drums more than twice since the day of the tsunami. It's actually fucked up, but today I've taken a first step towards something new musically as I bought myself a laptop. I have longed for some kind of mobile recording equipment for many years now and this laptop is the first purchase. As I've written before, I spent a month working in Cubase with the editing of 'Grind Finale' so the next step is to record something on the laptop and try to do something nice. We'll see."


More Tour Dates
Tags:
Buy Merch
|
Follow us on Twitter
|
Like Us
Date: Jun 08, 2005
As Reported by:
Dave Huffy