SARAH JEZEBEL DEVA Thanks Fans For Support, Announces New Bassist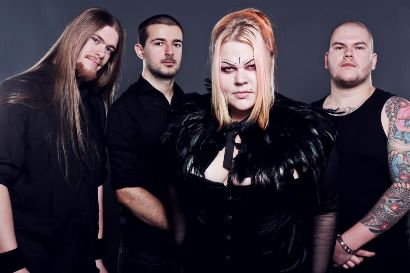 SARAH JEZEBEL DEVA (ANGTORIA, ex-CRADLE OF FILTH) has issued the following band update:

"I would like to take a moment to thank all of you for adding us, taking a chance on us even if you knew nothing about us, adding us if you are one of those trolls or haters and still gave us a chance, and to all those who bought our music, our shirts and came to a show It means so much to us and we look forward for what 2013 brings us.

As some of you know, we parted ways with Ablaz due to distance and other issues such as schedules clashing, it was going to happen sooner or later. But all is good; in fact, he is doing naked house work for me right now!! Anyway, I want to introduce Ed, a hand and nose model for Ginger Surprises LTD. He is also pretty damn amazing on bass. His first show with us was Metal Female Voices Festival in front of thousands and it was a huge thing for him seeing as he had only played with himself prior to this show. Wish him luck and any fan mail should be addressed to his mighty beard ;)."
More Tour Dates
Tags:
Sarah Jezebel Deva
Buy Sarah Jezebel Deva Merch
|
Follow us on Twitter
|
Like Us
Date: Oct 29, 2012
As Reported by:
Jason Fisher