EXODUS TO PLAY "BONDED BY BLOOD" ALBUM IN ITS ENTIRETY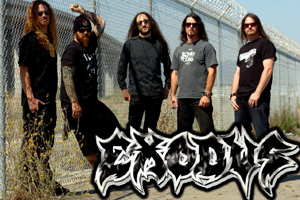 Bay Area thrash progenitors EXODUS have announced the following seven shows in November and December. The Bonded By Blood album will be played in its entirety in Seattle and Los Angeles:

Nov. 13 Anchorage, AK - Chilkoot Charlie's
Nov. 14 Anchorage, AK - Club Millennium
Nov. 15 Seattle, WA - El Corazon
Dec. 05 Anaheim, CA - Chain Reaction
Dec. 06 San Marcos, CA - Jumping Turtle
Dec. 07 Hollywood, CA – The Key Club
Dec. 09 San José, CA - Voodoo

Guitarist/songwriter Gary Holt states: "We wanted to do some select dates around the release of Let There Be Blood [the re-recording of Bonded By Blood with Rob Dukes on vocals]. Rob sounds awesome on these songs and now is the perfect time to do these shows. It is possible we might do more on a limited basis. We'll keep you posted."

Tickets to the shows above are available through The Vault.

EXODUS will be touring in April 2009 with Germany's Kreator, Austria's Belphegor, and California's Warbringer. Off-date shows will soon be announced.

Upcoming Tour Dates
Aug 08, 2013
Aug 09, 2013
Aug 10, 2013
More Tour Dates
Tags:
Exodus , thrash , bonded by blood
Buy Exodus Merch
|
Follow us on Twitter
|
Like Us
Date: Oct 20, 2008
As Reported by:
jason