Death Angel issue studio report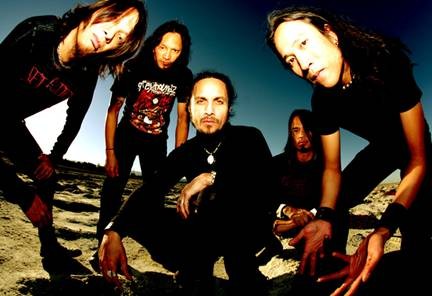 Bay Area thrashers DEATH ANGEL have been working on their next album up in their Oakland, California studio for the past few months writing songs for their next Nuclear Blast release, tentatively scheduled for release in September.

Guitarist Rob Cavestany has issued the following studio update:
"After months of writing and pre-production in our Oakland rehearsal studio, I'm suddenly a temporary resident of Sanford, Florida! I have travelled across the country to begin the process of recording our new album at Audio Hammer Studios and tonight we kicked in the action. Monday was all about getting acquainted, listening to music, getting a vibe and discussing the game plan. Tonight we worked on tempos, arrangements, riffs and guitar harmonies... getting right down to the core of the songs. I laid down scratch guitar tracks for the first 4 songs and damn how they have blossomed from the original ideas! I'm really liking where we are going so far... just the scratch tracks sound sick! Jason (Suecof; TRIVIUM, THE BLACK DAHLIA MURDER, ALL THAT REMAINS) and I seem to be off to a good start. The vibe is on and we are both night owls so we're on the same wavelength... which is important if magic is to be weaved!

It's rather late (early?) so I better hit the sack as I expect an intense long session tomorrow (today). Ted (Aguilar; guitar) and Will (Carroll; drums) arrive late tonight and I plan to have all the scratch guitar tracks recorded by Thursday evening when we begin tracking drums. Looking forward to a productive and enjoyable time making this record out here. Check in with ya again sometime soon."
More Tour Dates
Tags:
Death Angel , Rob Cavestany , Nuclear Blast Records , Jason Suecof
Buy Death Angel Merch
|
Follow us on Twitter
|
Like Us
Date: Mar 03, 2010
As Reported by:
admin