PESTILENCE Announces New Drummer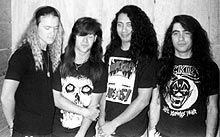 Pestilience guitarist/vocalist Patrick Mameli has issued the following update:

"We are very pleased that we can officially announce that David Haley (PSYCROPTIC) will replace Tim Yeung for the upcoming PESTILENCE album and upcoming shows. Bassist Stefan Fimmers already joined PESTILENCE for the new album, 'Obsideo', and live performances.

"Although Tim was really excited to join PESTILENCE, it was because of his conflicting tour schedules with MORBID ANGEL, that made it nearly impossible for Tim to tour with PESTILENCE. But we weren't really too disappointed by this unfortunate development because of our talks with David soon after.

"The new material will fit David perfectly. He is such an amazing drummer and a really cool guy as well!!! We all welcome him into the PESTILENCE camp."

David Haley stated: "I'm very excited to be performing the drums on the new PESTILENCE album...and quite nervous about it, too!! PESTILENCE have been such an influential band within the metal community throughout their whole career, so it's quite an honor to be asked to perform for the upcoming album. The material I've heard thus far is amazing — and I am really looking forward to start the recording process."
More Tour Dates
Tags:
Pestilence
Buy Pestilence Merch
|
Follow us on Twitter
|
Like Us
Date: Jul 26, 2012
As Reported by:
Jason Fisher