Behemoth Interview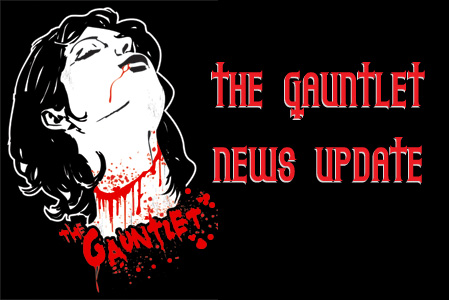 The Gauntlet: How has everything been going on Sounds of the Underground?

Nergal: It's going pretty swell actually. The only thing I can complain about is the heat; it's killing us. We go on everyday in the sun with full makeup on. It's not fun, but that's what it is.

The Gauntlet: You're not even playing the hot states yet like Texas, Arizona, and California.

Nergal: Oh Christ. Yeah, don't remind me, I'm already scared. I'm going to shit my pants. We are tough guys though.

The Gauntlet: I thought most of the dates were indoors.

Nergal: No, most are outdoor venues. We have only played two indoor venues so far.

The Gauntlet: Besides the weather, how has everything else been?

Nergal: It has been going surprisingly well. It has been super smooth, super friendly. We started socializing with everyone on the first day before we hit a note. It is crazy, it is a perfect summer tour for us. We do two signings everyday at the Jager tent and at our merch booth. We have a huge line. It is great meeting a lot of our diehard fans and converting the new fans. It seems like everyone is just having great fun.

The Gauntlet: How is it playing with bands you'd most likely not play with unless it was one of these packaged tours?

Nergal: It's good. I like the variety of the bands on the tour. With these kind of bands, we are sure we will stand out. We are the only band with blast beats. We also don't look friendly. It feels good though. There is no rivalry. We don't sound like the other bands.

The Gauntlet: Have you been checking out any of the other acts?

Nergal: GWAR has been killing every night. We have been watching them and they are just awesome. I was watching Cannibal [Corpse] and they are just awesome, they tear it up. Yesterday was the first time I saw Trivium. They are amazing and really energetic. I found this band called Terror. They are hardcore and man, they are just blowing away everything. The Black Dahlia Murder has been putting on a great show that is super intense. It has been a week now and I am still getting familiar with the bands. I love it though. They are all good guys you know.

The Gauntlet: Have you jumped in any of the pits with your spikes on yet?

Nergal: I don't want to fuck up my hand. If I fuck up my fingers, I'll fuck up our whole show. Maybe at the Los Angeles show I'll jump in with my spikes.

The Gauntlet: Fuck that. I'm staying away from you then if you have your spikes on!

Nergal: Yeah man, it's heavy, they are really heavy shit, no plastic. They are all metal.

The Gauntlet: How are the fans who don't know Behemoth reacting to you guys? I can imagine some little hardcore/emo kid pissing his pants when you hit the stage.

Nergal: We have actually toured with some of these bands before. Our first tour in the US was with As I Lay Dying. They were opening the whole deal, and we were the second band to play. I have no problems with any of the guys though. They are the nicest guys around. We can really deal with each other like family and relationships. We just don't get into ideology and the bullshit like that. If they ask my opinion I am honest and it doesn't disturb my relations with people and I respect that. The bands deserve nothing but respect. It seems like all these bands that are death metal and stuff; they are interested in it. We talk a lot and they appreciate it to some point. To some of the fans, it might be weird to see us all in black with leather, spikes and makeup coming out every day. It is not a common thing I guess. But the fans respect us and vise versa.

The Gauntlet: How long of a set list?

Nergal: We go on for twenty to thirty minutes. We play about five songs every day, but that's enough to show what the band is all about. It is short but intense kick to the face. It is very strong. We play two blast songs, then the rest of the set is more mid tempo and groovy oriented tracks. It isn't very glamorous. We go on early and don't have a full production with us, but it is fun, intense and fun, you'll like this one.

The Gauntlet: Having seen Behemoth play live twice before, I can honestly say you guys are the production. Seeing the makeup and outfits is better than lights any day.

Nergal: [laughs] if you can look at things like that, you are right. With Morbid Angel, we had our own lights and screens on both sides of the stage and a backdrop. It was more complete. This time we are just there, we bust out some songs.

The Gauntlet: So what are the tour plans after this?

Nergal: This is our last tour supporting our latest album "Demigod".

The Gauntlet: So you are starting to work on the follow-up to "Demigod"?

Nergal: Yes, it is going really well actually. Right before the tour we had a rehearsal space and we were pretty intense on the new tracks. They came out really fast and we were being really creative. So far we have close to six songs almost finished. Basically the structure and major parts are all there. We just need to put the final touches on them. It sounds Behemoth, it sounds huge! Some stuff is a little slower, but it is like what you are used to. It is more massive and slower, epic and bombastic on some songs. Then some other songs are just crazy and insane and blasting. We did one song and it might be called "Christ Crushing Avenue".

The Gauntlet: What are your inspirations for this album?

Nergal: I don't know how to answer that type of question. I don't know. They just come from the surroundings. It might be from a down period or an up period in my life. But I can't say. It does come from some driving force in my life that pushes me to write.

The Gauntlet: I read that a lot of ideas came from your world travels.

Nergal: Yeah, we did lots of travels. I discovered new places for me which were super influential and very inspiring. Let's see how it is all going to come together into the final product. They were very inspirational.

The Gauntlet: Is there a target for when this will be out?

Nergal: Actually I'd love to put it out before summer of next year. That way we can come back for touring. I'd love to do that. We don't want to wait, but we need to have a solid record that is as good as "Demigod" or better. We will push ourselves hard.

The Gauntlet: So after Sounds of the Underground, you hit the studio?

Nergal: No, we will do some festivals and things like that, but no touring. Then we are in September and October booked in our rehearsal room to finish the record and record it. During the whole recording process we won't do any touring. We want to really start missing it. Now might be too much. Once we are done with SOTU, that's 300 shows in support of "Demigod". Not that I'm burned out or anything as I am having a great time, but I need to live my life a bit.

The Gauntlet: For future releases, are you planning on doing a lot of touring in the US like with "Demigod"?

Nergal: We are going to do the same, but bigger tours. That's the plan. We want to do it. I believe that the "Demigod" touring was groundbreaking for us. We opened so many new doors for this band. We now want to make use of it when the next record comes out. We have some massive plans inside, I'm not going to go into it, but let's see what happens. We are super determined with a determined label behind our back/. This combination will make all our plans succeed. It is a nice combination and we really want to push hard. Let's see what happens.

The Gauntlet: Anything else you want to add?

Nergal: Get ready, I want to kick your ass!


Upcoming Tour Dates
Jun 29, 2013
Jun 30, 2013
Jul 02, 2013
Jul 03, 2013
Jul 05, 2013
Jul 06, 2013
Jul 07, 2013
Jul 10, 2013
Jul 12, 2013
Jul 13, 2013
More Tour Dates
Tags:
Behemoth , Metal Blade Records , Nergal - guitar/vocals , interviews
Buy Behemoth Merch
|
Follow us on Twitter
|
Like Us
Date: Jul 14, 2006
As Reported by:
Jason Fisher