CHILDREN OF BODOM Debut New Video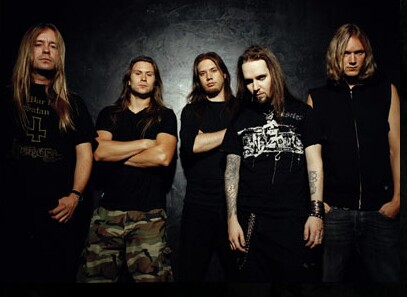 CHILDREN OF BODOM has unveiled a new music video; the second from the group's new album, Relentless Reckless Forever, which landed at #41 on the Billboard Top 200 in its first week of release. The clip - for the song 'Roundtrip To Hell And Back' - was filmed live at both the Tampere Ice Hall and Pakkahuone Hall in Finland and directed by Jussi Hyttinen for FLC415 (MTV3, The Finnish National Lottery) and perfectly captures the electricity of COB's world renowned live performance. Check it out below:





CHILDREN OF BODOM - Roundtrip to Hell and Back from Good Fight on Vimeo.



On June 24th in Los Angeles, Children Of Bodom will launch a North American headlining tour in support of Relentless Reckless Forever. The month long summer tour will feature direct support from DEVIN TOWNSEND (with openers OBSCURA and SEPTICFLESH) rotating positions each night and will run through July 24th in Montreal where COB will perform alongside KISS, MOTÖRHEAD and more as part of the Heavy MTL festival.
Upcoming Tour Dates
Jun 29, 2013
Jun 30, 2013
Jul 02, 2013
Jul 03, 2013
Jul 05, 2013
Jul 06, 2013
Jul 07, 2013
Jul 10, 2013
Jul 12, 2013
Jul 13, 2013
More Tour Dates
Tags:
Children of Bodom , video , tour
Buy Children of Bodom Merch
|
Follow us on Twitter
|
Like Us
Date: Jun 10, 2011
As Reported by:
Jason Fisher