Aborym Parts Ways With Guitarist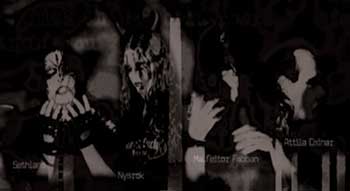 ABORYM has parted ways with guitarist Nysrok Infernalien.

"We wish Nysrok the very best in all aspects of his life," mainman Malfeitor Fabban said in a statement, "but both me and Bård Faust [a.k.a. Bård G. Eithun; drums] would really like to write and compose new material without him, due of many personal and private problems regarding him and his approach to our way of working, living and thinking, problems we don't like to share with people and journalists. Nowadays we're working hard on new material in order to record a new album in 2008. New fresh meat will be involved in the band."

Added Faust: "Both Fabban and I are eager on starting on the next album and I am pretty sure the Italian mastermind is coming up with some superb and twisted music as always."
More Tour Dates
Tags:
Buy Merch
|
Follow us on Twitter
|
Like Us
Date: Jul 12, 2007
As Reported by:
jason