Aborym Set to Release 4th Album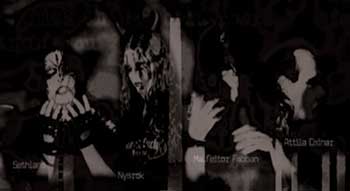 The Italian Aborym have returned with their fourth opus, entitled "Generator". This brand new album holds the spirit of dark and unparalleled black metal bound together with a crushing death metal approach, all of these elements being stitched up with the Italian's unique ability to naturally incorporate electronic elements and layers.

On "Generator" we will see a band that has evolved and matured. This is much due to the line-up which has changed considerably since their "With No Human Intervention" effort. Bård G. Eithun, aka Faust (ex-Emperor, Scum) plays all the drums on the album. This comes as a quite radical change since all their previous rhythms were made by a drum machine. Then Prime Evil (Mysticum) replaced Attila on vocals. Prime Evil's abilities is no way behind the ones of Attila and he filled the album with aggressive and plain out dark. From the past still stands Fabban Malfeitor on bass, synth and backing vocals, and Nysrokinfernalien on guitars and synth guitars.

The full tracklist for "Generator" is:

Armageddon
Disgust and Rage (Sic transit Gloria Mundi)
A Dog-Eat-Dog World
Ruinrama Kolossal S.P.Q.R.
Generator
Suffer Catalyst
Between the Devil and the Deep Blue Sea
Man Bites God
I Reject!


In good tradition, the album also hosts a number of guest musicians: Cultoculus (ex-Mayhem, Perdition Hearse) did some backing vocals and spoken passages during a recording session in Rome. Richard K. from the Swedish band TWZ did some electronic inputs. And in the end, what's more natural than having Attila Csihar do his "farewell"-song with Aborym, on the mighty hymn "Man Bites God"?

This is metal music for the new millennium. This is the sound of the great Roman Empire meeting the cold Northern wastelands.


More Tour Dates
Tags:
Buy Merch
|
Follow us on Twitter
|
Like Us
Date: Oct 05, 2005
As Reported by:
admin