SODOM Begin Work On New Album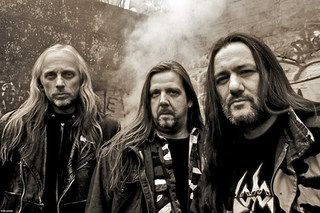 SODOM vocalist/bassist Tom Angelripper has issued the following update on the band's studio time:

"Hi fellows. At the time, we started the production of the new Sodom album. Makka finished all the drum tracks at wednesday. And believe us, he did a great job and hammered twelve songs in just two days. Next week, Bernemann will start the guitar recording sessions. Again, we produce this killer album with Waldemar Sorychta. We will keep you informed as soon as we get more news for you. Thanx again for your loyal support and keep on thrashin'....TOM!"


Upcoming Tour Dates
May 18, 2013
May 19, 2013
Jun 22, 2013
More Tour Dates
Tags:
Sodom , Tom Angelripper
Buy Sodom Merch
|
Follow us on Twitter
|
Like Us
Date: Oct 26, 2012
As Reported by:
Jason Fisher