Kataklysm post new webisode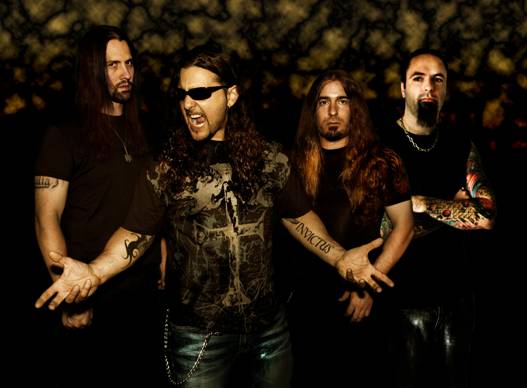 Check out the brand new webisode from Montreal based extreme metallers KATAKLYSM below! The clip features the band answering questions by fans, playing live in front of 15,000 people at Heavy Montreal festival, playing Ozzfest, Maurizio`s birthday and much, much more!

KATAKLYSM's new album Heaven's Venom was released on August 24th in North America and sold around 2,400 copies in the United States in its first week of release. The CD landed at position No. 7 on the Top New Artist Albums (Heatseekers) chart and #196 on the Billboard Top Current Albums chart, making it the bands highest charting album and their biggest first week sales to date. Heatseekers lists the best-selling albums by new and developing artists, defined as those who have never appeared in the Top 100 of The Billboard 200.

Heaven's Venom was recorded by KATAKLYSM guitarist J-F Dagenais (MALEVOLENT CREATION, MISERY INDEX) and was mixed by Tue Madsen (THE HAUNTED, MNEMIC, DARK TRANQUILLITY).
Upcoming Tour Dates
Aug 10, 2013
More Tour Dates
Tags:
Kataklysm , Heaven's Venom
Buy Kataklysm Merch
|
Follow us on Twitter
|
Like Us
Date: Sep 09, 2010
As Reported by:
Jason Fisher
This text will be replaced