ASPHYX to begin work on new album next month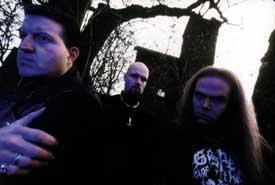 Dutch death metal legends ASPHYX are currently working on songs for the upcoming Deathhammer album. In January, Asphyx will enter the Sonic Assault studio again to record the first four tracks together with their sound engineer Frank Klein Douwel. Some titles are 'Reign Of The Brute', 'Vespa Cabro', 'We Doom You To Death', 'Asphyx-Minefield' and the title track 'Deathhammer'.

Axel Hermann will do the cover artwork and Dan Swanö (ex-EDGE OF SANITY, BLOODBATH, NIGHTINGALE) will mixing the album.

Asphyx released their first DVD, titled Live Death Doom, in August. Live Death Doom is also available as a two-CD and Digital Download audio-release, marking Asphyx's first-ever official live album in their 20 plus years.
More Tour Dates
Tags:
Asphyx , Sonic Assault studio
Buy Asphyx Merch
|
Follow us on Twitter
|
Like Us
Date: Dec 12, 2010
As Reported by:
Jason Fisher