AUTOPSY Unleashes Over Two Decades With New DVD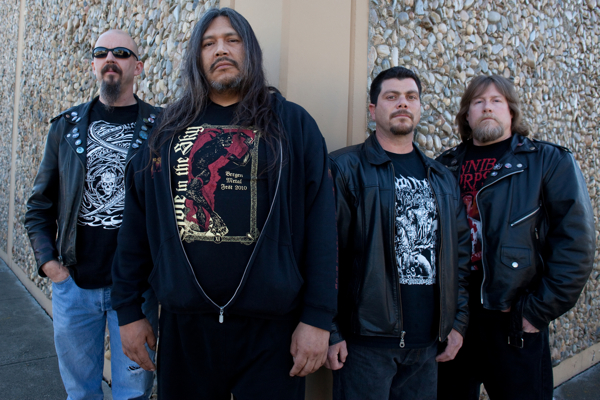 Born Undead, the extensive documentary of the birth, death and rebirth of Bay Area death metal pioneer, Autopsy, has been exhumed from the grave, and is now available via Peaceville Records. The unprecedented look into the blood and guts of one of death metal's great innovators, plus live footage from Maryland Deathfest, PartySan festival and Hole in the Sky in Norway can be ordered online at: https://www.burningshed.com/store/peaceville/product/225/3719/.

The extensive DVD includes a documentary conducted with the band members themselves, as they describe how the beast came to be, and the impact their music has had on the metal world over a span of more than 20 years.

The film also documents the band's long-awaited return to the studio and stage, and includes rehearsals of both new tracks and old classics for Autopsy's live comeback assault.

Kent Mattieu, who had collaborated with the band on its early classic (and often controversial) album covers, provided artwork for the release.

A trailer for the upcoming release can be seen on below.
More Tour Dates
Tags:
Autopsy, Peaceville Records
Buy Autopsy Merch
|
Follow us on Twitter
|
Like Us
Date: Aug 28, 2012
As Reported by:
Jason Fisher
This text will be replaced