SCALE THE SUMMIT Announce First Headline Tour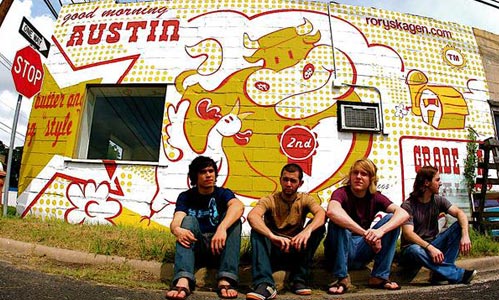 Progressive instrumental act, SCALE THE SUMMIT, have announced their first ever headline tour, entitled, "Their Strings Are Voices." The band will hit the road in January and February. Support will come from Elitist. SCALE THE SUMMIT are currently on the road with Protest the Hero and label mates, Last Chance to Reason, and are supporting their most recent release, "The Collective."

Guitarist Chris Letchford commented on "Their Strings Are Voices:" "I am very excited to announce our first ever headlining tour! We decided to go with only one support band for this tour so that we are able to ensure our fans that they'll be getting a full set from us each night. Since it's our first headliner, we'll be playing tracks from all three full lengths: "Monument", "Carving Desert Canyons" and our most recent release, "The Collective". Support for this tour is Elitist, a young band from California; all very talented and proficient players and a great addition to the bill. We will also be having a few locals open the show each night. Make sure to not miss this tour and come out early to support your local music scene! See you guys on the road! If you guys are interested in choosing the songs that we play, please go and check out the poll, now!"

"Their Strings Are Voices" Dates:
1/28/12 Dallas, TX - The Door (no Elitist)
1/29/12 Albuquerque, NM TBA (no Elitist)
1/30/12 Mesa, AZ- Underground
1/31/12 Los Angeles, CA - Whisky (no Elitist)
2/1/12 San Jose, CA TBA
2/2/12 Portland, OR - Branx
2/3/12 Seattle, WA - Studio Seven
2/5/12 Salt Lake City, UT - Kilby Court
2/6/12 Denver, CO - Summit Front Room
2/7/12 Kansas City, MO - Riot Room
2/8/12 St Louis,MO - Fubar
2/9/12 Chicago, IL - Reggies
2/10/12 Lansing, MI - Macs
2/11/12 Toronto, ON - Wreck Room
2/12/12 Syracuse, NY - Lost Horizon
2/13/12 Cambridge, MA - TTs The Bear
2/14/12 NYC, NY TBA
2/15/12 Philadelphia,PA - Barbary
2/16/12 Richmond, VA - Kingdom
2/17/12 Atlanta, GA - The DrunkenUnicorn
2/18/12 Orlando, FL- Will's Pub
2/19/12 Pensacola, FL - Handlebar
2/20/12 Shreveport, LA- TBA

SCALE THE SUMMIT formed in 2005 while attending the Musicians' Institute in Los Angeles. The band relocated to Texas in 2006, where they recorded their first, self-released album. After signing with Prosthetic, they released "Carving Desert Canyons", which Revolver called, "a cinematic blast of intricately melodic fretwork and pummeling percussion," in 2009.
Upcoming Tour Dates
Dec 07, 2013
Dec 08, 2013
Dec 09, 2013
Dec 11, 2013
Dec 13, 2013
More Tour Dates
Tags:
Scale The Summit, Prosthetic Records, tour
Buy Scale The Summit Merch
|
Follow us on Twitter
|
Like Us
Date: Dec 14, 2011
As Reported by:
Jason Fisher