CAULDRON Announce New Drummer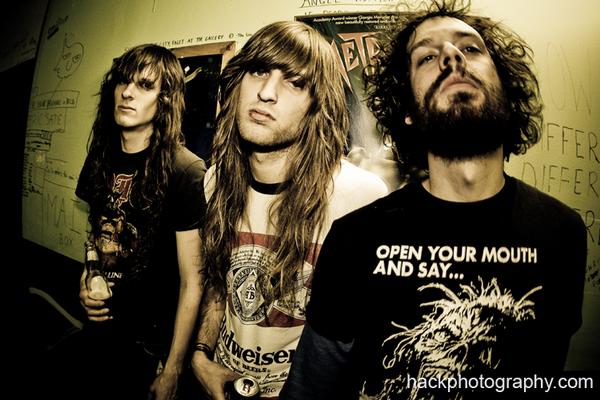 MYLES spent much of his life living and playing in bands in Halifax, Nova Scotia, including blackened thrashers HELLACAUST, as well as fronting a Detroit-style punk rock outfit called MYLES DECK AND THE FUZZ. He replaces CAULDRON's former drummer, CHRIS STEVE.

The drums for the band's new album, TOMORROW'S LOST, were recorded by CHRIS RITES (CRYSTAL CASTLES).

CAULDRON bassist and vocalist JASON DECAY comments:

"Rather than just grab the next available drummer, we wanted to take our time this time and make sure we found the right guy, which we're pleased to announce is Myles Deck. Myles moved halfway across the country from Moncton, New Brunswick, which shows his dedication. He's also into a lot of the same bands as us and understand our vision and goals. He's also tall so we won't have to prop him up on a stool for band photos! We wish Chris Steve all the best with his new band Old James (heavy Skynyrd), and would like to thank Chris Rites for helping us out again with the new record."

MYLES DECK adds:

"I was vacationing in Moncton, New Brunswick, catching some rays on the shore of the Petitcodiac when I got 'the call'. I love the kind of music that makes you wanna bang your head or thrust your hips. I'd seen Cauldron a handful of times and they made me wanna do both. So I sold most of my belongings and moved up to Toronto to play drums for this great band. I'm absolutely chuffed to be playing with Cauldron and look forward to spending many gruelling hours in the van and studio together."
More Tour Dates
Tags:
Cauldron , earache records
Buy Cauldron Merch
|
Follow us on Twitter
|
Like Us
Date: Jul 27, 2012
As Reported by:
Jason Fisher