SANGRE Releases New Music Video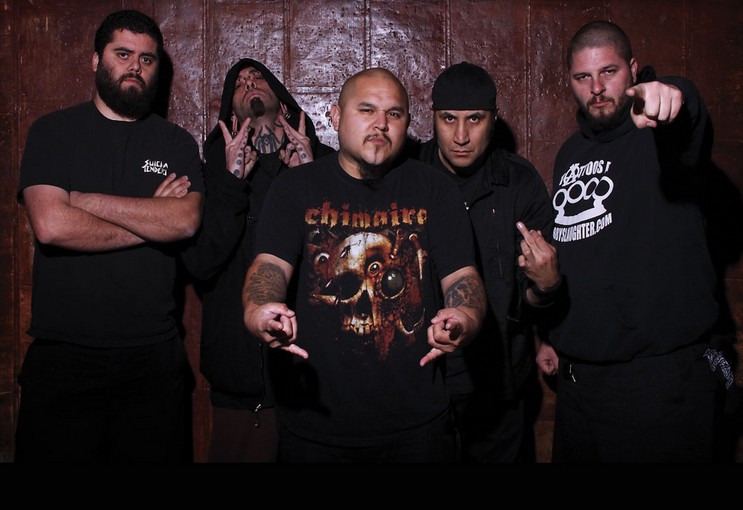 The Southern California based quintet SANGRE have been hitting the Metal scene hard for almost 13years, performing their unique brand of Melodic Death Thrash Metal all over the United States & Mexico. Last year they toured with the legendary Brujeria throughout the Southwest, and this year have been touring in support of their newest release "The Great Tribulation" in which they also just recently shot a music video for the title track. (Filmed & edited by: Brent Wisdom @ 13 o'Clock Studios). See below.


This summer SANGRE kicks off their "Devastation Across The Nation" 2012 U.S. Tour on June 30th as part of "Rockstar Energy Drink Mayhem Festival" in which they have been once again selected by their sponsor Jagermeister to perform on The Jagermeister Mobile Stage in San Bernardino,CA. @ The San Manuel Amphitheater. The band is stoked to be selected to perform at the event in which they will be sharing the bill with Anthrax, As I Lay Dying, Motorhead, Slipknot, Slayer, and more! SANGRE vocalist Henry Sanchez stated "It's a dream come true to be on the same show with some of our idols, and now we're taking this momentum from Mayhem Fest and hitting the road to do what we all love to do, and thats perform our music for metal heads all over the country."
In a time when its not getting any easier to tour, sell albums, or "Make it" in the music business SANGRE pushes ahead with a passion for performing live and spreading their music to the masses. "Nothing's going to stop us from doing our thing, its part of who we are, we live for this, label or no label, we promote ourselves, book our own shows, handle our own business. You can't just sit around waiting for a deal or break, you got to get out there and make things happen!"
states SANGRE vocalist "Henry Sanchez"

The band SANGRE's "Devastation Across The Nation" 2012 Summer Tour kicks off Saturday June 30th in San Bernardino,Ca. @ San Manuel Amphitheater "Rockstar Energy Drink Mayhem Festival" featuring: SLAYER, Slipknot, Motorhead, Anthrax, and more with SANGRE opening The Jagermeister Mobile stage. Check out their tour dates here.

SANGRE is already booking additional summer shows/tour dates including an appearance @ Summer Slaughter on August 25th in Anaheim, CA. @ The Grove with Cannibal Corpse & More!
More Tour Dates
Tags:
Sangre
Buy Sangre Merch
|
Follow us on Twitter
|
Like Us
Date: Jun 27, 2012
As Reported by:
Jason Fisher
This text will be replaced