Stuck Mojo reveals release date and tracklisting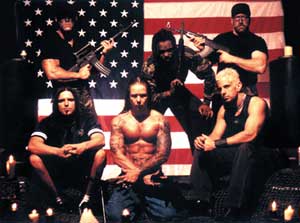 On November 28th, Napalm Records will release the new STUCK MOJO album, The Great Revival. It will contain the following 12 songs: 'Worshipping A False God', '15 Minutes Of Fame', 'Friends', 'The Flood', 'Now That You're All Alone', 'There's A Doctor in Town', 'The Fear', 'There's A Miracle Comin', 'Country Road', 'Invincible', 'Superstar Part 1 (The Journey Begins)', 'Superstar Part 2 (The World Of Egos And Thieves)'.

With The Great Revival, the American crossover legends deliver impressive renewed signs of life. No other Stuck Mojo release has ever emphasized the band's musical roots to a greater extent or offered such an accomplished mix of heavy metal riffs, catchy hooklines, and '70s style rock. Mastermind and guitarist extraordinaire Rich "The Duke" Ward adds a finishing touch of subtle Southern rock influences to the stylistically varied work. Vocalist Lord Nelson shares the microphone with rising star Christine Cook, whose vocal interpretations fit in perfectly with the band's musical concept. Andy Sneap (MACHINE HEAD, MEGADETH) once again justifies his well deserved reputation by providing a powerful and clean mix. Stuck Mojo are back-livelier and more diverse than ever before. A must-have for fans of ALTER BRIDGE, FAITH NO MORE, and early CLAWFINGER.


More Tour Dates
Tags:
Stuck Mojo, Napalm Records, The Great Revival
Buy Stuck Mojo Merch
|
Follow us on Twitter
|
Like Us
Date: Sep 22, 2008
As Reported by:
james