STUCK MOJO Forced To Cancel Tonight's Concert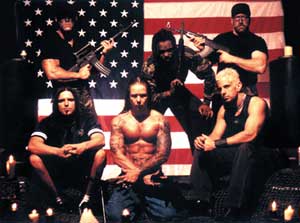 STUCK MOJO has issued the following update:

"We are gutted to report that STUCK MOJO will not be able to make it to Minneapolis for the show tonight [June 14 at The Rock in Maplewood]. After pulling out of Mokena, Illinois this morning and heading towards Minneapolis, we discovered that due to rivers flooding in different parts of Illinois and Wisconsin that only one highway would be open to Minneapolis and the state patrol officer confirmed to our tour manager a travel time of 12 hours, conservatively. Needless to say, after hours just to make it to Madison, we won't be able to make it to the show tonight. There are some great locals at The Rock tonight and hopefully they will go on with the show. We will make it back as soon as we can. The tour will resume in Madison tomorrow night. We apologize to all our Minneapolis fans."

More Tour Dates
Tags:
Stuck Moko , Napalm Records , crossover , rap metal
Buy Stuck Moko Merch
|
Follow us on Twitter
|
Like Us
Date: Jun 14, 2008
As Reported by:
jason